Are you always excited about new restaurants coming up in your city? And why not? They offer a whole new range of unique and Insta-worthy dishes amid chic and aesthetic interiors. That's not all. They give oodles of quirky content for our social media feeds too. To get you sorted, we have made a handy list of all the new restaurants in Mumbai to visit this month. Read on to know the deets.
New Restaurants In Mumbai To Visit In January 2023
1. Demy
View this post on Instagram
One of the newest additions to Mumbai's Kamala Mills Compound is Demy, an all-day cafe and bar with a boho chic vibe. Though a casual cafe, its white and nude colour scheme will make you feel relaxed and at ease. The cafe serves some delicious dishes worth trying, like Pepperoni Marinara Sandwiches, Spicy Tuna Rolls, Truffle Mushroom Purple Rice Roll, Yaki Udon Noodles, and others. Also, you can satisfy your sweet tooth with their Coffee Tres Leches Pull Me Up and Nutella San Sebastián Cheesecake. They serve fine and signature cocktails, but try their Sherlock in a Pickle, Rosso Aperol Sangria, and New York Sour.
Where: Kamala Mills Compound, Lower Parel
When: 12:00 pm – 1:30 am
Cost: Approx ₹2,500 for two
2. Bayleaf Cafe
Up for a new experience? Bayleaf Cafe is your place. This newly launched cafe is a conscious, vegetarian diner with a tropical interior. They have an artistic and contemporary way of cooking with flavour-driven dishes. Their menu has something for everyone to enjoy. You can have Mexican Burrito Bowls, Burgers, Pizzas, Salads, and other mouth-watering dishes. They also serve hand-crafted coffee, mocktails and other beverages. With an inclusive spread, they have Jain and vegan-friendly options, as well.
Where: 32 Janki Kutir, Juhu
When: 8:00 am – 11:30 pm
Cost: Approx ₹500 for two

3. Grounded
View this post on Instagram
This new Bandra cafe will brighten up your Instagram feed like no other. Grounded is a simple yet worth-visiting place if you are looking for brews, desserts and food of course. Their menu is filled with dishes like Cheesy Shredded Chicken, Californian Benedict, and so on. Also, they serve some tasty drinks like Nutella Tiramisu and fancy desserts like Cruffin for you to try. The interior of this cafe is inspired by the Mediterranean and Greek architecture.
Where: Bandstand, Bandra West 
When: Tuesday – Sunday, 4:00 pm – 12:00 am
Cost: Approx ₹800 for two
4. Nava
View this post on Instagram
Nava is a memorable dining experience with its ambrosian meal. Their menu is inspired by modern European cuisine. Their à la carte menu includes Kokum Prawns, The Lamb Tacos, slow-cooked Pork Belly, and other flavour inducing dishes. Also, Chef's tasting menu has signature dishes like Nostalgia on Crack – Housemade Citrus Magic Pops, Anchovies In a Swamp, Lepa, and so on. With other delicacies to try, Nava offers a special Sunday brunch as well.
Where: Linking Road, Bandra West
When: Monday – Sunday 11:00 am – 4:00 pm, 7:00 pm – 1:30 am
Cost: Approx ₹2,500 for two without alcohol
5. The Burrow
View this post on Instagram
The Burrow is a newly launched Modern European Bar & Kitchen. They have a distinct way of serving pre-plated single-portion meals and an all-day dining concept. They serve delectable dishes that include Birria Pulled Lamb Taco served with Aji Pepper Sauce, Grilled Fish, Pomme puree, and other dishes. For non-dessert eaters, The Burrow has a surprise. You can try their Kahlua Panna Cotta, Basil Crackle, and White Chocolate Crumb that will make you crave for another treat like this. 
Where: Bandra Kurla Complex, Bandra East
When: 12:00 pm – 12:00 am
Cost: Approx ₹2,800 for two
6. Balmy
View this post on Instagram
This new hangout spot of South Bombay will blow your mind. Balmy Cafe is an all-day cafe and bar that caters to all dietary preferences, whether it is vegan, Jain, vegetarian or non-vegetarian. With their motto 'Warm and Welcoming', Balmy takes you on a culinary journey with their flavourful food. Their menu serves some lip-smacking dishes that you have to try. Truffle Mushroom hummus, Spicy Crispy Chicken Sandwich, Pink Paneer Tikka are to name a few of. Their dessert menu includes Vanilla Panna Cotta with fresh berries, Vegan Chocolate Fudge Cake, and other delicious treats.
Where: Breach Candy
When: 12:00 pm – 1:30 am
Cost: Approx ₹1,800 for two
7. Millo
View this post on Instagram
This luxury restaurant and bar is a different experience altogether. With elegant and modern decor, Millo has a creative space. A cosy and relaxing all-day dining place where you can give your loved ones a treat. Unlike any other place, Millo has a quirky vegetarian menu that focuses on Mexican, Italian and European cuisines. You can try Chilaquiles Filo Cups, Turkish Twist, Millo's Pizza, Burrito Mojados and other scrumptious dishes.
Where: Kamala Mills Compound
When: 12:00 pm – 1:00 am
Cost: Approx ₹2,000 for two

8. Bizza
View this post on Instagram
Bizza is your new spot for scrumptious pizza in Bandra. The calm, inviting atmosphere with relaxing music compliments the environment. Just like their ambience, their menu is unique and inviting. They serve tempting miso aubergine and blue cheese pizza, classic mushrooms and truffle pizza, and also crab and lobster pizza. Among their non-vegetarian toppings, seafood like prawns, salmon, and tuna will blow your mind.
Where: Linking Road, Bandra
When: 12:00 pm – 4:00 pm, 7:00 pm – 1:00 am
Cost: Approx ₹2,600 for two

9. Kerala Cafe
View this post on Instagram
Take a trip to 'God's own country' with Kerala Cafe's unique and impressive menu. Their menu includes Ghee roast Chicken, Kerala-style Chicken 65, Kappa Biryani, Malabar Biryani and whatnot. Their seafood menu gives you a glimpse of Portuguese influence on Kerala. Their specialities Appam, Parotta, and Kappa give you a taste of what exactly Malayali cuisine is.
Where: Diamond Garden, Chembur
When: 11:00 am – 11:30 pm
Cost: Approx ₹1,100 for two

New Restaurants In Mumbai To Visit In December 2022
1. Cafe Corra
Cafe Corra brings to you the Bali wali feeling here in aamchi Mumbai. The decor is influenced by the relaxing atmosphere of the upscale cafes in Bali and the food is absolutely to die for! Whether it's the Chilly Oil Omelette from their breakfast menu or their Activated Charcoal Thai Basil Dim Sums, the food is as creative as it is delicious.
Where: Oshiwara, Andheri West
When: 7:30 AM to 12:30 AM, Monday to Sunday
Cost: ₹1000 per person approx.
2. Koishii
The very definition of opulence, this recommendation is especially for those who love fusion cuisines in all their glory. Koishii is an amalgamation of Peruvian and Japanese cuisine. This delicious destination is unlike any other in terms of food, service, and ambience. You can't not be dazzled by it.
Where: Lower Parel
When: 7 PM to 12 AM, Monday to Friday
12:30 PM to 5:00 PM, Saturday & Sunday
Cost: ₹3500 per person approx.
3. Aura Kitchen And Bar
View this post on Instagram
This beautiful restaurant is a perfect place for those Friday night get-togethers. With delicious food and a perfect social atmosphere, the place will definitely set your course for the weekend. Gorge on their food and then dance the night away! That's a recipe for memorable fun.
Where: J B Nagar, Andheri East
When: 11:00 AM to 11:00 PM
Cost: ₹600 per person approx.
4. Native Bombay
Tried all the cuisines phir bhi dil hai Hindustani? Then this restaurant is for you! The menu encompasses flavours from all over the country, from Nagaland to Kerala. The entirety of India in your plate! With an explosion of traditional Indian spices, their food will please the pakka desi in you.
Where: Ballard Estate, Fort
When: 7:00 PM to 12:00 AM
Cost: ₹700 per person approx.
5. Bambai
View this post on Instagram
Just as the name suggests, this restaurant brings the true bambaiya flavour to your plate! It puts its own spin on Bombay staples and brings to you dishes like Keema Samosa, rose mawa cake, and Irani raspberry soda. This place is a must-try all of Mumbaikars.
Where: Juhu
When: 8:00 AM to 11:30 AM
Cost: ₹550 per person approx.
6. Maujja
This restobar takes its name very seriously. Which is to say this place is seriously fun! Everything here is designed keeping fun in mind. From its food to its ambience, you won't wanna leave this place once you come. So if you're in serious need of some serious fun, head to Maujja.
Where: Ghodbunder Road, Thane
When: 12:00 PM onwards
Cost: ₹900 per person approx.
7. Zerua
Zerua is for when you just want kick it with your pals. The casual atmosphere and food makes it an ideal hangout spot. The rooftop dining is also perfect for going on dates. Watch the colours of the sky change while sipping on delicious cocktails. Can you picture it? Because we definitely can!
Where: Atria Mall rooftop, Worli
When: 5:00 PM to 1:30 AM
Cost: ₹1800 per person approx.
8. Motodo
View this post on Instagram
Motodo pizzeria is the kind of place that you keep frequenting because of its welcoming vibe. Come for the food and stay for the vibes. This is the kind of establishment that Motodo is. Try their delicious spaghetti if you don't believe us.
Where: BKC
When: 12:00 PM to 11:00 PM
Cost: ₹950 per person approx.
9. Joshh
View this post on Instagram
If you're bougie at heart but still love bambayi ki chaat, this place is for you! Specialising in Indian street foods, this place is the perfect casual hangout! Head there after work to unwind after a hectic day or go there on the weekends with your friends for a fun outing. You will definitely keep coming again.
Where: Juhu
When: 11:00 AM to 11:00 PM
Cost: ₹100 per person approx.
10. Zodiac Fortune Select Exotica
View this post on Instagram
For all the astrology and food enthusiasts out there, this restaurant is for you! This multi-cuisine restaurant combines food and mysticism in a unique way that will influence the way you experience culinary art. Try their Mandarin Fish or their Qasar-E-Pukthan, the menu will have everything your heart desires. So if astrology is your things, take this as a sign from the universe and visit this place once.
Where: Vashi, Navi Mumbai
When: 7:30 AM to 10:30 AM
Cost: ₹800 plus taxes per person approx.
New Restaurants In Mumbai To Visit In November 2022
1. Tequila Lounge By Café Panama
View this post on Instagram
If you are in the mood to escape somewhere serene but don't have enough time for a vacation, Cafe Panama is your destination as they have launched a Tequila lounge. Nestled in Lower Parel, the vibe of this place is immaculate and the decors and intricacies take the ambience to a next level. Don't forget to try some lip-smacking cocktails.
Where: NM Joshi Marg, Mathuradas Mills Compund, Lower Parel, Mumbai
When: 12 PM – 1 AM
Cost: ₹2,000 for two (approx.)
2. British Brewing Company
In search of a restaurant in Mumbai that serves you tons of delectable cuisines all in one place? Well, you can now stop searching as we have found one in Todi Mills for you. Say hello to British Brewing Company's new outpost in Todi Mills. Gorge on dishes from all over the world such as Korean, Italian, Thai, European, and of course some classic British delicacies.  Make sure to try Kha Thai Soup, Feta Greek Salad, Chipotle Pizza, Shepherd's Pie, and more. If you are a vegetarian, they also serve Vegan & Jain Specials. Doesn't BBC sound fascinating? Make sure to check it out.
Where: Todi Mills, Lower Parel
When: 1pm – 12 am
3. Short Stories
It is not easy to find a secluded corner in a place like Khar-Bandra. Well, you can spend some time avoiding crowds in Short Stories. This is the ultimate hang-out spot in the city to spend some memorable time with friends, play games, and of course, indulge in a feast of tempting dishes. From the keto menu to vegan dishes, you will find everything here.
Where: Ground Floor, Plot no. 712, Bajaj Niwas, Mumbai, Maharashtra 400052
When: 12 pm – 12 am
Cost: ₹500 for two
4. Saffron- JW Marriott Juhu
JW Marriott Juhu recently launched its Indian specialty restaurant, Saffron. Like always, this launch by Marriott is the perfect example of luxury and opulence. The menu has been beautifully curated by Chef Ajay Jain, Chef de Cuisine, and his team and some of the must-try dishes are Wild Mushrooms Mascarpone Chilies Truffle Kulcha, Backwaters Meen Chatti Curry, Gondhoraj Tandoori Prawns, Watermelon and Guac Chaat, and 64% Cocoa Mousse.
Where: Lower Lobby level, JW Marriott, Juhu Tara Road, Juhu, Mumbai
When: 7 PM – 12:30 AM
Cost: ₹3,500 for two (approx.)
5. Foo NESCO
Nestled in Goregaon East, Foo NESCO is a stunning place in the city to spend a gala time with your loved ones. Inspired by the Neo-Japonism style, the interior is a delight to watch. With enigmatic decors and larger-than-life elements, this is an amazing place to spend a wonderful evening while gorging on classic Asian cuisine dishes from its menu.
Where: IT Building 4, Wing A, Ground Floor, South Tower, Nesco IT Park, Goregaon East, Mumbai
When: 11 AM – 11:30 PM
Cost: ₹1,000 for two (approx.)
6. Hitchki
Attention, all the Bollywood lovers! To foodies who love everything Bollywood, you need to head out to Hitchki ASAP. The popular Bollywood-themed resto-bar just launched a new outlet in Belapur and it is the perfect place in Mumbai and around to relish scrumptious food and enjoy a magnificent time. The tempting menu of Htchki has some eclectic cocktails that will surely add more spirit to the time spent here.
Where: Shop 1-2-3, Mahavir Icon, Sector 15, CBD-Belapur, Navi Mumbai
When: 12 PM – 01:30 AM
Cost: ₹1,700 for two (approx.)
New Restaurants In Mumbai To Visit In October 2022
1. Cafe Calma
View this post on Instagram
Cafe Calma in the Shalimar Hotel offers an alfresco dining experience amid an avant-garde set-up. The pastel hues of peach and blue give the place a charming look and feel. The dishes here are prepared with hydroponically grown ingredients and are thus nutrient-rich. The menu of Cafe Calma includes exquisite dishes like Wild Mushroom Tacos, The Mojo Picon Chicken, Herb-Crusted Lamb Chops, Katsu Tartine and Ricotta Gnudi. Also, don't forget to try out the cafe's tempting desserts like Nova's Dark Chocolate Sea Salt Gelato and Vanilla Panacotta with a Blueberry Compote.
Where: The Shalimar Hotel, Kemps Corner, Mumbai
When: 7:30 PM – 11:30 PM
Cost: ₹2,000 for two (approx.)
2. Essange
Pastry Chef Shreya Gupta had launched the online store in Essange in 2018, which soon become a hit among dessert lovers. The brand's first-ever physical store has opened its doors in Juhu now. The space is highly gram-worthy and comes with a quirky 'Build Your Own Cupcake' station too. The Signature Buttercream Cupcake is a must-try here. Other amazeballs at the dessert bar include Lotus Biscoff Cupcake, Lotus Biscoff Cupcake, Belgian Chocolate Doughnuts, Apple Cinnamon Cupcake and Hazelnut Pranile Cupcake, to name a few.
Where: Shop No. 6, Valencia, revenue village Juhu, Opposite Estella, Juhu Tara Road, Juhu, Mumbai 400049
When: 10 AM – 10 PM
Cost: ₹1200 for two (approx.)
3. Pritam Da Dhaba, Juhu
View this post on Instagram
The 80-year-old Pritam Restaurant in Dadar, credited with introducing the original Butter Chicken in Mumbai, has launched its new outlet Pritam Da Dhaba to bring authentic North Indian flavours to Juhu. The restaurant has a desi, dhaba-style ambience with a theka and it offers delectable dishes like Murg Seekh Kebab Roll, Kheema Mutter, Amritsari Chole Kulche, Lasooni Palak and Roghan Josh, among other options. The Juhu restaurant also has a quaint alfresco area.
Where: 1st Floor, Bloom Hotel, Juhu Tara Rd, above Grandmama's Cafe, Shivaji Nagr, Juhu, Mumbai, Maharashtra 400049
When: 12 Noon–3:30 PM, 7 PM–12:30 AM
Cost: ₹1300 for two (approx.)
4. The Conservatory
View this post on Instagram
True to its name, the cafe is a charming conservatory with a glass roof, lamps and oodles of planters. Relish South-East Asian and European dishes out here while bathing in the natural night. Some must-tries at The Conservatory include Chimichurri Grilled Prawns, Wasabi Salmon Tartare, Eggplant Lonche Tacos, Phuket Bhel and wood-fired pizzas.
Where: NO 549, Shop no G-9 -A& B CTS, 5, AB Nair Rd, Juhu, Mumbai, Maharashtra 400049
When: 11 AM–1:30 AM
Cost: ₹2500 for two (approx.)
5. TAB
View this post on Instagram
Savour American specialities like New York-style Pizzas, Issa Green Wave Salad, Chicken Popcorn Salad, Pescado Chowder, Big Boy 20-inch Wood Fired Pizzas, hamburgers and more at the newly launched Manhattan-inspired eatery in Mumbai, Thoughtful American Bistronomy, aka TAB. The restaurant curates a wide array of traditional and modern American dishes to offer you a delectable affair. The bistro pours out some vigorous cocktails like Raspberry & Mandarin Bramble, Encantado and New York Pine Pepper Sour.
Where: 462, Senapati Bapat Marg, Lower Parel, Mumbai, Maharashtra 400013
When:  12 Noon to 12 Midnight
6. Poco Loco Town
View this post on Instagram
After Khar, Mexican Tapas bar Poco Loco has introduced its second outlet in Mumbai at Hughes Road Chowpatty. The place comes with an ultra-chic ambience with a glass-themed ceiling, jute lamps and bright pink walls. The menu comprises comforting soups, homemade bread options, small bites, pizzas, burgers and desserts. Some must-tries at Poco Loco Town include Patata Rellena, Gambas Al Ajillo, Twin Mushroom Croquettes, Pulled Lamb Pizza and Crispy Chicken Burger.
Where: South Bombay, 9, Kapur Mansion, Gamdevi, Hughes Road, Kemps Corner, Mumbai
When: 12 Noon – 1:30 AM
Cost: ₹1400 for two (approx.)
7. Gateway Taproom, Kalaghoda
One of the most sought-after microbreweries in Mumbai, Gateway Taproom has opened another outlet in Kalaghoda, after BKC.  Step into the electrifying aura of the place and get your spirits high with freshly brewed beers, paired with flavourful dishes like Black Pepper Chicken Skewers, Beer Batter Prawns, Bacon Wrapped Sausage, Sea Bass, Lamb Meatball Spagetti, Monks Chicken and much more. The new bar has a seating capacity of 48 folks.
Where: Kalaghoda. 5, Hari Chambers, 58/64, Shahid Bhagat Singh Rd, Kala Ghoda,  Fort, Mumbai, Maharashtra 400001
When: 12 Noon – 1 AM (Mondays Closed)
Cost: ₹1400 for two (approx.)
8. Foo, Powai
Foo has launched a brand new outlet in Powai and is plating up dishes like Truffle Togarashi Black Rice Maki,  Truffle Lobster Dumpling, Charcoal Har-Gow Gold Dust and Foo Blue Butter Japanese Fried Rice. When at Foo, you cannot miss out on its signature Japanese Rice Beer, Foo Brew.
Where: Foo, Ground Floor, B-Wing, Delphi Building, Orchard Ave, Powai, Mumbai – 400076
When: 12 Noon – 1:30 AM
Cost: ₹1500 for two (approx.)
Launching Soon:
Kamat group of restaurants is also launching a fine-dining restaurant Kamat Legacy in Bhandup, Mumbai soon to bring magical flavours from five South Indian states under one roof.
New Mumbai Restaurants In September 2022
1. Eve Bombay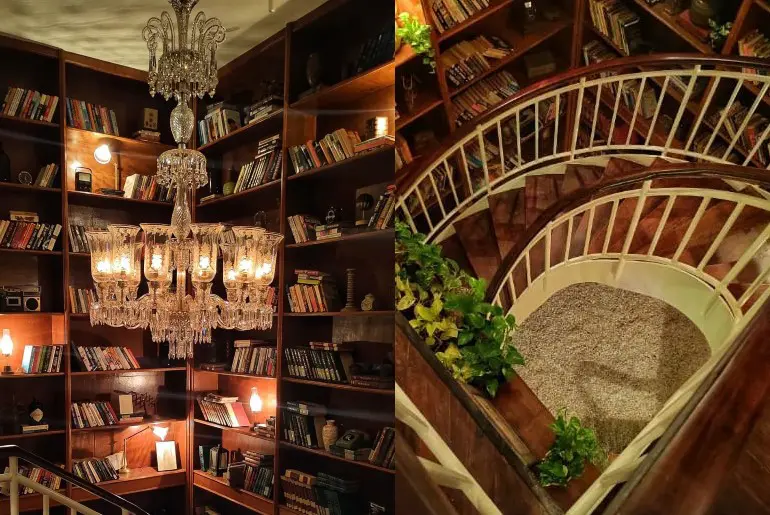 The plush 7000-square feet retro-bar features an exclusive spiral staircase, a lofty 30-feet library and as many as 4000 books. With contemporary chandeliers, jute lamps and quaint artefacts, the cafe offers a vintage feel in the heart of Powai. Eve Bombay is opening doors on September 23 to offer world cuisine and signature cocktails. You can also buy bakery essentials from the cafe.
Where: Senital Building, 101, First Floor, opposite Powai Plaza, Hiranandani Gardens, Mumbai, Maharashtra 400076
When: 12 Noon – 1:30 AM
Cost: ₹1,000 for two (approx.)
2. KMC
From old to new, KMC blends the best of both worlds. The restaurant lies inside the heritage Kitab Mahal building and showcases a unison of archaic and modern artworks. A typewriter at the door lies in striking contrast with the pop-culture posters here. The dishes at KMC are unconventional yet homely. Some must-tries at KMC include Shrimp Beignets, Coffee Glazed Roots, Banana Bread Miso and Quiche Cheesecake.
Where: Kitab Mahal, D Sukhadwala Rd, Azad Maidan, Fort, Mumbai
When: 9 AM – 12 Midnight
Cost: ₹1,000 for two (approx.)
3. TwentySeven Bakehouse
Inspired by the bakery culture of Tel Aviv,  the dainty takeaway restaurant on Shakti Mills Lane offers delectable palmiers, alfajors, tiramisu cube croissants, pumpkin pies, banana chocolate chip slices, moist carrot cakes and much more. With its comforting offerings, TwentySeven Bakehouse is taking the art of bakery a notch higher.
Where: Unit 27, Shree Laxmi Woollen Mills, Shakti Mills Lane
When: 10 AM-6 PM
Cost: ₹400 for two (approx.)
Also Read: Blabber All Day In Mumbai Serves Coffee With Your Picture On It!
4. Ditas
Get teleported to a European lane with the aroma of Spanish and Mediterranean dishes at Ditas Mumbai. Located at World Crest Lodha, the cafe offers a plethora of flavourful dishes from all across the globe amid its Art Nouveau-style decor. Here, you can indulge in delicacies like Bubbling Burnt Butter Prawns, Seared Sesame Tuna & Hazelnut Salad, Next Level Avocado Toast and Mushroom Phyllo Tartlets. The bar menu at Ditas comprises electrifying creations like Forbidden Apple, Havana Moon, Black Skye and El Patron.
Where: Ditas, World Crest Ground Floor, Lodha, 402, Senapati Bapat Marg, Mumbai, Maharashtra 400013
When: 12 Noon- 3:30 PM; 7 PM -1 AM
Cost: ₹2,500 for two ( approx.)
5. IHOP®
If you love pancakes, IHOP has to be on your bucket list. The American bistro has opened doors in Lower Parel to offer scrumptious burgers, burritos, salmon plates, country fried chicken, waffles, French toasts and much more. And the pancakes here are to die for. The fluffy pancakes at IHOP with luscious toppings will take your tastebuds on a happy ride. Take your pick from Original Buttermilk Pancake, Strawberry Banana Pancakes, Oreo Oh My Goodness Pancake, Double Blueberry Pancake and NY Cheesecake Pancake, among other options.
Where: F28, First Floor, Block 34/14B, Palladium, CS 141, 1/142, 71 & 109, Phoenix Mills Compound, 426, S B Marg, Lower Parel
When: 9 AM- 11 PM
Cost: ₹800 for two ( approx.)
6. Love Crumbs
This brand new bakery by The Lovefools, Mumbai is giving a global twist to baked Indian specialities. Here, you can treat your taste buds to Kashmiri Brioche Naan, Flaky Brioche Buns, Kochi Chocolate, Danish Kerala Beef and other delicacies.
Where: 14 C, Boran Road, opp Reliance Trendz, Hill Road, Bandra west
When: 12 Noon – 9 PM ( Tuesday- Saturday); Sunday & Monday closed
Cost: ₹1500 for two (approx.)
Also Read: These Mumbai Restaurants Were Featured In Fabulous Lives Of Bollywood Wives S1
7. Project Hum
Here, you can relish lip-smacking dishes made with organic ingredients sourced straight out of the farm. It is one of the best new restaurants in Mumbai offers wrap trays, artisanal sandwiches and seasonal salads. Come here and dig your forks into Sabbaba Wrap Tray, Fico, Keto Burrito, Rad Thai, Pali Caesar Salad and much more.
Where: Shop No 16 and 17, Gasper Enclave, Pali Hill, Bandra West
When: 11 AM-11 PM
Cost: ₹800 for two ( approx.)
Which of these places are you most excited to go to first? And when you do, don't forget to tag Curly Tales in your pictures. Also, let us know your experiences in the comments section below!
Cover Image Courtesy: Grounded Press Release & Nava Press Release