The key to a safe and rejuvenating holiday lies in the midst of nature. For honeymooners and couples disappointed over not being able to travel abroad, we have just the nature's fix for you. Awarded the 'Best Hotel for Honeymooners' at Outlook Traveller's Boutique Hotel Awards in 2016, Paatlidun Safari Lodge in Jim Corbett in Uttarakhand is your slice of paradise. This 13-acre lodge is nestled in Bhakrakot village, surrounded by trees and lush grasslands. With secret trails and jungles waiting to be explored and Kumaoni hospitality to leave you feeling comfy, this plush retreat is what you might not want, but your soul definitely needs.
Get Upclose With Nature At Paatlidun Safari Lodge In Jim Corbett
Paatlidun Safari Lodge planted on the edge of Jim Corbett Tiger Reserve is as rustic as the wild gets. Rightly named Paatlidun or "narrow valley", a narrow hilly road leads you to the safari lodge. This lodge is frequently visited by tuskers at night and wild boars who enjoy digging up grounds. With the help of expert naturalists, you can get up close with your furry friends and whiskered neighbours.
When you're at this plush safari lodge, live like the wildlife enthusiasts. Scout for pug marks, check for marking on tree trunks and track animals. Paatlidun captures the essence of unspoilt nature, amalgamated with Kumaoni hospitality and gives you the chance to encounter the untamed wild. This is as close as you can get to the jungles of Uttarakhand. And if all this adventure is exciting for you, then let's remind you that there's a lot of luxury in store for you too.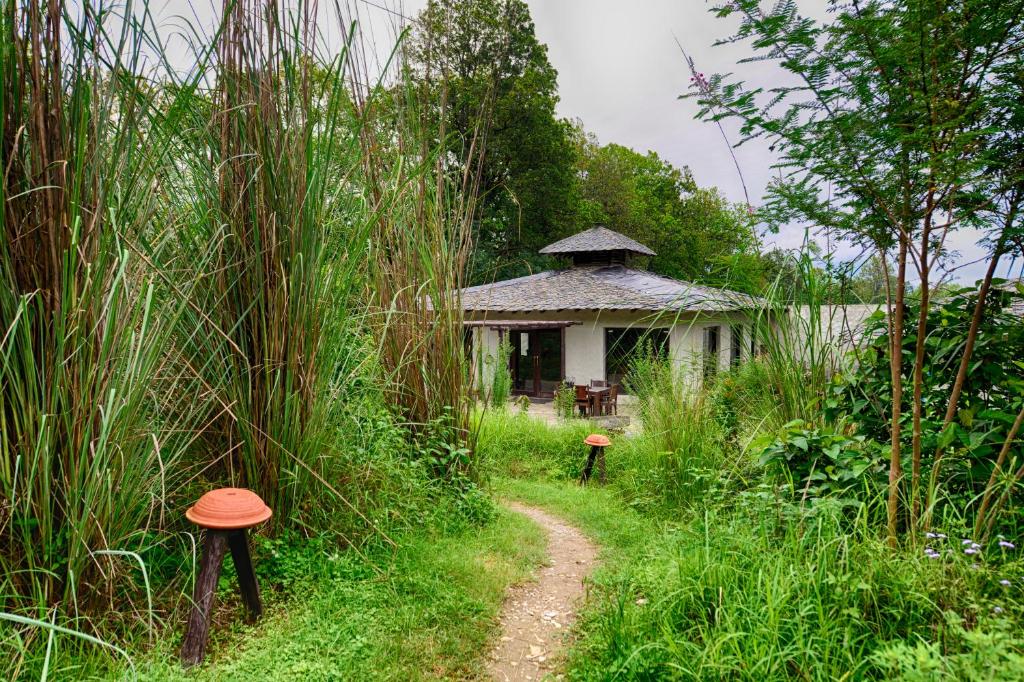 Also Read: This Resort In Jim Corbett Is Right On The Bank Of River Kosi
The Cottages Have French Windows, Hot TubS & Private Verandahs
Staying true to their Kumaoni roots, Paatlidun Safari Lodge has 12 cottages, perched near the Kosi river. They are named after the local rivers of Uttarakhand and the Hindu lunar calendar's Rashis. The cottages are filled with intricate Kumaoni woodwork and artwork. Every home has large French windows, sunlit verandahs, private pools and antique furniture. As the icing on the cake, there are romantic Star windows placed right above the beds, so you can cuddle with your lover and spot shooting stars.
To ensure you have 100 per cent privacy, there's also a Butler Window, to deliver all your meals, hassle-free. The verandahs open directly into the woods, to get you intimate with nature. The Bush Cottages named after birds, offering private verandahs, hot tubs and Star Windows are priced at ₹10,499 per night.  The Luxury Cottage costs from ₹26,000 onwards. And the tariff for the Premium Luxury Cottage amounts to ₹28,000 upwards.
Also Read: 6 Garhwali & Kumaoni Delicacies You Must Try On Your Next Trip To Uttarakhand
Sleep Under Open Skies & Watch Shooting Stars
The custom-designed cottage suite at Paatlidun Safari Lodge is extravagant and indulges your every little whim. With private pools, open-air shower, spacious backyard, artistic furniture and stunning interiors, you're in for a dose of royalty in the middle of a jungle. Sit outdoors in your verandah, and enjoy a romantic moment with a glass of wine.
You can also head to the sky bed on the roof and sleep under a star-studded night sky. Feel the cool breeze ruffle your hair as you gaze at the shooting stars and make a wish. With the chirping crickets and jungle sounds to give your company, you'd wake up to a Lion King-like horizon in the crack of dewy dawn.
Savour Authentic Farm-To-Table Kumaoni Meals
Paatlidun ensures you get close to nature. This is not just their magnificent location but also their farm-to-table food. Almost all fruits and vegetables used to cook meals are organically grown by indigenous Kumaoni farmers. The chefs prepare a wide range of cuisine using locally sourced organic produce that's light, refreshing and truly delicious. The gardens are dotted with lettuce parches, spinach and tomato creepers. From an authentic Kumaoni fare to pizzas baked at the live counter, there's a lot you can choose from here. Restaurants, cafes and bars like Risya, Chakh, Bush Dinner and Dhaba serves delicious meals, snacks and refreshing drinks. So, your pet-puja is all covered.
Go On Wildlife Safaris & Spot Baby Elephants & Crocodiles
Wildlife enthusiasts have a bucket full of activities to keep themselves super busy at Paatlidun, apart from relaxing in the cottage of course! Go on a trip with naturalists to spot adorable baby elephants waiting to be petted and played with. On the banks of the Ramganga river, you can also spot long-snouted gharials and bulky crocodiles. Spend a few enjoyable hours marvelling at their strong jaws, flared up nostrils and scaly backs lurking from under the waters.
View this post on Instagram
Carry your binoculars, wear your big hats and go on a jungle safari in a jeep. The safari takes you through marshy riverbanks and tall grasslands to give you a glimpse of swarms of deer, elephants and wild boars. Honeymooners, friends and families, Paatlidun Safari Lodge near Jim Corbett must definitely adorn your wishlist. This is one of the finest wildlife lodges in India that offer the best of luxury, hospitality and wildlife.