When it comes to summertime, the word "salad" almost sounds like heaven! So whether you are searching for a healthy summer salad recipe or making summer salads for friends at your next get-together, Priyanka Chopra has something special for you from the kitchens of her SONA restaurant. The Desi girl often shares recipes for her SONA restaurant on Instagram. And this time she has brought to us all a special SONA summer salad recipe. Priyanka Chopra took to her insta stories to share a post by 'Sonahomenyc' which had the picture of a green salad packed with seasonal veggies, presented on SONA tableware. The post also included a recipe for the delicious summer salad, read on to find out!
Priyanka Chopra Shares A Summer Salad Recipe And It's Packed With Greens
On Wednesday, Priyanka Chopra shared a post by Sonahome on her Instagram stories with the caption, "You can experience SONA wherever you are." The post showed a delicious green summer salad with avocados on the side, presented on some gorgeous SONA tableware. The actor also added a "tap for a delicious recipe" gif on her insta story. And tap we did! The 'Sonahomenyc' post also included a special recipe for the summer salad and we can't wait to share it with you all. Also, thanks to Priyanka Chopra we now have a great option to put dinner on the table without having to turn on our ovens.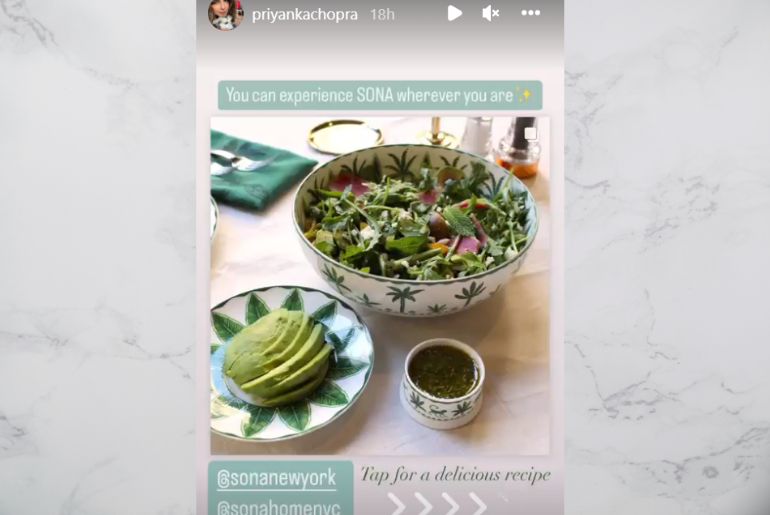 Also read: Mindy Kaling Visit Priyanka Chopra's New York Restaurant & Relishes Dreamy Dosas
The Summer Salad Recipe By Sona Restaurant
Priyanka Chopra takes pride in the authentic taste that is offered by her new restaurant SONA, in New York. And we trust PeeCee! So here's the recipe for the Summer Salad:
Ingredients:
4-6 cups of spring greens rinsed and chopped
1 cup asparagus tips chopped in 1-inch pieces
1 cup fresh English peas
1 watermelon radish halved and thinly sliced
½ avocado sliced
½ feta cheese crumbles
Dressing:
¼ cup extra virgin olive oil
3 tablespoon fresh lemon juice
1 tablespoon fresh mint, minced
1 clove garlic, minced
½ teaspoon salt
¼ teaspoon pepper
Instructions:
Combine all salad ingredients in a large serving bowl. Whisk together dressing ingredients. Pour dressing over salad and toss till fully incorporated. Top with grilled chicken or an additional ½ avocado if desired. Serve immediately and enjoy! And do thank Priyanka Chopra later for sharing this delicious summer salad recipe!
View this post on Instagram
Also read: Priyanka Chopra Shares Pics Of Yummy Garlic Naan From SONA Restaurant In New York