Priyanka Chopra's New York restaurant, Sona, has always been a hot topic among the foodies of Bollywood. Numerous celebrities have enjoyed eating the best Indian spread at SONA and this time it's someone from Hollywood who's seen praising PeeCee's Indian restaurant in NYC. Popular American television face Mindy Kaling was recently in New York and decided to visit Priyanka Chopra's restaurant SONA to gorge on some yummy Indian delicacies. Mindy also took to Instagram to share glimpses from her visit and went ahead to give a top-notch review about the restaurant. Read on to know more about Mindy's visit to SONA.
Mindy Kaling Loved The "Dreamy Dosas, Kofta Korma, Chaat And More" At SONA
Priyanka Chopra's SONA has been garnering a lot of attention because of the authentic Indian taste it's dishes carry. Recently Mindy Kaling took to Instagram to share her experience of dining at SONA and she only had positive things to say about the restaurant. Her caption, "dreamy dosas, kofta korma, chaat and much more" is proof she loved the food there. Mindy also tagged Priyanka and showered her with love and adoration. Mindy's selfie with her friend Akshara reveals the duo seated at SONA. Their table has a pyramid-shaped Dosa on Sona aesthetic crockery that was recently launched by Priyanka Chopra. Take a look: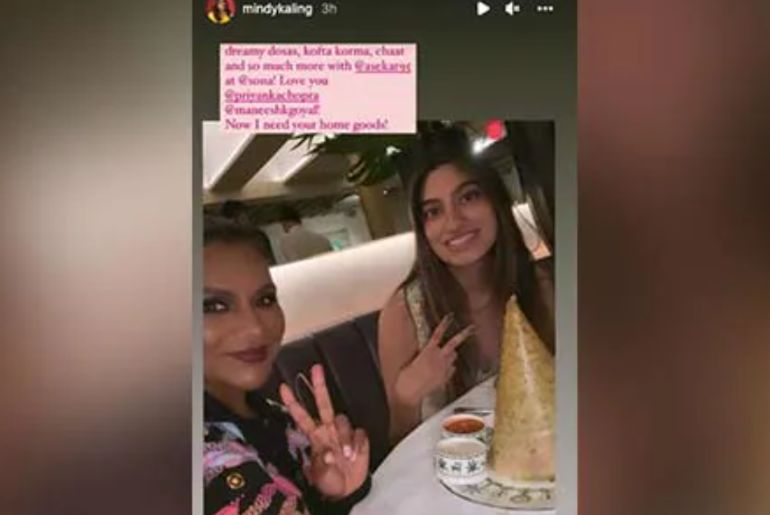 More About SONA
Located at 36 E 20th St, New York, Priyanka Chopra's SONA is a trendy restaurant that spotlights reimagined Indian dishes, desserts, cocktails, wine & brunch. SONA provides a very fresh take on Indian cuisine and hence it's become so popular in such a short time span. Priyanka's restaurant will give you a subtle reminder of flavors from back home. The cherry on top is the chic ambiance and fantastic bar and service. We recommend you go for their mutton cutlet, it's a must-try when in SONA. The restaurant also has a private dining area. Mimi's at SONA is our exquisite private dining room where the meals are long and you have an extensive menu to choose from. The area can host up to 24 seated guests and 45 for standing cocktails.
View this post on Instagram
Also read: Priyanka Chopra Shares Pics Of Yummy Garlic Naan From SONA Restaurant In New York