Global superstar Priyanka Chopra recently flew to New York City to attend the 2022 General Assembly. Chopra, who is also Unicef Goodwill Ambassador, is one of the speakers at the ongoing United Nations General Assembly. Desi girl has been constantly treating fans with glimpses of her NYC diaries. And looks like the actor made a stop at her restaurant, SONA, in the city. Later, Priyanka Chopra is also seen taking the Subway in NYC while heading to the Global Fund.
Priyanka Chopra Finds Subway The Fastest Way To Travel In NYC
Priyanka Chopra, clad in vibrant pink, takes the Subway in New York City to escape traffic. The actor keeps talking throughout her stroll across the Subway and says, " I'm in New York City, heading to the Global Fund. But obviously, there's a lot of traffic because of the General Assembly or I don't know why. It's just New York City, so fastest way to travel in the city." And she heads off! Well, it's no secret that the Subway is the best way to get around if you are travelling more than a mile in NYC. Priyanka Chopra speaks no lies!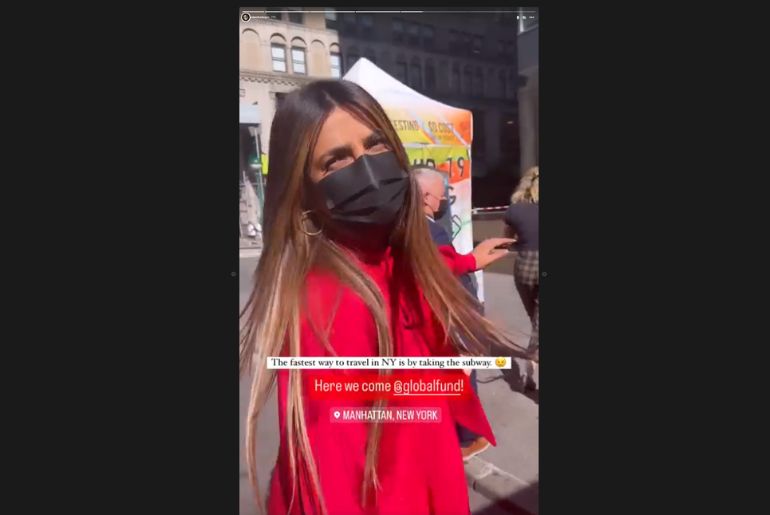 Also read: Travel Destinations Visited By Priyanka Chopra That Deserve To Be On Your Bucket List
Priyanka Also Visited Her Restaurant SONA In NYC
Priyanka Chopra's happiness knows no bounds as her restaurant SONA now lists among the 30 new NYC restaurants that will be added to the world-famous Michelin Guide. The actor is currently in NYC attending the ongoing UNGA and made a stop at SONA to relish varied delicious meals in the restaurant. The actor took to Instagram to upload a picture of the restaurant and tagged SONA with the caption, "Next Stop."
Priyanka's SONA in NYC is quite the talk of the city! The actor co-owns SONA restaurant along with Maneesh Goyal. The idea behind the restaurant is to serve reimagined Indian cuisine in NYC. Priyanka Chopra often visits the restaurant when she is in the city and relishes SONA's authentic Indian meals with a twist.
View this post on Instagram
Must say, the actor totally knows her choices in the 'Big Apple' city of the US. And we can't wait to visit SONA. What about you?
Feature image courtesy – Instagram/sonanewyork