Priyanka Chopra ventured into the food business and opened an Indian restaurant in New York City. As the COVID-19 crisis ravaged India, the actress used SONA to raise awareness and aid for India. Many international celebs who visited SONA were in awe of the drool-worthy Indian spread. And now as the restaurant turns a year, Priyanka shared a video.
View this post on Instagram
Film and theatre maker Lola James Kelly visited Priyanka's SONA restaurant and relished humble vada pav served with hari mirchi. Other than vada pav, the filmmaker also tried corn bhel and chat. Expressing her love for the dishes, she wrote on Instagram, "No surprise @sonanewyork is exceptional. @priyankachopra does not miss!" The restaurant also serves kulcha, dosa, pani puri, samosa and more.
Recently, Priyanka also devoured the South-Indian delicacy a dosa served in the shape of a cone with sambar and a rich, smooth chutney.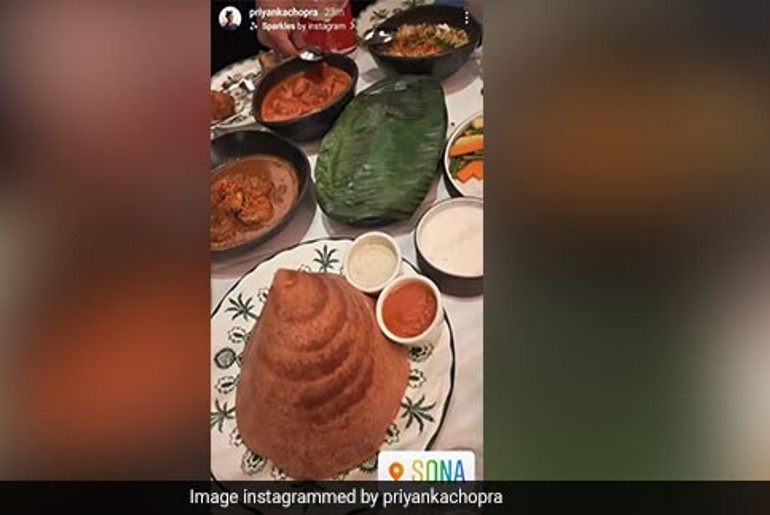 Priyanka Chopra's SONA Restaurant In New York Raises Funds For Covid-Hit India
Starting May 4th, the proceeds from a dish selected off their menu will go to support COVID relief efforts. Funds from the 'Floyd's Goan Fish Curry' dish will be donated to #TogetherForIndia, a campaign initiated by Priyanka Chopra.  Their goal is to reach one million dollars to help India's shattered health care system.
View this post on Instagram
SONA Has A Minimalistic Decor With Indian Artworks
When we went through Sona's official website, we got a glimpse of the ambiance of the restaurant. It has a modern minimalist look with accent lightings and Indian art works. The colour scheme for SONA is brown and gold. There is a bar section in the restaurant and there is a lot of space for visitors to move around.
SONA Is An Embodiment Of Timeless India
The actress posted a few pictures on Instagram from 2019 where she is seen performing an intimate puja with her husband Nick Jonas before starting the venture. She wrote in her post, 'I'm thrilled to present to you SONA, a new restaurant in NYC that I poured my love for Indian food into. SONA is the very embodiment of timeless India and the flavours I grew up with.'
Also read: Shilpa Shetty Wows Foodies With Pictures Of Her New, Swanky Restaurant In Mumbai
View this post on Instagram
Culinary Talent Chef Hari Nayak Helms The Kitchen
The kitchen is helmed by Chef Hari Nayak who is the culinary talent behind Dubai's Masti eatery. Her business partner Maneesh K. Goyal also called Prianka Chopra Jonas the "creative force" behind the new business. Here's what he wrote "Opening a restaurant is a team effort for sure. I'm gonna spend the next few posts proudly sharing the people who brought SONA to life," he wrote alongside two photos of the pair.
Also read: Sign Up For The Most Exotic Meal In Delhi With 7 Famous Chefs Offering 6 Amazing Thalis
View this post on Instagram
Earlier this year, she also launched a range of vegan and eco-friendly hair care products named Anomaly. And with the new restaurant, the actress has added another feather to her cap.