Desserts have the ability to make anyone smile, dil se! Making desserts is not at all a cakewalk, and of course, it's not everyone's cup of tea. With the right recipe, you also need precision and passion to make the best one. Indians love their sweets the most, and well, here is some good news! India's 10 dessert spots have made it to the world's 150 most legendary dessert places, and honestly, we are not surprised!
India Has 10 Out Of 150 World's Most Legendary Dessert Places
View this post on Instagram
Taste Atlas listed out 150 World's most legendary dessert places and India's 10 dessert places have grabbed spots. 
On number 18, comes Pune's Kayani bakery. Kayani Bakery is a Pune-based bakery with roots dating back to the early 1950s. It is well known for its authentic Iranian and Parsi baked delicacies, but their Mawa cake is a particular favorite. 
K.C. Das, Kolkata grabbed the 25th rank. In Kolkata, K.C. Das is a well-known confectionery with a lengthy history that dates back to 1866. It is widely credited for spreading public awareness of the traditional Indian confection known as rasgulla. 
On number 26 is Kolkata's Flurys, which was established in 1927. It is a renowned tea house and confectionery in Kolkata. Flurys is well known for its rum balls, a delectable concoction of chocolate sponge cake, cocoa, and rum, among its large menu of pastries and sweets.
Karachi Bakery in Hyderabad is on number 29. The famous bakery chain Karachi Bakery was established in Hyderabad in 1953. Its enormous array of cookies, cakes, and pastries, which reflect the region's rich culinary heritage, have made it a household name. 
B&R Mullick in Kolkata is at number 37. Known for its confections, Balaram Mullick & Radharaman Mullick has been in business in Kolkata since 1885. It is well-known for its traditional Bengali sweets, with sandesh standing out as a standout treat.
 Also Read: Zomato Asks Karthik From Chennai To Delete 139 Saved Addresses, Netizens Call Him Omnipresent!
From K. Rustom To Jalebi Wala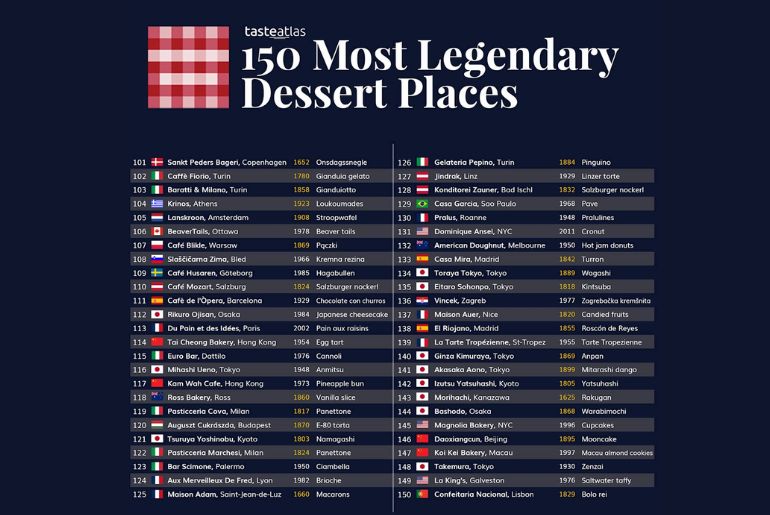 On rank 49 stands K. Rustom & Co., Mumbai. It is well known for its inventive ice cream sandwiches. K. Rustom & Co.'s ice cream sandwiches are a creative take on a classic dessert, with flavors ranging from standard vanilla to unusual ones like paan.
Kuremal's Kulfi, New Delhi, is on the 67th rank. Kuremal Kulfi, which has a wide variety of flavors and kulfi-making methods, has advanced to become legendary in the eyes of Dilliwalas. It boasts famous celebrities and an international clientele.
At the 77th rank is Lucknow's Prakash Kulfi. The well-known Lucknow restaurant Prakash Ki Mashoor Kulfi is known for serving kulfi falooda, a typical Indian delicacy. For more than 60 years, they have been delivering this traditional dessert to pleased customers.
Pune's iconic Chitale Bandhu is on the 85th rank. Chitale Bandhu has developed a reputation for producing sweets and namkeen, particularly bakarwadis. Additionally, it is recognized for exporting its namkeen to nations including the United States, Singapore, and Israel.
Jalebi Wala, New Delhi, is on the 93rd rank. Since 1884, this jalebi business in Old Delhi has remained open. This Chandni Chowk establishment is well known for its sizzling hot, thick, and delicious freshly prepared jalebis. 
Also Read: Roasted Milk Tea Video Goes Viral; Netizens Say, Chai Ke Saath Masti Nahi Karne Ka
Which is your favourite dessert place in India?
Cover Image Courtesy: Canva