Under 140 Characters
Go off the beaten camping track and experience nature and adventure, just 5.5 hours from Delhi, the Camp Roxx way.
What's It?
If you spontaneously thought, this is just one more camping alternative for your weekend pleasure, you'll be compelled to readjust your point of view. Because only Camp Roxx brings you into the heart of a pine forest and lets you to feel its beat.
Less than 275 kms. away from Delhi, when you have left behind the city's smog and stress, you'll unravel nature's gorgeous secret that few have laid eyes on – Kangojodi. Yet protected from the fame and noise that are a bane of popular tourist hubs, it is Himachal Pradesh's enviable beauty spot. Pristine, peaceful and exclusive. Its pine forest stretches across 1700 acres and provides the perfect setting for experiences curated by Camp Roxx. To get your adrenaline rushing, there are adventurous activities planned. You can even go trekking into the Kangojodi forest and get up close with nature. Or sit by a stream and read a book or simply let the peace engulf you. For corporate teams, specific activities are conducted too.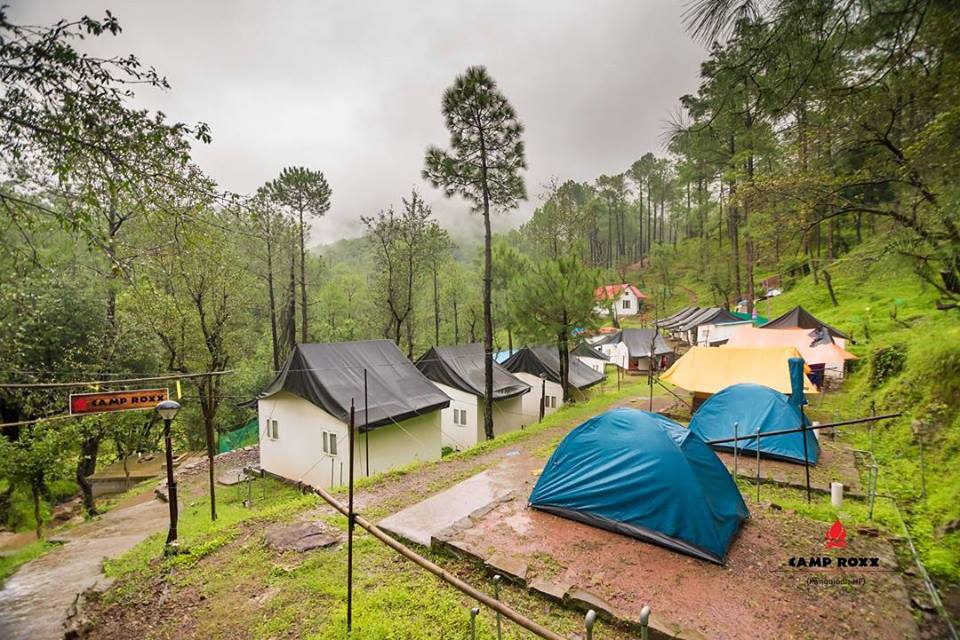 Once you've had your fill of thrill, your need to relax is instantly met by the comforts housed in the well-planned cabins and tents. A good mix of luxury and hygiene, the accommodation is designed to give you a comfortable stay while retaining the intrinsic charm of a camping abode. Which also means, it's easy on the pockets.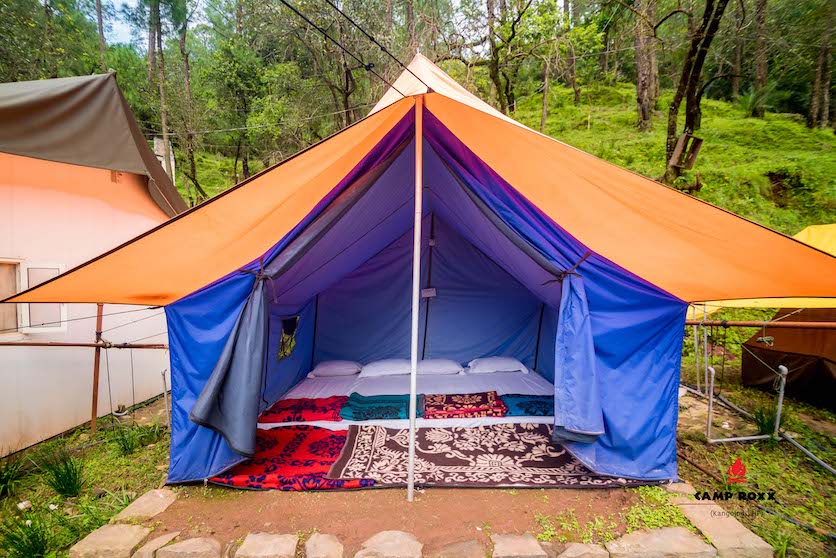 At Camp Roxx, you'll breathe in the fresh air of the hills, gaze at the mesmeric scenery painted by nature all around, unwind in peace and share memorable moments with your loved ones or forge a deeper bond with your colleagues. And when you get back to the city, you'll have many anecdotes to recount which will leave the others wishing they were part of the narrative.
Stay At Camp Roxx
The different choices of accommodation, 14 cabins and tents and 1 dormitory, allow you pick the one that suits you best. Select from Executive Cabins with Attached Washrooms, Executive Cabins with Common Washrooms, Alpine or Dome Tents with Common Washrooms or Dormitory with Private Washroom. They all come with practical comforts like an electricity connection, mattresses and blankets, hot water on request and more.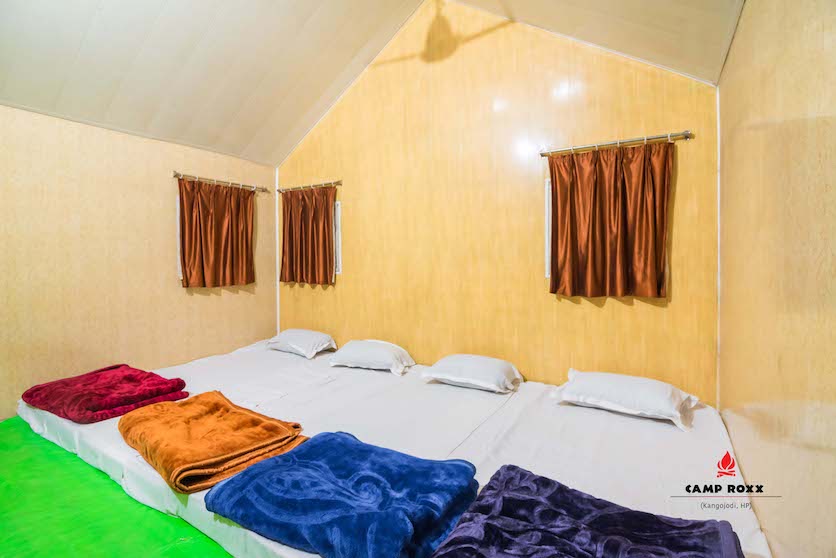 Cabin Capacity – 5 people
Tent Capacity – 4 people
Dormitory Capacity – 18 people
Experiences At Camp Roxx
Adventure Activities: You will be thrilled to bits by the array of activities lined up; over a dozen of them are there. Flying Fox, Burma Bridge, Monkey Bridge, Single Rope Walk, Mowgli Walk, Skyfall, Trekking, are some of them.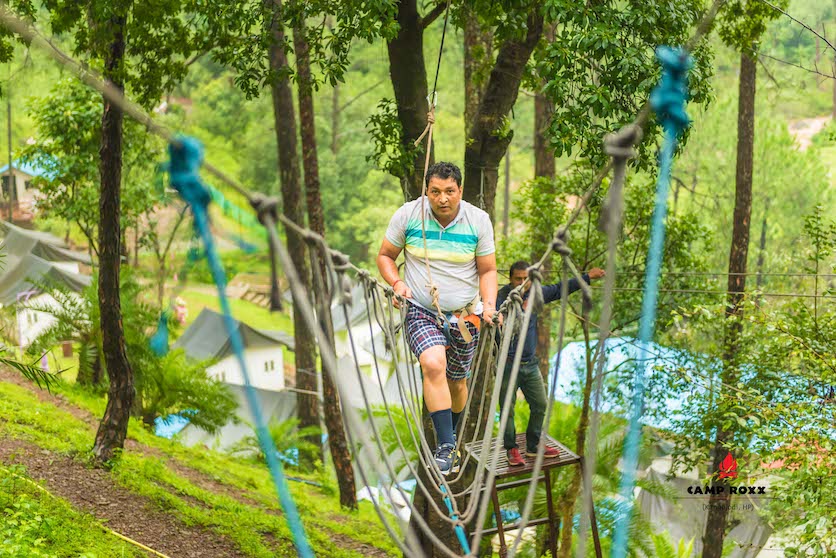 Team Building Activities: Special energising and ice-breaking activities are conducted to enable the team spirit to soar. Just what the corporates need.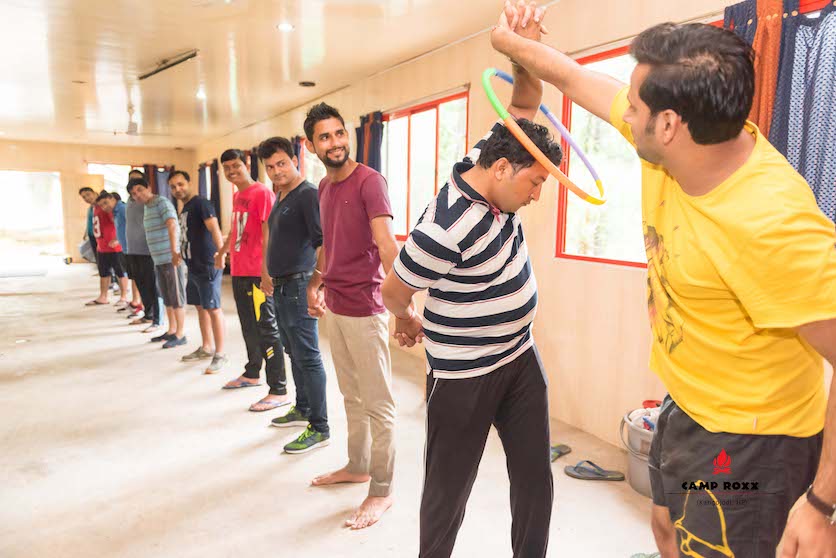 Fun Under The Stars: When the sky dons a blanket of stars and the moonlight streams through the clouds, huddle around to feel the warmth of the bonfire and your camaraderie. Couple it with some music, singing and laughter to complete the camping experience.
Long Weekends Special: Enjoy BYOB parties (by invite only), outdoor movie screenings, live performances, listening parties and many such exotic experiences on weekends that stretch beyond Saturday and Sunday.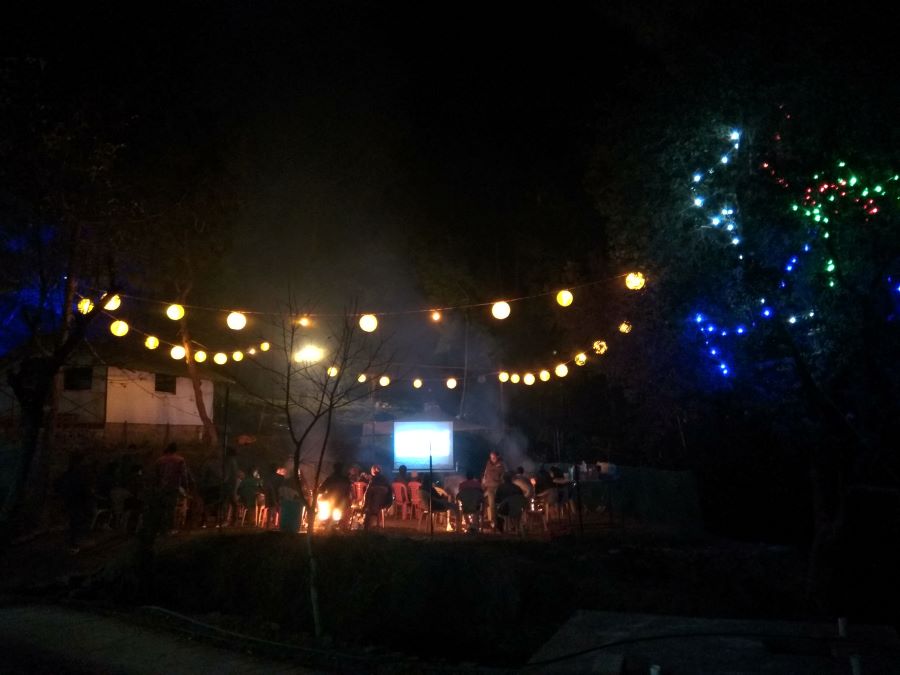 More Highlights Of Camp Roxx
Open all year round
Winner of 3 Certificate of Excellence Awards by TripAdvisor
Adorable in-house furry pets – Leo, Scotch, Gauri & Bozo – who are every dog lover's delight, and always up for selfies