This entire Work From Home scenario has us missing the outdoors. All those Zoom meetings, the never-ending deadlines have made us go: "I wanna go!" Looks like, there is something that can be worked out for these work blues! Enter: workation! The term probably doesn't need introduction, but for the uninitiated, it means, 'working with bliss!' So, we have done some digging to find out 5 resorts in India that are perfect for your workation:
1. Vythiri Resort, Wayanad
Thinking of how to make up for those weary Zoom meetings? Get your fresh vibes on at this resort which is located in a tropical rainforest area. The Vythiri Resort in Wayanad is just the retreat you need for hitting the reset button. Plus, the birds and flowers nearby will make for a delightful company, we're sure. Nature's healing for some maddening chaos? Game on!
Also Read: Kerala's Aveda Kumarakom Resort Turns 500 Feet Swimming Pool Into Fish Farm To Recover Losses Amid Pandemic
2. Porcupine Castle Resort, Coorg
Have you been surviving on coffee doses at your home to finish those assignments? Well, how about working amid coffee plantations? My friend, a workation at Porcupine Castle Resort in Coorg is what you need! The retreat offers unlimited Wi-Fi services, pre-set meals, and some amazing coffee. Lots of greenery, and coffee? Now you're good to go!
3. Ananta Spa & Resort, Pushkar
Work-from-home life taking a toll on you? Head to this stunning retreat in Pushkar, and beat those work blues! Ananta Spa & Resort offers state-of-the-art amenities, and the interiors here spell pure royalty. What's more? The lavishly delightful resort sits amid the Aravalli hills, so every time you feel like taking a break, there's a picturesque view awaiting you!
Also Read: Top 10 Cities In Rajasthan That You Must Visit
4. Taj Holiday Village Resort And Spa, Goa
Sulking over how you had to cancel your Goa plans because of the pandemic? Well, now is the perfect time to make a new one! You can now hang out at the Sinquerim Beach to chase away those work blues, with your stay at the Taj Holiday Village Resort and Spa in Goa. Sip on some cocktail, bask in some sunlight, and have the vacation (we mean, workation) of your life!
5. Sterling Resort, Mussoorie
Our workload has been piling up like mountains, and a break away would do us some real good. Speaking of mountains, how about heading to the Himalayas? Get set to work from some gorgeous hills and lush green valleys by staying at the Sterling in Mussoorie, which is an amazing resort to stay in for workation! What's more? Well, the clouds waving by will surely keep you company!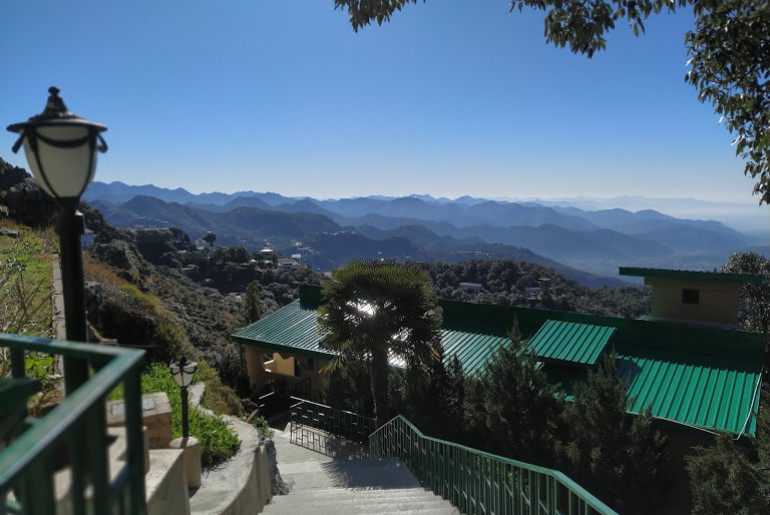 Also Read: 5 Resorts In Uttarakhand Where You Can Enjoy Breath Of Fresh Air
That rounds up our list of the best resorts in India that are just perfect for your workation/staycation. With that, it's time to bid adieu to your work from home blues! Also, please contact the resorts before making any bookings. And, make sure you check all the precautions and rules issued by the government. Stay safe!