Lockdown has been a tough time for all of us and all we need right now is to rejuvenate ourselves with a soothing experience. What better than visiting some of the best Yoga & Wellness retreats in India. Here you can meditate, practice yoga and have a relaxing spa experience in the lap of nature!
1. Atmantan Wellness Retreat
Atmantan is not your regular wellness retreat, a stay here is like a rejuvenating journey. It is nestled beautifully in the lap of nature, overlooking the blue waters of Mulshi lake, set against the backdrop of the mighty Sahyadris. Here you are sure to take a trip down to a healthy lane with relaxing spas, gourmet food, yoga, spa therapies, mediation centre and a lot more. You have to come here to experience the absolute best there is!
Please note that children below 14 are not allowed on the property.
Deets
Address: Atmantan Wellness Retreat, Palse Vasti, Mulshi Taluka, Mulshi Road, Pune, Maharashtra 412108
Contact:020 6676 6666
Cost: Atmantan Living  25,875 / night (Prices vary as per room)
Book your stay here
2. Ananda In The Himalayas
Nestled in the foothills of the Himalayas, this beautiful spa, is perfect for those looking for a de-stressing and luxurious experience. Ananda is surrounded by Sal forests and overlooks Rishikesh and the Ganges river valley. It integrates traditional Ayurveda, Yoga, and Vedanta with international wellness experiences. They also serve organic food here to restore the balance. It is safe to say that Ananda is one of the best wellness resorts in India that gives you a wholesome ad enriching experience.
Please Note – Children below the age of 14 years are not permitted at the Ananda in the Himalayas.­ Guests between the age of 14 and 18 years can take part in various scheduled activities. 
Deets
Address: The Palace Estate, Narendra Nagar, Uttarakhand 249175
Contact: 91-11-6121-0000 , +91 -1378-227500
Cost: Starts At ₹49,000 Per Night (7 Nights, 2 Adults)
Price changes as per programme.
Book your stay here
3. Wildflower Oberoi, Shimla
Oberoi Cecil in Shimla is another wellness retreat that ensures you a relaxing experience with their spa and Ayurveda therapies. They have a range of therapies lined up for you like the Ayurveda inspire rituals, spas, massages, nail grooming, hand and feet massage and a lot more. To experience absolute bliss, you must come to Oberoi Cecil in Shimla which is nestled in the beautiful mountains and valleys of Shimla.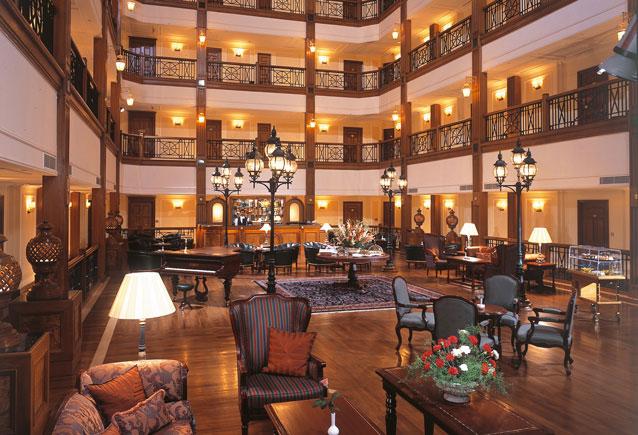 Deets
Address:  Chaura Maidan Shimla – 171 004 Himachal Pradesh, India
Contact: +91 177 280 4848 , +91-11-23890606
Cost: Starts At ₹13,000 (Per Night, Exclusive of taxes)
Book your stay here 
4. Naad Wellness, Delhi
Naad Wellness is a unique healing experience that's based on the nurturing wisdom of Ayurveda, Yoga and Naturopathy, all of this in one place at Delhi. They have specially curated packages that make sure you have relaxing and a refreshing stay. They also have a Thai spa, a yoga pavilion, a personalised consultation with a doctor, salt cave and many other such holistic experiences! So come down to Naad and experience bliss.
Deets
Address: Naad Wellness Private Limited, Naad Marg, Ansal Sushant City, Sector 62, Kundli, Delhi NCR 131023, India
Cost:
Contact: +91-124-6030400
Book your stay here
5. Karuna Farm, Tamil Nadu
Karuna Farms in Tamil Nadu is the one place that will take you super close to nature, this will not be one of your posh stays which will provide everything but the best of nature. So if you want an experience which is different than your cliche hotel stays, Karuna Farms is the answer. This is what sustainable living and healthy eating looks like. The balcony area of Karuna farms is the highlight of this stay! An uninterrupted view of the majestic mountain ranges, lush green trees and forests. Here you can practice yoga in their yoga centre or meditate, they also give yoga sessions for kids on request.
Deets
Address: Karuna Dham, Prakasapuram Village, Kodaikanal, 624101, Tamil Nadu, India
Cost: Starts At ₹2,080 (Prices are subjected to change)
Contact:+91-90809 64271 (do not call after 8 pm)
Book your stay here
Also Read: Top 10 Hotels In Mahabaleshwar That Are Perfect For Your Weekend Stay
6. Hilton Shillim Estate, Pune
This wellness retreat in Pune is just the escape you have always wished for. Hilton Shillim Estate is just 1.5 hour from Pune and it is a 3-hour drive from Mumbai. Located in The Western Ghats, Hilton Shillim serves only organic food and have plenty of meditation and yoga retreats. A reprieve from the hustle and bustle – relaxation is the name of the game in this gorgeous 320-acre property. You can also opt for their comprehensive wellness programs for an even rich experience.
Deets
Address: Village Shillimb, Pawana Nagar, Taluka Maval, Pune, 410406
Cost:  Approx ₹ 19, 486 (Prices vary as per room)
Contact:+91-2114-712 468
Book your stay here
Also Read: Best Spas in Dubai: 5 Luxury Experiences You Must Indulge In This Summer
7. The IBNII, Coorg
IBNII setup in Coorg is a blissful experience, it is similar to taking a detox journey. Coorg itself is very beautiful and if a resort is set up in the middle of all that beauty, then you don't need to think twice! The spectacular view from the window, the majestic infinity pool, amazing stay options right from a cottage to a villa, they have something for you all. The highlight of this place is their 'Manja Spa' which is a traditional technique. Manja is known as Turmeric in a local vernacular language and they promise to deliver a magical experience.
Deets
Address: The IBNII Coorg, 123 Ibnivalavadi Village, Boikeri, Madikeri, Coorg, Karnataka, India.
Contact: +91 88849 90000
Cost: Starting At ₹ 13, 500
Book your stay here!
8. SwaSwara, Gokarna
SwaSwara in Gokarna is another wellness retreat that is a provides you with the utmost care, pampering and nurturing experience. Located at Om Beach, SwaSwara is definitely a must-visit, it has got ayurvedic massages, yoga and meditation, art yoga, healthy food and resting in the lap of nature. You can be sure of gaining absolute peace at SwaSwara in Gokarna. They also have Ashtanga Yoga Retreat coming up with Andrew Hillam from 8th to 15th October.
Deets
Address: Om Beach, Donibhail, Gokarn, Karnataka 581326
Cost: Prices range as per the wellness package
Contact:+91 484 4261751, +91 9744070099
Book your stay here