Looking forward to spending some quality time with your bae, but don't know where? Romance can be engaging in a fun activity with your partner, connecting to each other on a deeper level amidst nature or experiencing something dynamic together. After all, it's the simplest things experienced with your partner that makes the perfect romantic date. So we have a list of 10 romantic things to do in Bangalore for Valentine's Day, so you can have the perfect date.
1. Take A Romantic Walk In Lalbagh Botanical Garden 
In the Garden City of Bangalore, Lal Bagh is a must-visit spot to plan a romantic date with your bae. Its calm and serene environment, filled with exotic trees and flowers makes for a picturesque environment to nurture quality time with your loved one. Sit under the trees, take a walk around the lake and visit the aquarium with your partner. This will be one romantic date you can experience at a budget yet leave with a pocket full of beautiful memories. We suggest you definitely visit Lal Bagh on 26th January or 15th August every year, to attend their famous flower show. The display of exotic flowers in intricate designs are a delight to watch, so don't miss out on this.
Deets
Address: Mavalli, Bengaluru, Karnataka 560004
Timings: 6 am to 7 pm
Price: Rs. 20 per person
2. Stroll Around Grover Vineyard
If you and your partner enjoy sipping a good wine, then head out to Grover Vineyard located in Doddaballapur Road. You can get to go on a wine tasting tour and soak yourself in the vibrant colors and juicy grapes growing at the Grover Zampa Vineyards. Sip on a variety of wines and learn the nuances of winemaking while enjoying each others company at this romantic place in Bangalore

Deets
Address: Raghunathapur, Doddaballapur Road, Bangalore
Timings: 10 am to 7 pm
Price: Rs. 500 per person
3. Go Bird Watching At Ulsoor Lake

Ulsoor Lake, one of the biggest lakes in Bangalore (over 50 acres) is a perfect place to plan a picnic with your bae. Carry your cameras and binoculars to spot some rare birds here. You can also take your loved one here on a boat ride and experience love in the bounty of nature.

Deets
Address: Near MG Road, Bangalore
Timings: 6 am to 8 pm
Price: No entry fee
4. Star Gazing At Jawaharlal Nehru Planetarium
With the Bangalore skyline covered with pollution and city lights, it might be tough to engage in stargazing with your bae. But at Jawaharlal Nehru Planetarium, you can have a stimulating experience with your beau gazing at the star-studded skies here. This will certainly be an out of the world experience to plan a romantic date.

Deets
Address: Sri T, Sankey Rd, High Grounds, Bangalore
Timings: 10 am to 5:30 pm
Price: Rs. 30 onwards
Also Read: Feeling Romantic? Head To A Couples Parasailing Adventure In Bengaluru This Weekend
5. Rooftop Dining Experience At Sky Lounge Bar
A luxurious meal with an unhindered view of the Bangalore skyline? Yes, please! An evening at the Sky Lounge involves soaking yourself in the soothing ambience, enjoying scrumptious meals and having an Insta-worthy memorable moment with your bae at this romantic place in Bangalore.

Deets
Address: No. 56D, Rooftop, Svenska Design Hotel, Electronics City Phase 1, Opp Wipro Gate No 5, Bengaluru
Timings: 6 am to 10 pm
Price: Rs. 1500 for two
6. Have An Adventurous Time At Wonderla
If you and your bae are adventure seekers, then Wonderla is just the right place for you. From going on crazy rollercoasters to having a gala time at the rain dance, this amusement park will guarantee a romantic, adventurous date like no other. If you like amusement parks and water rides then head to these 7 Water Parks in Bangalore For The Water Baby In You
Deets
Address: Mysore Road, Bengaluru
Timings: 6 am to 10 pm
Price: Rs. 923 onwards
7. Explore Paintings At National Gallery Of Modern Art
NGMA is food for the creative souls! So if you and your bae are creative people looking to immerse yourself in hours of some of the best Indian paintings, then this art gallery will be your abode. Located amidst lush greenery this art gallery is tastefully decorated. After you roam around admiring the paintings displayed, do visit the quaint cafe facing the fountain. The calm and serene atmosphere here will surely bring you and your bae closer. For the perfect romance here are 6 Romantic Getaways In India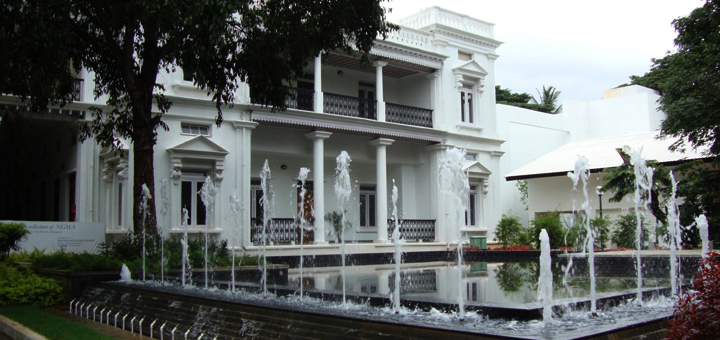 Deets
Address: 49, GF, Manikyavelu Mansion, Palace Rd, Vasanth Nagar, Bengaluru, Karnataka 560052
Timings: 11 am to 6:30 pm
Price: Rs. 20 onwards
8. Spend Quality Time Together At Sankey Tank

This manmade lake, located in Western Bangalore is a popular romantic place in Bangalore. The plethora of migratory birds, breath-taking natural surrounding, lush green trees nurture great conversation and bonding time for you and your partner. You can play ball here, read a book in the lap of nature or just sit together holding hands, as you capture every moment in togetherness. 

Deets
Address: Kodandarampura, Malleshwaram, Bengaluru, Karnataka 560080
Timings: 6 am to 8 pm
Price: Rs. 10
9. Go Parasailing Together At Jakkur Aerodrome
Soar the skies with your partner as you both take on a parasailing adventure together. At a height of about 200-300 feet above the ground, romance is in the air, like literally! We recommend you plan a trip here during the summer, winter, and spring season. With your bae's company what more do you need to make the most out of a date!
Deets
Address: Bellary Road, Post, Yelahanka, Bengaluru, Karnataka 560064
Price: Rs. 725 onwards
10. Laugh Out Loud At That Comedy Club
A great man once said, 'a couple that laughs together stays together. ( Don't ask us who that is but we sure know it's true) Laugh your guts out at Bengaluru's best comedy club hosting, some of the finest standup comedians in India. You and your bae can indulge in the finest brews here while you laugh your hearts out together. This is a romantic place in Bangalore, trust us if you want a good laugh!
Deets
Address: 2nd floor, Sherlock's Pub, 46, 4th B Cross Rd, 5th Block, Koramangala, Bengaluru, Karnataka 560034
Timings: 7:30 am to 10 pm
Price: Rs. 500 onwards
These are some of the romantic places where you can take your bae for a  date in Bangalore. But we do believe that no matter where you decide, the romance is in you and any place can be the most romantic one for you both.
Also, if you're from Malleswaram, then do check out everything there is to do: