This episode of Sunday Brunch is by far the most special episode that we have shot. Not just because it is our 100th episode, but because our guest is the king of cricket centuries, dubbed the god of cricket, Sachin Tendulkar. Seeing that it was our 100th episode and that Sachin has scored 100 centuries in his career, it seemed fitting that he be our guest. What is even more exciting is that it was Sachin's 50th birthday! Yes, the king of centuries celebrated our centennial episode along with his half-century!
Sachin Tendulkar Loves From This Restaurant & We Got It For Him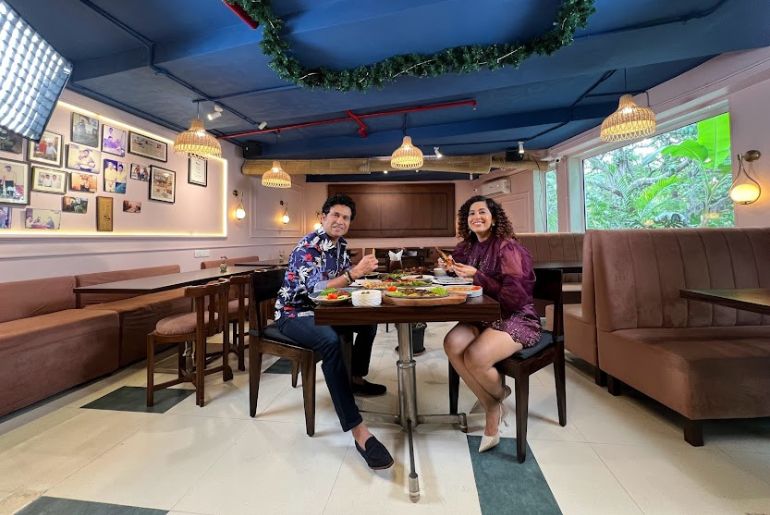 We were delighted to interview this master veteran cricketer at one of his favourite food joints which is Fresh Catch which is located in Bandra. Once you see the interview, you'll realise that Sachin Tendulkar is a huge foodie and especially loves seafood. So that's why we got him to this place to gorge on delicious seafood.
It is said that on your birthday, all your wishes come true. So to fulfil just a part of this myth, we got Sachin Tendulkar food from the one place that he loves a lot! The long list of mouth-watering seafood they enjoyed is Crispy Bombil Tawa Fry, Pomfret Hara Bhara, Surmai Masala Fry, Crab Meat Butter Garlic, Prawns Recheadu, Mutton Vindaloo, and Chicken Roce Curry.
They mopped up all this delicious food with some Neer Dosa and sol curry. Are you drooling yet?
Also Read: Sachin Tendulkar Relishes The First Mango Of The Season With His Mother!
Sachin's Love For Vada Pavs
If Sachin was all you could talk about as a child, you're going to love watching this interview. Like any native Mumbaikar, he loves Vada Pav which is akin to comfort food for him. He has special memories of eating Vada Pav from the Ashok Vada Pav stall which is located opposite Shivaji Park at Dadar.
We played a fun game where we got him 3 Vada Pavs and he had to guess which one was from this iconic eatery. Tune in to the episode this Sunday, 23rd April to find out whether he was able to accurately pick it out or not.
Also Read: From Sachin Tendulkar To Amruta Khanvilkar, A Peek Into The Celebration Of Gudi Padwa By Celebs!
Don't miss this iconic episode! Tune in to Curly Tales's YouTube channel this Sunday!
Cover Image Credits: Internal