Sara Ali Khan is one Bollywood celebrity who loves documenting her travel anecdotes. Recently, the actor has been documenting her US trip on Instagram Stories and treating her fans with funny yet relatable videos from her trip. The most relatable one is her sharing that Jet Lag is real! Well, of late, Sara Ali Khan is constantly traveling and has already spent four continuous nights on the plane. Usually, Jet lag symptoms occur within a day or two of travel. And after long flights, we all end up exhausted and jet-lagged. So Sara and her messed-up sleep patterns are totally relatable to us!
Sara Ali Khan And Her Relatable Travel Anecdote From The USA
Sara Ali Khan has always been a celebrity netizens relate to the most in our country. From her simple ethnic travel outfits to her booking of budget-friendly stays, Sara is totally relatable to most Indians when it comes to travelling. Of late, the actor is on a travel spree and her Jet lag videos have made everyone realize how relatable her travel issues are. On Sunday, Sara Ali took to Instagram stories to share a video that opens up to her standing with her luggage on the streets after landing in Atlanta, Georgia. She looked exhausted yet adorable in her green coord set track pants and printed outerwear. Her caption, "I truly 'woke up' like this… Jet lag is real," was enough to reveal how relatable the issue is. A flight to the USA will make anyone go through the same and we can totally understand Sara's plight! The video further shows Sara sipping some coffee while holding her pink travel pillow and some food packages.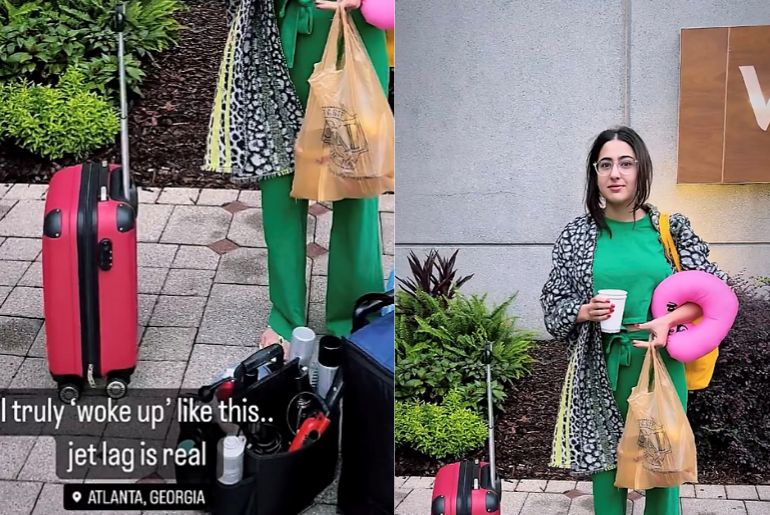 Sara's Jet Lag Didn't End After Landing In Georgia
If you thought Sara Ali Khan landed in Atlanta, Georgia, and rested well to get over her jet lag, you are wrong! The Simba actor shared another video but this time from Pleasanton, California where she was seen donning the same outfit and clutching to the same pink pillow in her hand. Her insta story caption read, "Many hours later… Clearly, I'm loyal to the pillow and the outfit #traveldiaries." The camera also briefly showcased the luxurious house she visited. In the background, the actress can also be heard talking to someone as she said, "Hello Aunty! Kaise hai Aap?" Well, even after all the jet lag, Sara was still her bubbly self and fans are in awe!
Also read: Sara Ali Khan Explores Delhi; Visits India Gate & Hazrat Nizamuddin Aulia Dargah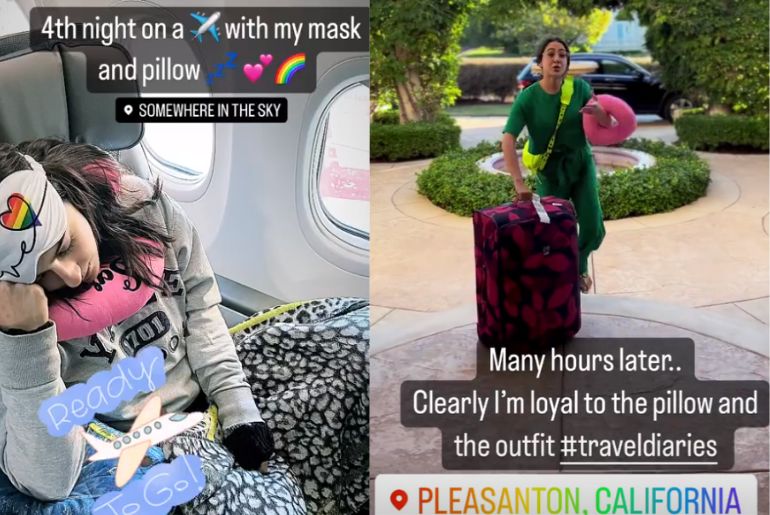 Also read: Sara Ali Khan Turns Kashmir Ki Kali During Trek Trip In Snowcapped Mountains
View this post on Instagram