October Calendar
The festive spirit takes full control of October promising some exciting times ahead. Infact, Mumbai is already buzzing with the quirkiest, most interesting events happening and well, that is going to be the case for the rest of the month. So here are some of the places where you should be seen at this month. Save The Dates!
1. Drink it Down at The Oktoberfest
October calls for Oktoberfest Mumbaikars! Three chilled beers and a starter, that too for Rs. 300. Don't believe me? Download Dineamic, an app for your Android phone, and get the same at more than 15 restaurants and bars across Mumbai. Check out their Facebook page here for all the restaurants they cover and a step-by-step guide to treating yourself this month!


When: Saturday, Oct 1 to Saturday, Oct 15
Where: Brewbot, The Barking Deer, The Little Door, Imbiss Colaba, The Local, Kaitlyn's Beer Garden, Play The Lounge, Mighty Small, Fat Man's Cafe, WTF, Treesome Cafem Bombay Vintage, British Brewing Co., Deja Brew
How Much: Rs. 300
2. Go shopping at Market Place
The Market Place is themed as a Fashion & Lifestyle Pop Up with shopping & revelry seeking for all! It has been created to show the best of Indian artistry and craftsmanship using pretty prints and subtle embellishments without compromising on comfort and style. Various boutique brands across apparels, accessories, jewellery, shoes will be setting up a pop-up store at the event. Don't miss out on this one if you are looking for something quirky!
Where: Tote – Turf Club
When: Wednesday, 12th October (11 am to 7 pm)
Contact: 9820026796

3. Board games, Beer and Bonobo
Drinking games are always welcome, especially when they blend in with board games and that is exactly what Bonobo is giving you. A Sunday game session with beer pong tournaments, cheaper drinks, popular board games and some fun music is not something you would want to refuse, right? Check the details out here.

When: Sunday, October 16
Where: Bonobo – Bar.Love.Food. 2nd Floor, Kenilworth Mall, Phase 2, Off Linking Road, Bandra West
Timings: 4pm to 12am
3. An eight-course pork dinner for all the meat lovers
Pork fans, look what you've been blessed with! The Pandi Degustation will have an eight-course pork dinner, including dishes from across the country, paired with different craftings of beer. I think this one is going to go down in history.


When: Friday, Oct 14
Where: Bandra (exact venue yet to be decided)
Price: Rs. 2,800
4. Halloween Night at Tote on the Turf
When was the last time you donned a costume for Halloween and had some fun? Like last year, Tote on the Turf is hosting a spooky party called Tote Project and it looks quite exciting. We are definitely blocking our Friday, October 28th for this party. Any suggestions how should we dress up like?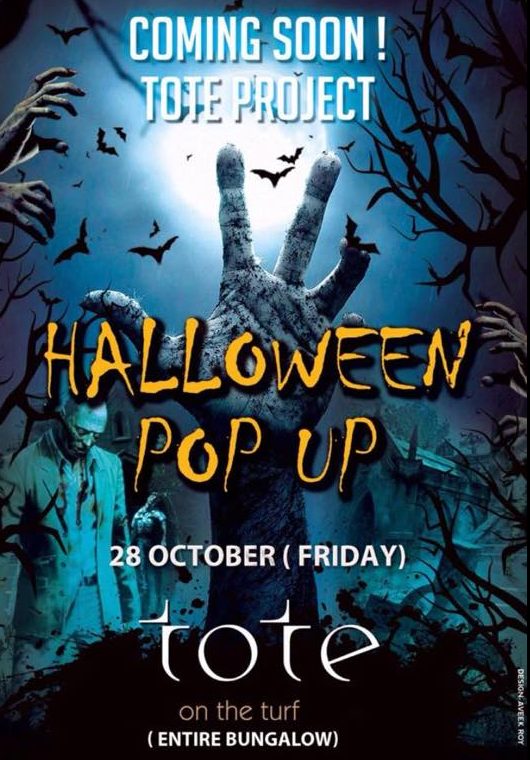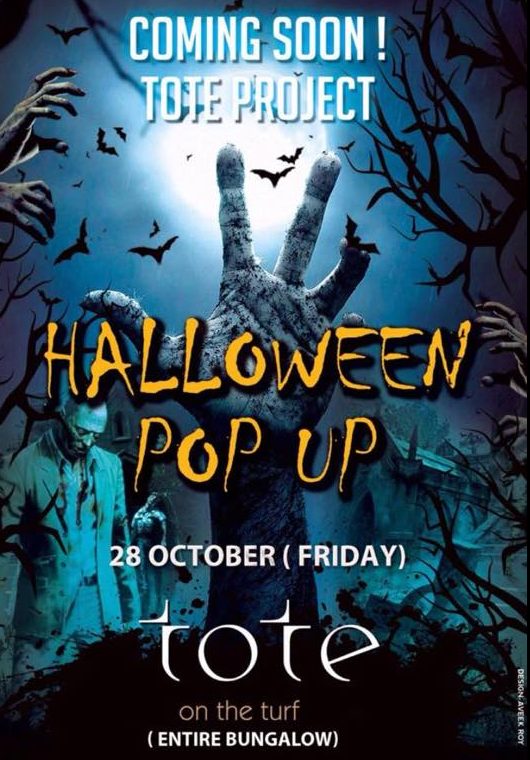 Where: Tote on the turf (entire bungalow)
When: Friday, Oct 28
5. Go trick or treat'in on a Halloween dessert crawl



Here's your chance to be a part of a rather interesting dessert crawl all across the city. Basically, you start at one location and then crawl to other famous dessert spots, where you get to relish different delish desserts. They will have the ticketing system out soon, which will cover your desserts and a goodie bag. Also, brownie points if you wear a costume! Keep checking this page for updates.



Halloween Dessert Crawl-Courtesy: Facebook page
When: Monday, Oct 31 (4 pm to 8 pm)
Where: Details awaited
Timings: 4pm to 8pm
Is there something we're missing out on? Tell us in the comments and do share your plans!
Also read, 5 Best One-Day Trips From Mumbai