No matter if you are a Gujarati or not, we are quite certain that you love to gorge on delicious dhoklas. Well, who doesn't? There is something special in every bite of a fluffy dhokla dipped in green chutney with some fried green chilies. Our guest of this Navratri special episode of Curly Tales is a pakka Gujarati and he is none other than Pratik Gandhi. In conversation with our Chief Editor Kamiya Jani, Pratik shared a lot about authentic Gujarati cuisine.
Know The Difference Between Surat Ka Dhokla & Other Dhoklas From Pratik Gandhi!
Our guest is a massive foodie who spent a huge part of his life in Surat. So who better than him to explain to us about Surat's delicacies? While indulging in a feast of quintessential Gujarati cuisine in Juhu's Shree Gangour Sweets, the Scam 1992 star shared a lot about Navratri, the celebrations, and of course the vast spread of Gujarati dishes. Seeing the dhoklas in this Juhu eatery, he shared that 'this dhokla is a little different than what we get in Surat'. During this interesting conversation with Pratik Gandhi, we came to know that dhoklas in Surat do not taste sweet. However, dhoklas everywhere else taste sweet. He spilled the secrets to prepare the authentic Surat dhokla as well. To prepare Vati Dal Ka Dhokla, you will need dal powder. And you need to churn it nicely to cook this.
Also read: Navratri Special: Kamiya Jani & Pratik Gandhi Bond Over Fafda-Jalebi In Juhu & More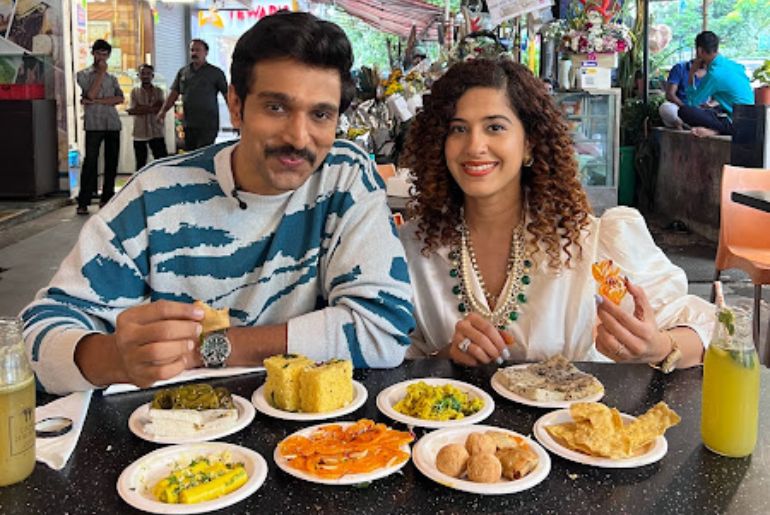 Fun Fact About Gujarati Delicacies
If you haven't been to Gujarat yet, Pratik Gandhi shared some fascinating information about the foods in the state, and you might find it very interesting. We all know how Gujaratis love to eat sweets, even their dal and sabji have some sugar or jaggery or sweeteners in them. If you start exploring Gujarat, you will notice that the taste of food changes from region to region. The North of Gujarat (Kathiawadi) is known for its spicy delicacies. Generally, the people of Kathiawadi use red chili powder to prepare authentic dishes. However, the people of South Gujarat mostly use green chilies while cooking. This is something we didn't know. Did you know this difference in using chili in these regions of Gujarat?
Also read: These Are The 3 Things Pratik Gandhi Always Does Whenever Visiting New Places 
If you want to know more about Gujarati dishes, this video is perfect for you. Watch it and let us know your thoughts on this Navratri Special episode.