You can take a Gujarati out of Gujarat but you cannot take their love and fascination for the food and culture out of them. And the biggest example of this is none other than Pratik Gandhi. In this Navaratri Special episode of Curly Tales, our Chief Editor, Kamiya Jani gorged on some of the most lip-smacking and authentic Gujarati delicacies with the biggest Gujarati we know, Pratik Gandhi.
Kamiya Jani & Pratik Gandhi Bond Over Fafda-Jalebi This Navratri
To enjoy a festival in the most glorifying way, tag along someone who knows everything about that celebration. And this Navaratri Kamiya Jani spent an amazing time with the Scam 1992 star with lots of conversations and indulging in a massive spread of quintessential Gujarat dishes. The food spread of the day was as Gujarati as possible with Khaman, Dhokla, Jalebi, Fafda, Patti Samosa, and more, They relished all these foods in the iconic Shree Gangour Sweets in Juhu. During the fun conversation, Pratik Gandhi shared all his stories of celebrating Navratri in all glory back in his hometown, Surat. Stay glued for all the deets!
Also read: These Are The 3 Things Pratik Gandhi Always Does Whenever Visiting New Places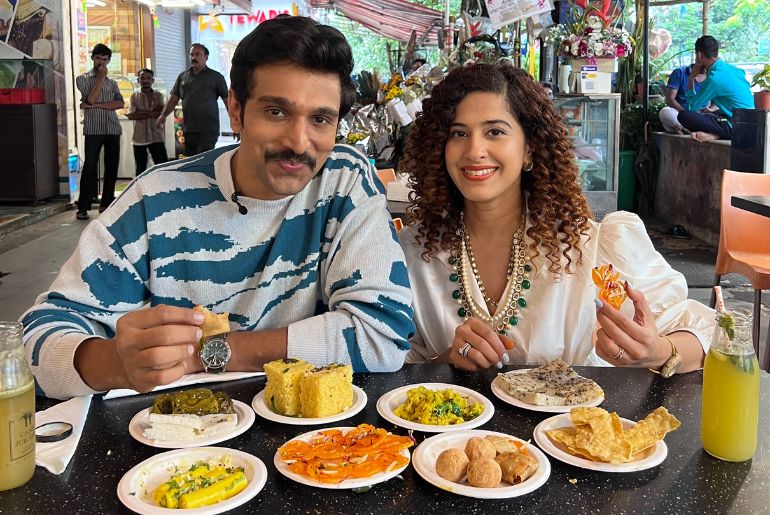 After gorging on some delicious dishes in Shree Gangour Sweets, Kamiya and Pratik also went to Juhu's ISCKON for darshan. Pratik shared that he loves visiting temples. 'I love visiting temples. Temple is one place where I feel calm. I feel connected. Wherever I go, I make sure to find that place's food, temples, and gym.'
This Is Where The Actor Gets The Most Authentic Gujarati Food In Mumbai
The Scam 1992 star revealed his favourite place in Mumbai for Gujarati foods to Curly Tales. For him, his home kitchen is the ultimate place for the best Surati food. Pratik shared that his mum makes the best Surati food ever. Some of his mother's specialties are Bhagat Muthia and Undhiyu.
Also read: Sunday Brunch Ep 21: Pratik Gandhi aka #HARSHADMEHTA On His Life Before Scam 1992
To know more about Gujarat, Gujarati cuisine, and Pratik's life, you definitely need to watch this Navratri special video as he has spilled a lot of beans that a lot of us were unaware of.