Sejal Shah a resident of Ahmedabad coated her Toyota Altis car with cow dung as the heat in the city has increased. Sejal claims that the temperature in the car is less than what it is outside. She also says that it's cool inside and does not have to use AC when she is driving. As the heat is at an all-time high even in the month of June, I think everyone should resort to such unique ideas. Now many of us may have our doubts about it actually working, but you have to appreciate her creativity.
Also Read: Beat The Heat At Shyam Lassi Wala In Karkardooma, Delhi
Some of you might know that cow dung is used to cool houses in the villages, some houses are even completely made of cow dung! This was done to cool the temperature inside the house. But it is very rare that someone in the city would use cow dun and that too on this car!! That is very bizarre.
Gujarat: Sejal Shah, a resident of Ahmedabad has covered her car with cow dung to beat the heat, says,' The heat was getting unbearable. I have used cow dung in my house for flooring & from that experience I thought of doing something with my car.' pic.twitter.com/xTLFhbzX8h

— ANI (@ANI) May 24, 2019
Sejal used cow dung in her house, on her marble floors in order to prevent it from heat. But now she has used it on her car and believes that this prevents pollutions as harmful effluents from our cars lead to global warming. Now I am not a 100 per cent sure if that works but the effort counts. She has also made a beautiful design around her car and takes pride in driving it around the city.
Also Read: Beat The Heat With Hari Om Juice Bar's Mango Cream Shake
A photo of Sejal's car was taken by Rupesh Das, a resident from Mumbai and that is how her story was known to everyone. He also captioned it and said this was the best use of cow dung he ever saw. And honestly, I would have also said the same.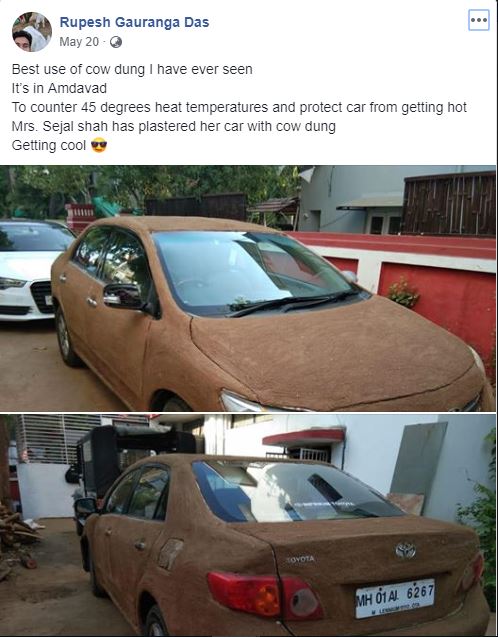 Also Read: Mussoorie, Nainital, Shimla & Manali Get Over Crowded As People Seek Respite From Heat
The News Agency ANI got this story forward and people on social media platforms actually liked her creativity.