Actress Shilpa Shetty is having a splendid time in the winter capital of Himachal Pradesh, Dharamshala with her kids Viaan and Samisha. The actress has shared a slew of videos and stories from the hill station where she is seen soaking in the stone-cold weather donning warm attires. Shilpa had shared a video on her Instagram story section where she was seen sitting beside a bonfire wearing a furry hoodie. Also, there is a different kind of fun in having ice-creams during winters. Shilpa too grabbed an ice cream as the temperature in Dharamshala dipped to around 10 degrees.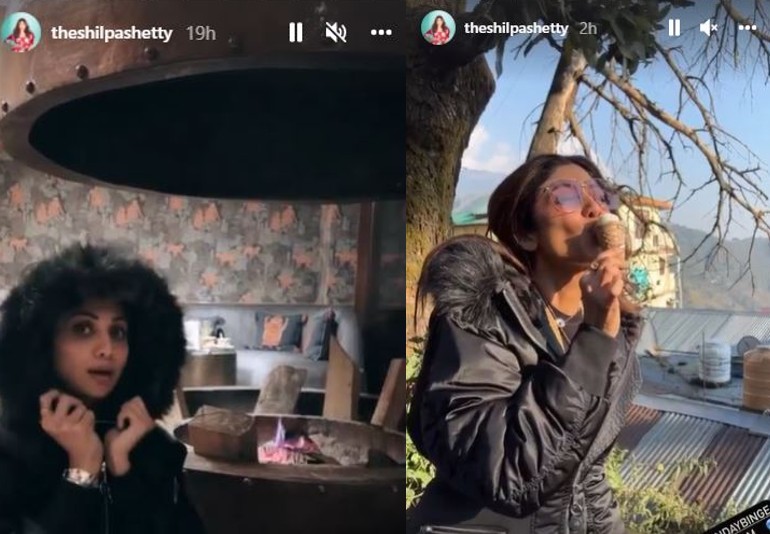 Also Read: Sara Ali Khan, Janhvi Kapoor Share Stunning Pictures From The Snow-Capped Mountains Of Kedarnath
Shilpa Does Pranayama In The Mountains Of Dharamshala
Shipa has shared a video in which she in seen indulging in pranayama amid the towering deodar trees of Dharamshala. Posting the video, Shilpa wrote, "Offline is the new luxury… To be able to switch off and be one with nature… just switch the mind off and BREATHE without fear (in the current Covid situation). Clean and pure air truly is a luxury. Snowcapped mountains, pure oxygen, silence, only birds chirping… when you are able to find it; make the best of it, is exactly what I did. Never take a break from breathing right even if I'm on a holiday. Today, it was 21 Anulom Vilom (2 sets), 200 KapalBhati (2 sets), and Om chants, which ended with thanking and showing gratitude to the universe. Breathe with awareness, my #InstaFam."
View this post on Instagram
.
Also Read: Tired Of City Life, This Man Quit His High-Paying Job In Delhi & Built A Home In Dharamshala
Viaan, Samisha Enjoy In The Mountains With Their Momma
In another video, Shilpa jumps with joy in the mountains and writes, "Basking without Masking… Happy Sunday!!" On her story, the actress also shared a video of her kids in which they were seen spotting monkeys.
View this post on Instagram
Meanwhile, on the occasion of Bhai Dooj, taking to Instagram, Shilpa wrote, "The bond between siblings can never be explained, but it always leaves me amazed! "touchwood" A very Happy Bhai Dooj to all of you, from Samisha and her Paaji, Viaan-Raj! On that note, did you know about the stunning Ghoomkad co-working space near Dharamshala?