The latest episode of Koffee With Karan Season 7 with Sidharth Malhotra and Vicky Kaushal is finally out. And the audience just got the best dose of gossip from this one! Apparently, Sidharth Malhotra and Kiara Advani will have a destination wedding in Vienna, one of the most stunning cities in Europe. Yes, you heard it right! In the episode, Karan Johar is seen putting up an unseen clip for Sidharth Malhotra that shows the host conversing with Kiara Advani in an upcoming episode for the show. Karan pesters Kiara to reveal her relationship with Sidharth and asks if there is an upcoming wedding on the way. But what caught our attention was when Karan Johar conjectured that there actually is a December wedding and the location for the same is Vienna. Read on to find out what actually led to the revelation of the supposed wedding location of Sidharth and Kiara.
Sidharth And Kiara To Tie The Knot In Vienna?
Bollywood couples and their love for destination weddings is no secret! And all thanks to Karan Johar we can now add another beautiful European City to our already long Bollywood-inspired bucket list of destination wedding locations. The latest episode of Koffee With Karan which was released on Disney+ on August 18, 2022, has Karan Johar spilling a lot of 'Koffee.' In the episode, an unseen clip from an upcoming episode of KWK 7 which will have Kabir Singh co-stars Shahid Kapoor and Kiara Advani as guests was played for Sidharth Malhotra where Karan was seen asking Kiara about her wedding plans. "Are you ready to kind of be in a marriage right now or?" Karan asked Kiara, to which the actor replied, " I see that in my life but I'm not revealing that on Koffee With Karan today." The conversation was very light-hearted and by the end of it Karan jokingly spilled, " We'll get the location and dates by the end of this episode. We'll be like, Hai! Vienna mein hai, December mein ho raha hai. (It's there, it's happening in Vienna in December.)"
Now if Sidharth and Kiara are truly planning a December destination wedding in Vienna, only time will tell!
View this post on Instagram
Why Is Vienna Perfect For A Destination Wedding?
If you too are planning a destination wedding like Sidharth and Kiara, then your first step should be to find your dream wedding venue. And what better than one of the most scintillating European cities right? Vienna, the capital city of Austria, is probably one of the most beautiful cities in the world and makes for the perfect destination wedding location. Vienna offers an unbelievable quantity of perfect wedding localities. From contemporary and traditional venues to gorgeous castles, restaurants & hotels, you have it all. But Vienna is mostly rich in Castles and Chateaus. And we feel a historic castle in Vienna with stunning scenery all around will make for the wedding venue of your dreams.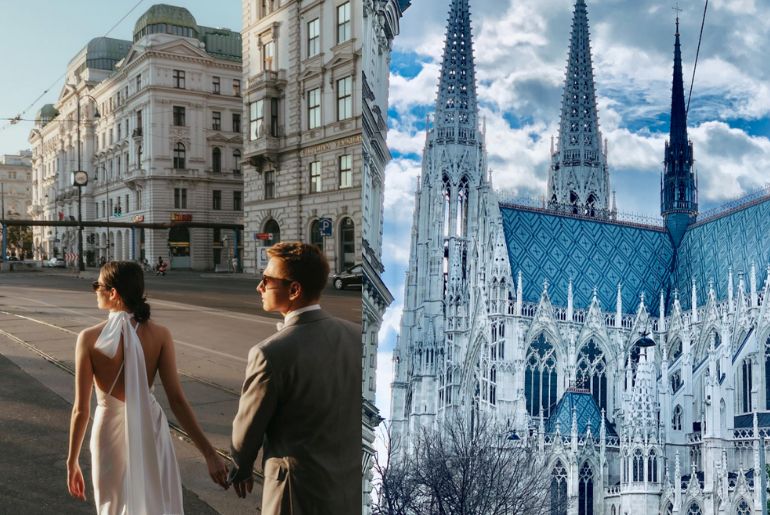 Also read: Koffee With Karan Season 7 Hamper Has Exquisite Chocolates, Coffee Maker, Champagne & More