Lately, you might have seen videos of a creepy four-legged thing crawling around in Singapore. The country is now using Boston Dynamics' four-legged Spot robot to ensure social distancing. The robot makes its way into city parks, politely asking joggers and cyclists to stay apart. Well, although the first encounter might freak you out, this is a nice way to remind people to keep a distance, we think.
Also Read: E-Learning In UAE Could Continue Into The Next Academic Year If Situation Does Not Improve
How Does It Work?
The robot is fitted with cameras that will help screen the number of people in the park. However, the robot cannot collect personal data or identify individuals. Spot is remotely controlled but also has built-in sensors to avoid collisions. Furthermore, it is accompanied by a guide. The country is currently running a trial run and if this succeeds, soon Singapore parks will have robots watching over its residents.
Just received the most Singaporean pandemic content from a mate based in the little red dot pic.twitter.com/vqgnQ5F4D9

— Soon-Tzu Speechley 孫子 (@speechleyish) May 8, 2020
Using the robot technology will reduce the need for guards to patrol around the park. Further, it will also help combat the spread of Covid-19. Signs have been posted in parks asking visitors not to "disrupt" the robot on its patrols.
Spot has also recently been trialed for use at a temporary hospital delivering medicines to patients.
Also Read: Sheikh Zayed Grand Mosque Launches Remote Guided Cultural Tours
What Else?
This isn't the first time robots have been used as part of the covid fight. The Abu Dhabi civil defence used robots to sanitize the city, as part of the Sterilization Program. A video of robot being used was shared on Twitter and its mind-blowing! Take a look:
#فيديو | شارك روبوت الإدارة العامة الدفاع المدني أبوظبي في برنامج التعقيم الوطني بالتعاون مع مركز أبوظبي لإدارة النفايات "تدوير" تحت شعار يداً بيد لمواجهة فيروس كورونا.#شرطة_أبوظبي@Tadweer_cwm @adcd997 pic.twitter.com/VsOajxrhRY

— شرطة أبوظبي (@ADPoliceHQ) April 6, 2020
Besides, Hong Kong's Airport Authority (AA) is using autonomous cleaning robots to continuously disinfect public areas and passenger facilities at HKIA. The Intelligent Sterilization Robot is used to maintain the public toilets, as well as crucial operating areas within the terminal building. This robot is equipped with ultraviolet light sterilizer and air sterilizer for disinfection of hard surfaces.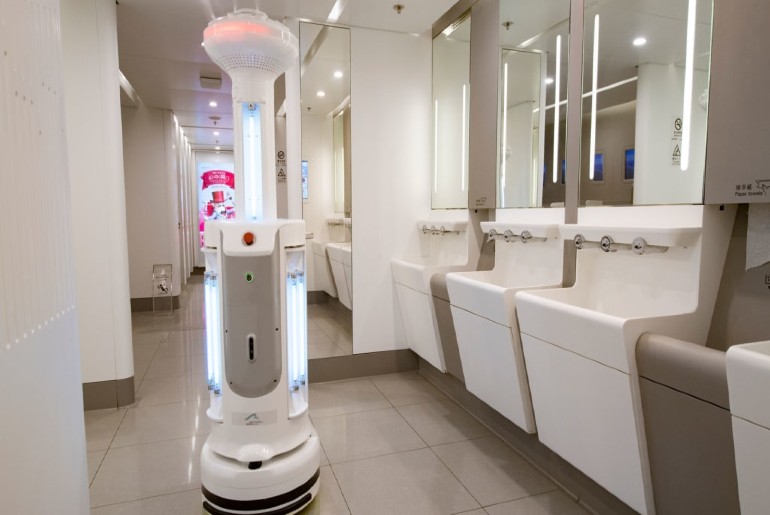 Also read: Japan's Narita Airport Offers Beds Made Of Cardboard For Passengers Awaiting COVID-19 Test Results