Social media influencer, King Vitaly, who has around 3 million Instagram followers, was recently rescued after encountering a serious accident. Vitaly broke his neck and back after he went up on a sky diving. His fans came to know about his accident from his Instagram stories. The Riverside Country Paramedic personnel rescued him, put him on a stretcher and carried him to the hospital. While lying on the ground, we saw King Vitaly groaning in pain. He is in a better position now and has informed his fans that he doesn't think that he needs surgery and he can move his legs. Earlier this year, Vitality was arrested for climbing the Pyramids of Giza in Egypt.
King Vitaly Faces A Sky Diving Accident And Lands Up In The Hospital
The Russian-American Youtuber and influencer, Vitaly Zdorovetskiy is popularly known as VitalyzdTv and has more than 3 million fans.  He recently landed in the hospital, after breaking his neck and back in a sky diving accident. In the hospital, he had food nearly 12 hours after the accident. His ex-girlfriend Kinsey turned up at the hospital for taking care of him. She was feeding him chicken nuggets. He has uploaded a story tagging Kinsey and wrote, "Thank you so much this amazing woman".
He said in another story that he doesn't think that he needs any surgery and he can move his legs. In one of the stories, he also speaks about his catheter experience and Kinsey adds, "I think he cried harder in the catheter than breaking his neck and back". Meanwhile, a Dubai influencer couple recently got their baby's gender announced on Burj Khalifa.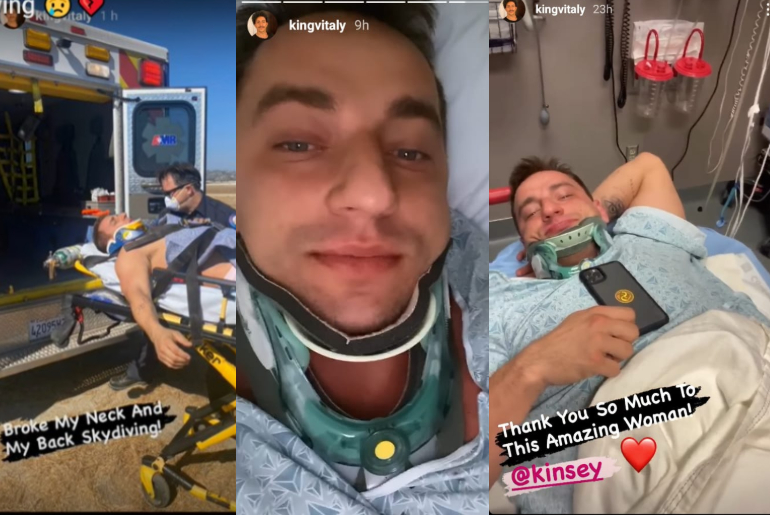 Also Read: 23 Yr Old Anmol Was Acid Attacked But Is A Fashion Icon
Vitaly Had To Spend 5 Days In Jail After Climbing One Of The Pyramids Of Giza
Vitaly had to spend 5 days in jail in Egypt after climbing one of the Pyramids of Giza located close to Cairo. A few days before the incident, the social media star had uploaded a picture where he was seen bragging about how he was going to take over Egypt. And then days later, he communicated to his fans on social media that he had been arrested. In spite of describing a jail experience to be a horrid one, Vitaly still stated that it was all worth it.
According to the social media star, he climbed it for a 'good cause'. He even shared the full video of him climbing the pyramids and getting arrested where he is seen perched at the back of a police van in Egypt. His post received thousands of likes and comments. Several comments also included flame and laughing emoticons. Vitaly's Instagram bio states, "It's Your Life, Your Choice, Do Whatever You Wanna Do!" And he is quite living up to the statement. On that note, you can hear from the popular Indian travel influencers who shared their take on lockdown and travel: