Out of all the events in life, your first heartbreak affects you immensely. I think I speak for everyone when I say this because nothing really prepares you for it and the feelings that crop up right after it are completely alien. And dealing with them can be quite a painful task. But what is the best way to go about moving on from a relationship that has gone well past its expiry date? After being in a long relationship that lasted well over 8 years, my breakup pretty much made the world around me crash (for approximately a week). And then I decided to Eat, Pray, Love my way through the breakup. For the ones who don't know what I am talking about, Eat, Pray, Love is a book adapted into a feature film starring Julia Roberts. After her marriage breaks down, she eats, prays and loves her way to self-discovery. If Julia Roberts could do it, so could I. And that's how I found myself on a plane to Milan.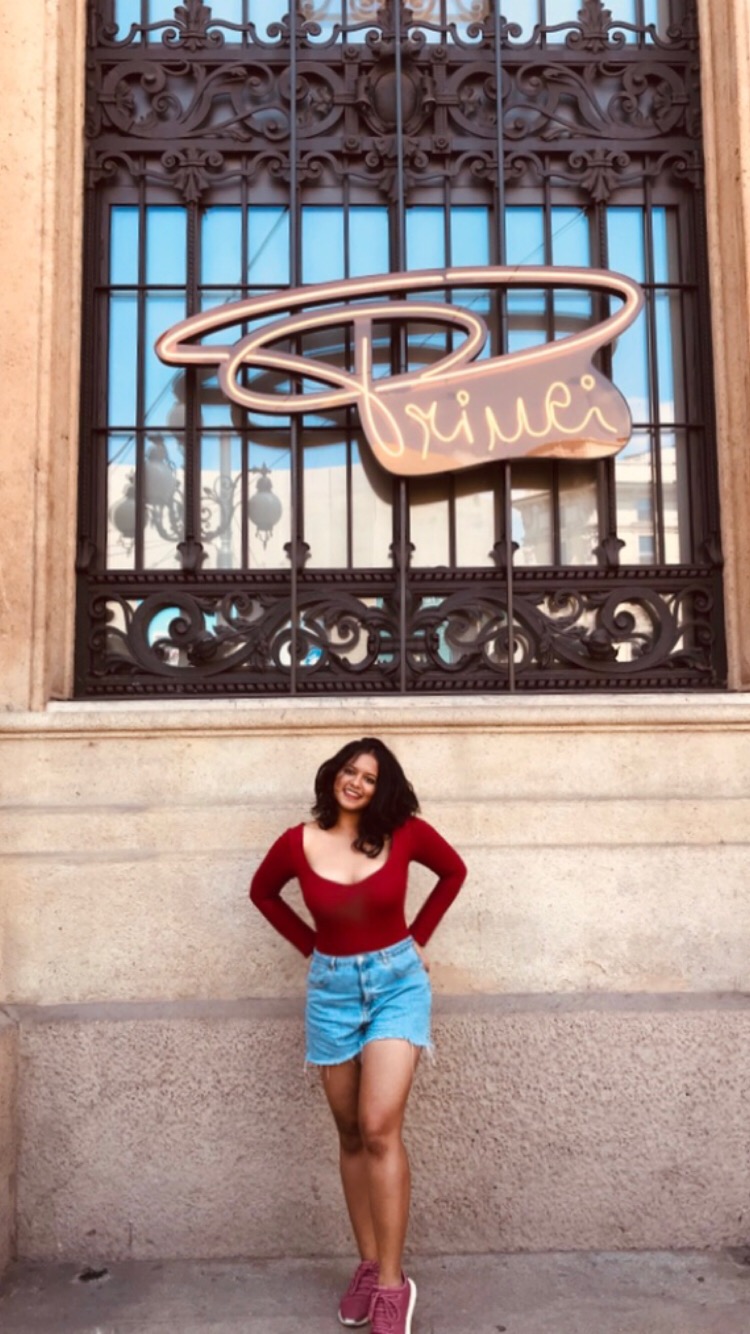 First Destination: Cinque Terre, Italy
So, in the movie, Roberts sets off to Italy to rediscover her love for food, And then she flies down to India to understand the power behind prayer before finding love in Bali. The only times I have genuinely prayed have been right before my board results were announced. Both the times, my prayers were heard. So, I guess I can vouch for it already. As much as I wanted to go by the book and head to all the places that Roberts went to, I realised that my life wasn't a feature film. And I most definitely didn't have a production house financing my life. So, since flying all the way from Italy to Bali was out of the question, I decided to do my version of Eat, Pray, Love in the European continent.
Having been a connoisseur of food, which in layman terms means that I love food, going to Italy was a decision I made with my eyes closed. I have always found comfort in a bowl of pasta and what better way to treat a wounded heart than by treating it to tonnes of pasta along with a side order of pizzas.
I was welcomed to a gloomy and rainy day in Milan after a long haul flight which had rendered my right leg useless (the flight was cramped). Nevertheless, I headed to my first destination with a wide smile on my face. A 4-hour long train ride got me to Levanto, a town just a few kilometres shy of the five villages that comprise to form Cinque Terre. This was my first time living in an AirBnB all by myself so needless to say, I was quite unsure of what to expect. After having been thoroughly exhausted, I found myself in the cutest house imaginable. For someone who loved reading books by Enid Blyton as a kid, the place was a dream come true. Living in that home, I didn't feel alone for one second and the smallest things made me happy. Right from the French windows to a bathtub that I made sure to take advantage of after a long day.
Exploring Cinque Terre
There are numerous ways to explore the five villages of Monterosso, Vernazza, Corniglia, Manarola and Riomaggiore. Located on the Italian Riviera, the five fishing towns face the Ligurian sea and are a sight to behold. From colourful buildings to the volcanic sand beaches, each town is unique in its own way. After resting my tired self, I started my morning by taking a train to the first town, Monterosso and went on a hike before loading myself with freshly baked focaccia and pesto. Not many people know this but pesto is a gift to the world from the Ligurian region of Italy. Following a heavy breakfast, I huffed and puffed my way up to the highest point of Cinque Terre and boy, was it all worth it. Even though it was drizzling, hiking all the way up for the view of all the five villages from the top just made me feel so liberated. At that moment as the sky rained over me and the sea was crashing on to the coast, I just felt at peace. As much as I'd have loved to just sit there and just gaze out at it, my stomach grumbled and reminded me that I had been hiking for quite a bit and that it was time for some more pasta and a fizzy Aperol Spritz.
The entire day was spent just taking in the sights of the five villages as I kept hopping on and off of the train. Vernazza treated me to the sight of the angry sea up close while Manarola treated me to a truly delicious pistachio affogato. Made using two scoops of creamy pistachio gelato and a shot of espresso coffee, the dessert was eye-opening and it made me wonder why I hadn't had it before. From there I made my way to Riomaggiore to end my Cinque Terre saga over another spritz.
Second Destination: Pisa, Italy
After having spent an eventful time in Cinque Terre, it was time for me to see a sight that I had been yearning to see for quite a while. The Leaning Tower Of Pisa has been on my bucket list for the longest time and it's purely because of the way it's been constructed. So, I packed my bags and bade goodbye to my beautiful little place in Levanto and took the train to Pisa. A small student town, there's not much to see in Pisa besides the Leaning Tower so it warrants a day-long visit.  But what does make it special is the food. Although Pisa is tiny, it boasts of some of the best eateries.
My first stop right after getting out of the train was to head to Ristorante Alle Bandierine to sample the spaghetti that I had heard about so much. I decided that I wanted to keep it simple and ordered my spaghetti in a Pomodoro (tomato) sauce along with fresh mozzarella. It's very rare for me to cry after eating food but that dish made me shed a tear. And that was the first tear I had shed since my breakup and it was for all the good reasons. Up to this day, I think that the spaghetti I had there was made by God himself. Al dente pasta tossed in a tangy tomato sauce with the freshness of the cheese cutting in was just divine. And add a glass of crisp white wine to that and you are practically in heaven.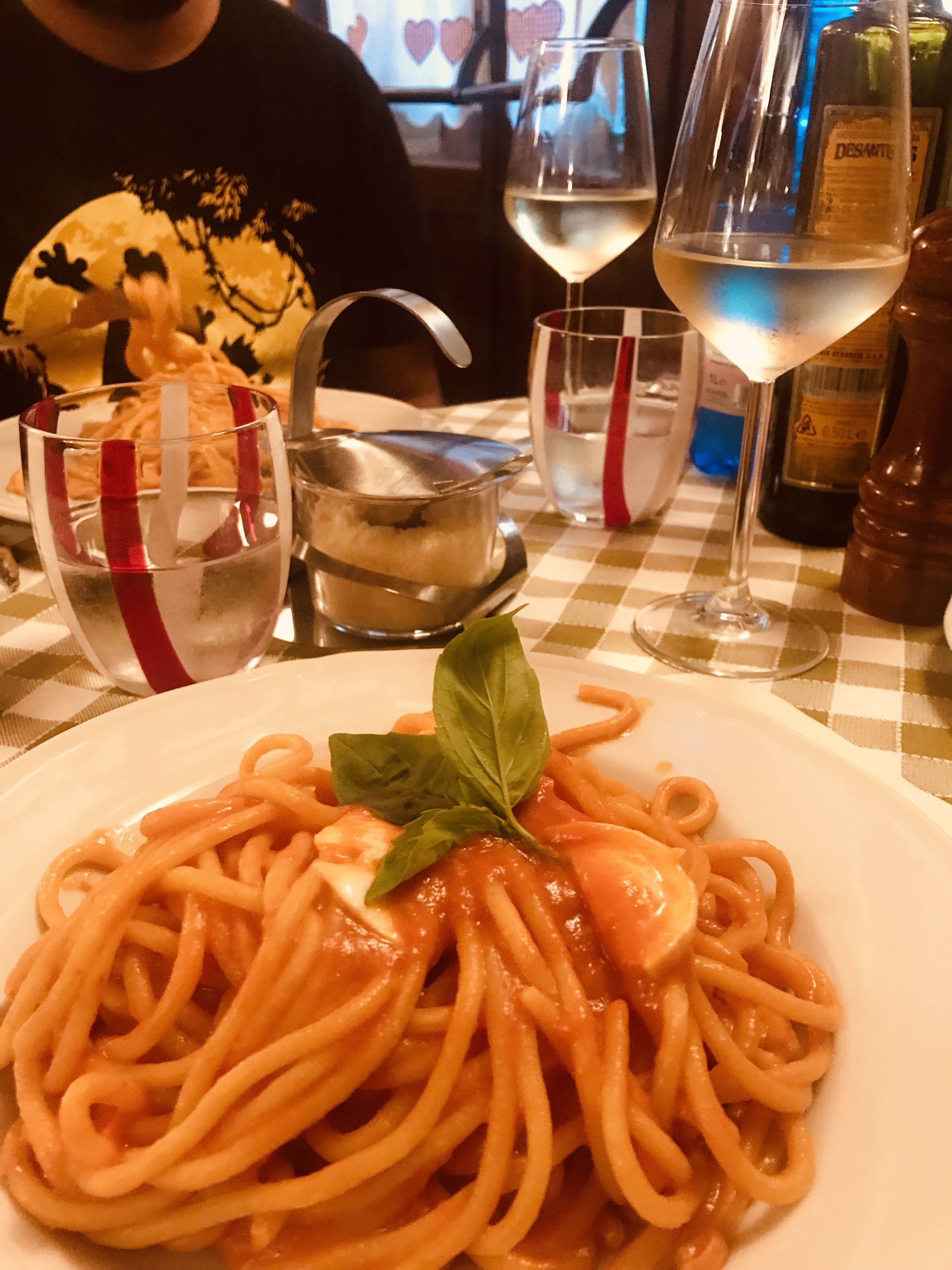 Having had the meal of a lifetime, I headed to the Leaning Tower after the sun had set and the streetlights were flickering to life. Many people would argue that the monument looks it's best with the sun shining down on it but I'd choose to disagree. I saw the ivory building in all its glory with darkness abound and it was nothing short of beautiful. It stood out against the inky-black sky and made me see it from a different perspective. At that moment I learnt a life lesson. I learnt that it was okay to stand by your opinion and not agree with anything and everything that people said. For someone who has been a people-pleaser all her life, this was quite valuable and I felt renewed.
The Leaning Tower Of Pisa was so gorgeous that I couldn't get enough of it. So, I made my way to a rooftop of a hotel to look at it with a drink in hand. And that was a wise decision because would you look at this view below.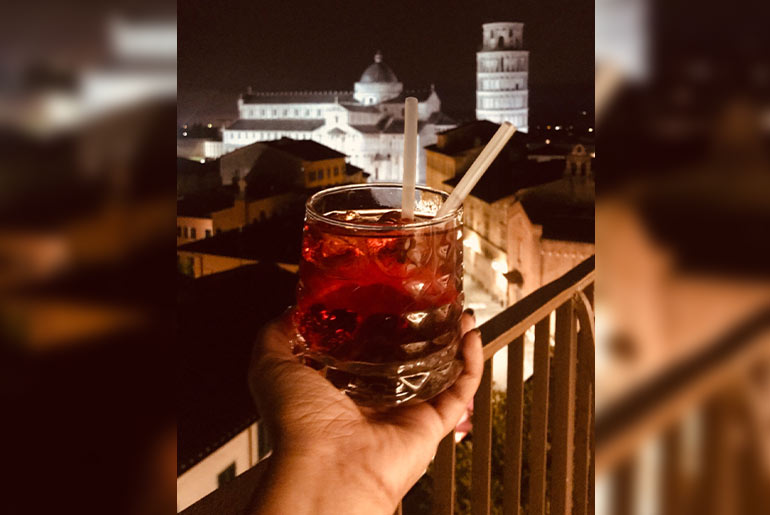 The girl who got back to her AirBnb that day was indeed a happy one. So, the next day when I woke up, my heart sank a little knowing that I would have to continue on to the next leg of my journey. But not before I had grabbed myself a sandwich from one of the most popular places in Pune. So, even though it was pouring outside, I grabbed my huge suitcase and lugged it all the way across the Arno River while it drizzled outside. With perseverance so strong, I knew I deserved that sandwich. However, I reached there to find that the place was shut. Disappointment washed over me but as I dragged my suitcase over the river again I had a good laugh over it and even documented the so-called '#SandwichGate' on social media. Another lesson learnt, sometimes you win some, sometimes you lose some. And hey, I didn't get that sandwich but I did get a funny story out of it.
Third Destination: Milan, Italy
Just like that, I found myself back in Milan and I was finally greeted by good weather. The sun stopped playing hooky for once and I decided to make the most of it as I headed to the Duomo di Milano (Milan Cathedral) and spent the day just waltzing around town.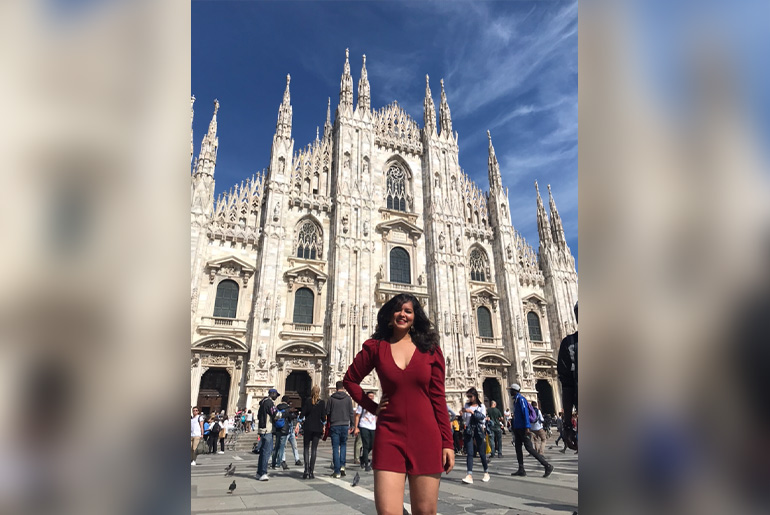 Milan is known as the fashion capital of Italy and my jaw almost dropped at the sight of people dressed so impeccably. Fashion was present aplenty and I absorbed it all as I took everything in. Going from store to store I marvelled at the architecture of the Galleria Vittorio Emanuele II which is Italy's oldest shopping mall. From stores like Gucci, Prada to Dior and Armani, the Galleria is every shopaholic's paradise. I made sure to hit up the Aperol Terrazza and get myself an Aperol Spritz overlooking the Duomo.
As I roamed around and interacted with locals, it finally sunk in that I was actually all by myself in a different continent. And that I had survived with only a few obstacles on the way, like accidentally leaving behind my passport at a cafe in Milan or getting lost in translation. But in that week when I was all by myself, I understood that it was important to spend time by yourself and have a good time.
I might not have prayed but I did eat and love my way through Italy. I ate all the pizzas and pasta I could find and more. But most importantly, I learnt to love myself and my company. The girl who got off the plane a week later was a different person altogether. She smiled more, was happier and just in a better headspace than she had been before. So, yes, it's true. Travelling does change you as a person and it changes you for the better. The main takeaway from my week in Italy was that the next time I wouldn't wait around for another heartbreak to make me take a solo trip. You don't need someone to make you sad for you to take that trip you have always wanted to take. Even as I type this I am already planning my next trip and this time I plan on getting some sunshine and sip daiquiris by the beach. We all need variety, right?