Wondering how much the most expensive suite in Asia costs? 5 lakhs, 10 lakhs, or even more than that? Well, you can now stop guessing as we are all set to spill the beans! Say hello to the "Maharaja Pavilion" suite at "The Raj Palace", a 4-floor suite in Jaipur that will cost you a whopping amount of ₹30 lakhs per night. Who's who from around the world have stayed here and now it's your turn to take a virtual tour of Asia's most expensive suite with Curly Tales.
Jaipur's Maharaja Pavilion Suite At The Raj Palace Will Transport You To The World Of Rajas & Maharajas!
Rajasthan is the home to some of India's most historical and iconic palaces and suites and The Raj Palace is surely one of the most opulent ones. Recognised as the world's best five-star heritage hotel, this is the most expensive and extravagant suite in entire Asia. Featuring four luxurious stories, this suite is the perfect representation of history blending with luxury. Every nook and corner is an extraordinary sight to witness and be mesmerised.
Also read: Jaipur Welcomes A New Boutique Hotel Villa Palladio, Right Behind The Famous Bar Palladio
All You Need To Know About Asia's Most Expensive Suite In Jaipur?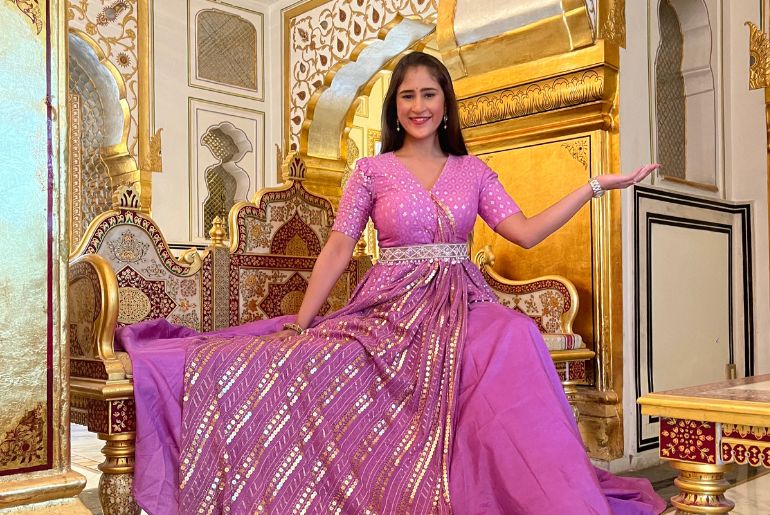 A suite costing ₹30 lakhs for a single night surely makes us wonder what the palace offer to its guests. Well, let's check it out.
Spread over an area of 16,000 square feet, Maharaja Pavilion features a private entrance leading to the grandeur of the suite.
Also known as the "Presidential Suite", every floor gives tough competition to the other stories when it comes to glory and grandeur.
Witness the opulence of every floor while using the private elevator of the suite. You will be impressed even with the magnificence of the elevator and the sit-out lobby. There's a lot more to surprise you once you reach the top.
The second floor of Maharaja Pavillion will take you centuries back with its Museum Suite. Housing a living room and two bedrooms, this story is decorated with antiques, cutlery, furniture, and more dating back to the 17th century.
The third floor comes with beautiful windows overlooking the palace gardens and the darbar room on the second floor.
Lastly, the fourth floor is a private rooftop terrace featuring the most picturesque views of Jaipur.
Also read: Hansika Motwani To Get Married In December At This Stunning 450-Year-Old Jaipur Fort
Why ₹30 Lakhs??
Wondering why is it so expensive even in 2022! Well, with immense grandeur and opulence, Asia's most expensive suite is attached to history and the best of luxury. Built in 1727, The Raj Palace got converted into a heritage hotel in 1996 opening doors to the guests enjoying a life of the royalties. Experience all kinds of luxury at your disposal here and spend a day where Maharajas back in their time resided. Just a few hours spent here guarantees to transport you to the bygone era!
There's a lot more extravaganza of this suite and to know it all, check the WanderLuxe episode of Asia's most expensive suite here.
Cover Image Courtesy: Internal