The Inception
As a student staying away from home and studying in Bangalore, plans for a Goa trip were always there. And just like any other friends circle, we also ended up cancelling them. But as our college each year allows us 1 week of midterm break in February, I was hoping to visit one of the nearby places such as Gokarna, Ooty or Pondicherry at some point. It was a 4 year course I was studying and given the 4th year would be busy, and the first two years my parents would demand me home each year, this was my only chance.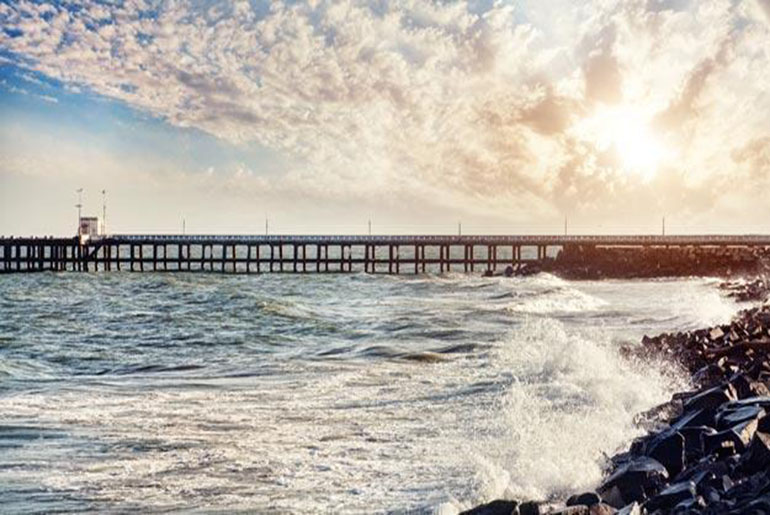 However, my friends had already made plans with their other groups, and thus, couldn't make any with me. I felt bad about this, as even I would love to travel and explore, however, I had no one to go with. Then I thought to myself, "If the only thing that is stopping me from going anywhere is that there is no one to go with, why not just go alone?" And with that, my journey to Pondicherry began.
Also Read: Sukanya Sharma & Her Friends Hitchhiked To Goa On A Budget Of Just Rs 100 Per Day
Travel
I decided to travel by bus to Pondicherry, as by the time I had made the decision to travel solo, train tickets were not available. One way to Pondicherry by bus cost me around Rs 700 because I had taken the Airavat Club Class bus that would depart past 10 pm and reach early morning by 7 AM. But you can also avail other, cheaper, non-AC buses are also available on the KSRTC website.
One good feature available for solo women travellers is the single ladies feature, where you can tick off that option while booking a ticket, so as to inform authorities who can then try booking another lady passenger itself beside you.
Stay
Once in Pondicherry, I took an auto to the Airbnb that I had booked. It's important to keep in mind that the autos charge exorbitant prices here and most can speak in English but won't bargain for non-Tamil speakers.
I stayed at the Hermit Crab, which is right in front of Serenity Beach. The host, Arnab was lovely. I reached much before the check-in time, and thus a room for me wasn't ready, however, he did accommodate me in a spare room they had.  Arnab also informed me about vehicle rentals, food spots, etc. which was very helpful.
Internal Travel
Mission street is where a lot of vehicle rentals are located. One can rent a two-wheeler or a four-wheeler based on their interest and abilities. I opted for a two-wheeler and even got scammed for extra money online. Thus, it would be a better option to go there and check and pay! The condition of vehicles is often not that great, and a vehicle of decent condition requires you to pay more. Thus, I had to shell out extra for that too as I did not want to risk my safety. Again this was also not over Rs 1000 for my 3 days of using the vehicle.
Food
When it came to food, it is probably where I spent the most! Pondicherry is home to a lot of authentic French and Italian restaurants and food outlets, with chefs from these countries themselves cooking up these meals for you. Baker's Street, a small bakery/café near Mission Street itself, was where I found myself going quite a few times. They serve amazing desserts from eclairs to pastries and also have a variety of sandwiches, burgers, etc. at affordable rates.
Ezel Mati, an employee here speaks fluent French, which came across as very surprising to me but was definitely playing well with the French population there.
Tanto's Pizzeria, is well-known here, and a place many had recommended to me, so I had to try it out. It's a bit on the expensive side, but it is amazing and keeps you wanting for more. The cheese is soft and melts in the mouth and the varieties they have are insane!
GMT is yet another place, which has lots being spoken about it. They serve proper Gelato at reasonable rates, and needless to say, it truly was amazing.
Sightseeing
Pondicherry is a place that a lot of college students especially in South India intend to visit at some point or the other and my college is no different. Thus, it was no surprise for me to have ended up bumping into a few others during the trip. The advantage was that at least I got good photos taken of myself while I was at it!
I have always been a beach person, a lover of the ocean. Beaches were what I was looking forward to the most about Pondicherry and it truly delighted me. My stay was just two minutes away from Serenity beach and thus, I found myself going there on both my first and last day and even on all mornings. Just like the name suggests it is extremely serene and beautiful and even has a rocky area where you can climb and walk to view the sunrise and sunsets. If you like collecting shells, which I surely do, there's a lot of those around here too!
I also visited the Rock beach and the pier area beside it, which is a more crowded part of town. It might not be very enjoyable if you want a quieter beach experience but it is a nice experience in its own way and the walk around the promenade is quite breezy and pleasant especially in the evenings.
Auroville was another place very much hyped for me, and I was looking forward to going there. Once there, they have buses for the old and disabled till Matri Mandir. I was walking and it can be quite a walk especially if you're alone. Matri Mandir is a very glorious view, however, it was nothing more than a scenic spot for me.
They allow visitors to go inside and meditate but you have to have a prior booking for the same and this needs to be done in Auroville physically. Hence I could not avail this. Auroville visitors centre though has a few boutiques and shops. Here one can buy things local to Auroville and Pondicherry.  I found myself buying a lot of Organic soaps and some notepads and books as Auroville also has a paper factory.
Next on my list was White Town which is a very picturesque locality. Here, you'll find a lot of houses and places with French architecture. A lot of houses have bright pastel colours, making for amazing Instagram pictures! And of course, I wasn't willing to miss this opportunity.
What I Learnt
Throughout this trip, I learnt to manage my money, and time, and to take care of myself. This was another state and I was worried about language issues and how people would be, but things, fortunately, turned out just fine. Returning late, the roads would get lonely quite early past 8, and as a lone woman, this was something that made me anxious. But this was the only thing that actually bothered me on the safety front, in all honesty.
At the place, I stayed there were other rooms, where there were other people, groups of guys and girls, and some couples, everyone coexisting under one roof. It was truly an experience to cherish, and something I believe everyone should have.
Conclusion
If you're a beach person, Pondicherry is somewhere you must go. If you're not one, even then we all need a break from work! And what better than to experience the French Town in India? Here's a more detailed guide to my Pondicherry trip that you can take also whether you are a solo female traveller or a large group of friends and family.
Also Read: Pick Pondicherry For Your Next Beach Trip
This article was contributed to Curly Tales by Srushti. If you have a story to tell us, drop us an email to hey@curlytales.com