This was not the first time that someone offered to give us money on this hitchhiking trip. To the people we met on the road, we seemed like three lost city girls, who had forgotten their wallet or probably gotten it stolen, and were looking to find their way to Goa. Well…that wasn't entirely incorrect. We were city girls, we were finding our way to Goa, but we, in fact, had not lost or forgotten our wallet!
Let me introduce the 'we' in this story. Sukanya, Heena and Ishika – three girls who decided to hitchhike from Mumbai to Goa on a whim. To add some adventure to this otherwise usual trip to Goa, we decided to add Rs.100/day budget to ourselves!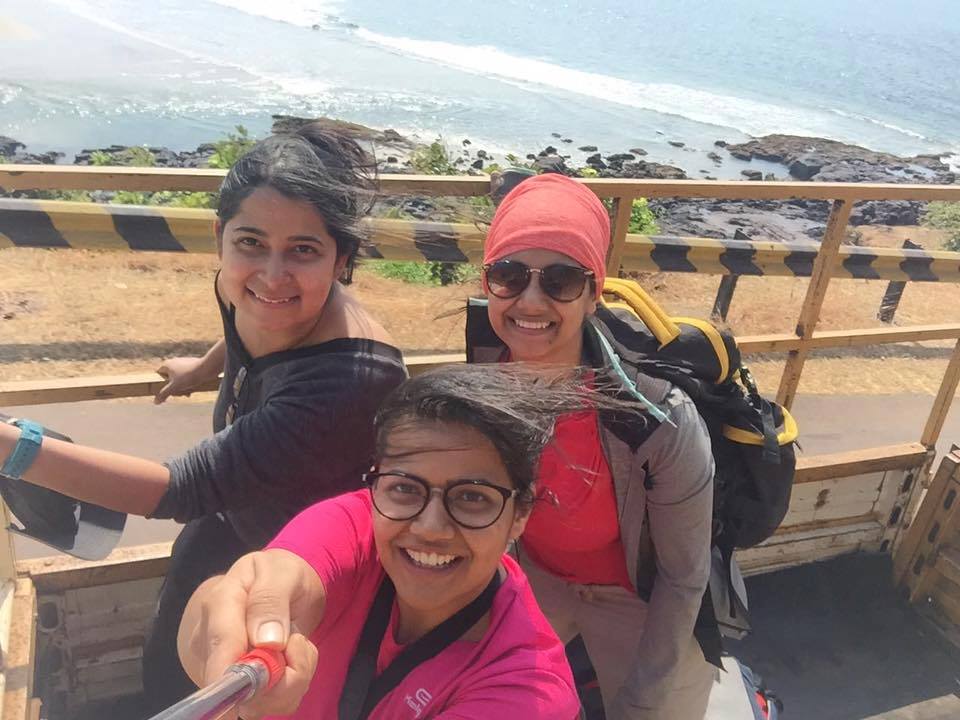 Par Tum Sirf Teen Ladkiyan Ja Rahi Ho (It's Only You Three Girls?)
"Hum khana kaise khayenge…" (How will we eat food?) was my first question when the three of us got down to map out our route, and logistics of the trip. The idea of Rs.100 a day seemed impossible! But just the thought of being on the road, with just a tent, and a map, and the most minimum belongings seemed so liberating.
Also read: New Rules In Goa: Night Curfew, Weekend Lockdown, Jail For Violaters
Travel for most people is a form of escape, whereas in my years of moving around different cities, and traveling solo, I realised that this is not an escape for me, but a part of reality. A part of who I am. Having lived in four different cities, and many many houses, change was so constant, that permanence became trouble. The idea of something new is so fascinating, that I look for change with a child-like wonder. I was happy to have found another friend who shared the same zest for it; we weren't talking about hotels, or resorts, or Goa…we were talking about the journey.
While we were excited about the trip, we gradually started to realize some of the problems that would come along the way. It started right at home, of course.
"Beta, tum sirf teen ladkiya ho, kaise hoga…" (It's just you three girls, are you sure…?)
"Kisi ladke ko le jao…"(Take some boy along with you…)
"Why are you doing this to yourself? Let me just book a flight for you!"
"This is a very risky idea…"
Safety was definitely our top concern for a trip like this, but it became exhausting listening to our own friends and family put us down like this. All these comments came out of concern, of course, but when you usually think of adventure, the first reaction you expect is that of "oh wow…that sounds exciting!", and it was disappointing to have the conversation just revolve around three girls who would be unsafe.
And Then The Journey Began
But when we stepped out onto the road and started our journey; the world surprised us! Our gender, which seemed like a weakness before, became our strength; we came off genuine and trustworthy. It is so easy to picture a world that is evil, and ready to get you that we often forget the strength in simple things. The magic of starting a conversation with a stranger, the excitement of sharing personal stories with new people, the power of a community in small villages, and most of all, the courage to open up and be vulnerable. When did we get so scared of the world? When did we forget that our species has only been able to thrive for millions of years because of dependency and support? How did we reach a stage where we have gotten so comfortable in our bubble that anything out of our comfort zone seems dangerous?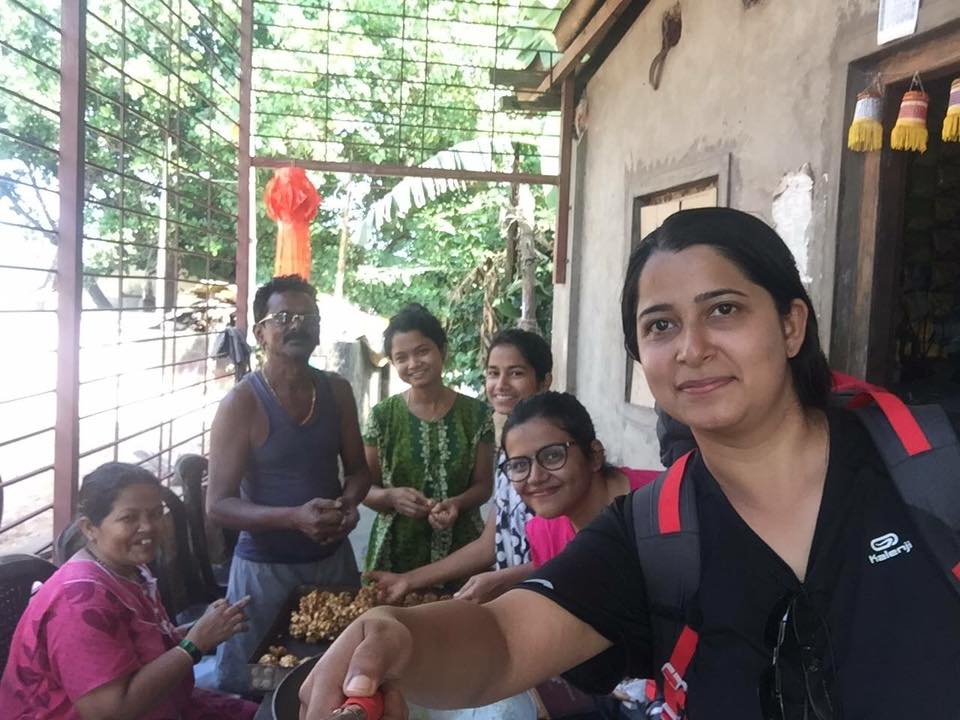 From Mumbai To Goa
We decided to divide our journey with 8 stops – Alibaug, Murud, Harihareshwar, Dapoli, Guhagar, Ratnagiri, Malvan, Vengurla, and eventually Goa.  We took the coastal route, because we knew the possibility of interacting with communities would be higher, and of course, it would definitely count for a more serene view than that of the highway. Considering we were dependent on our tent for accommodation, we made sure we reached each destination by the afternoon so we could interact with the locals.
Also read: Ratnagiri, Raigad To Get Goa-Style Shacks To Boost Tourism
In Alibaug we met many families, where all the women gathered to discuss how best to host us in their backyard, in Murud we had the famous Patil Khanawad thali and was hosted by the Patil family itself, and in Harihareshwar our experience was probably the most interesting one! Will wait for people to watch that episode in our docu-series. It helped us make and break perceptions!
In Dapoli, we were hosted by a wonderful family we found through Facebook; one of our Facebook followers offered to host us at his uncle's house. A secluded house, totally cut away from the world, and surrounded by nature, with a river flowing right behind the house! We met his uncle who had actually stumbled upon this piece of land years ago when he was traveling through this patch. Mahesh uncle has many of his own travel stories to share with us. He still takes people on budget trips in India and encourages the young generation to explore more.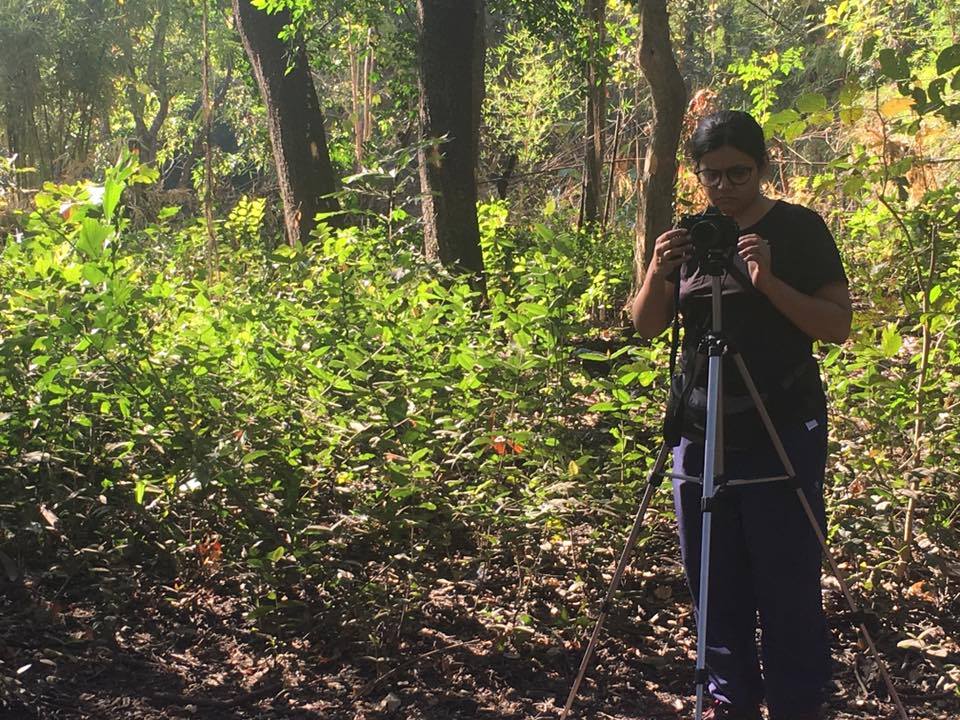 Hosted By The Cops
As we checked out of our temporary accommodations, our next stop Guhagar was a pleasant surprise; we were hosted by the local police! Unable to find any place to pitch our tent, we entered the station and told them about our journey. They were more than happy to host us! There's a huge patch of land adjacent to Guhagar beach which belongs to the police, and that was our home for the day, and the night. There was a lovely policewoman constable who chose to take up duty that night just to make us feel comfortable. By now, we had realised that keeping a travel distance of 70-80 kms a day was our best bet to reach anywhere on time, so we changed our stop to Pawas next, instead of Ratnagiri, where we stayed in a Dharamshala.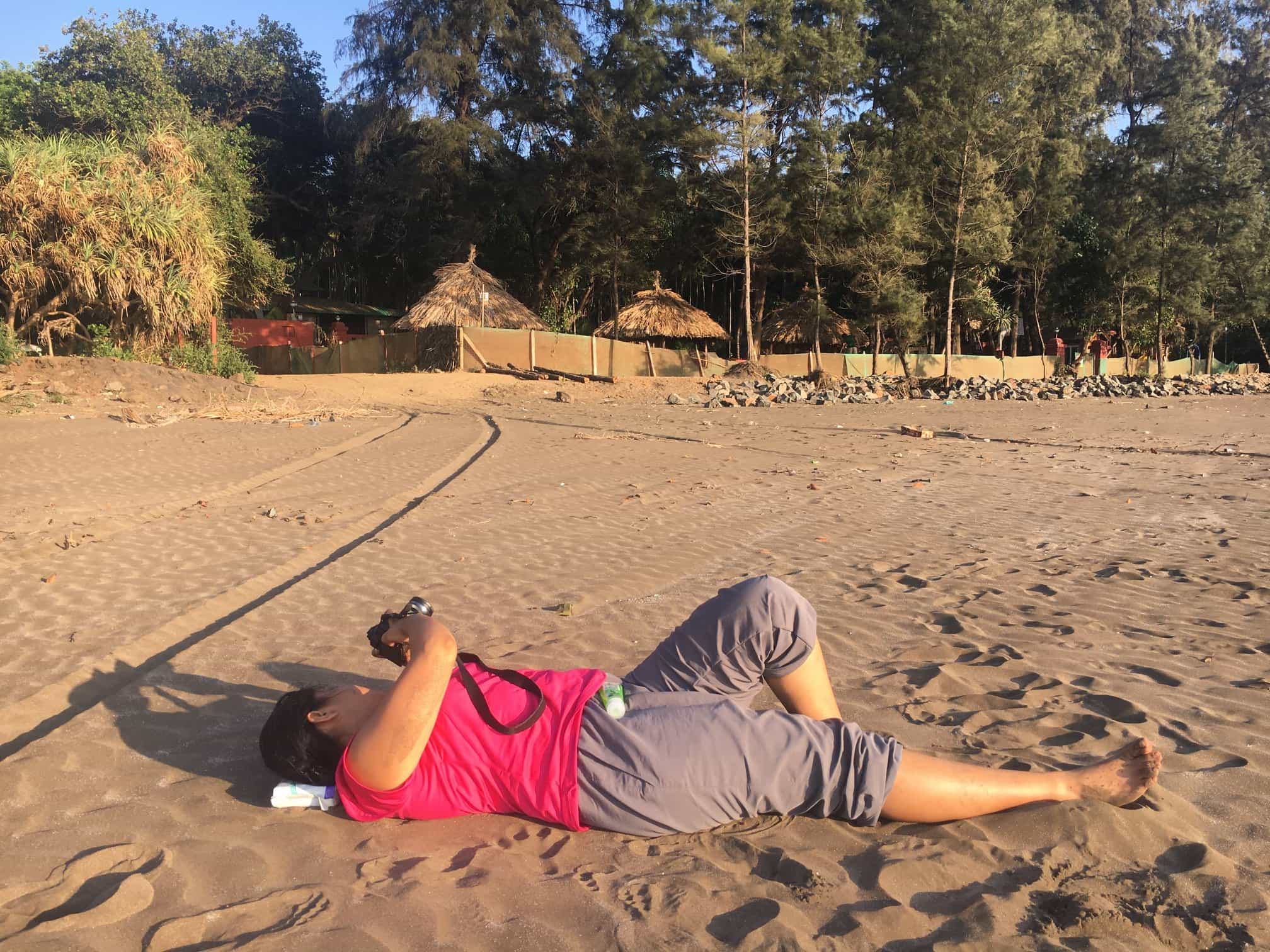 Having come across pretty much all challenges (or that's what we imagined) by now, the day we were traveling from Malvan to Vengurla, we lost our way. Nobody seemed to know the right way to get to Vengurla, and we ended up walking 17-18kms along the coastline. We barely had enough water, we had no food at all, and we started calculating our steps. As fate would have it, we reached a point from where we could take a small boat to cross Karli river, which would get us closer to our destination. We waited for the boat to arrive and started chatting with the family that owned a small shop, and before you know it, they were feeding us from their kitchen!
Also read: Goa To Reopen For Domestic Tourists From July 2
Konkan Hospitality For The WIN!
The Konkan hospitality left us pleasantly surprised yet again! To which Heena said – agar ab kisi ne mujhe khaana offer kiya toh main bas ro dungi, I'll just start crying…
This unplanned journey led to many detours and changes which we don't regret at all. We got so used to the routine of change, that we did not mind the uncertainty that every day brought to us. I believe we explored the Konkan coast in the best manner possible! We had the best view, we took not just truck rides, but buses, small tempo trucks, cars, even small boats, and ferries to reach one destination in a day; the view was nothing short of breathtaking.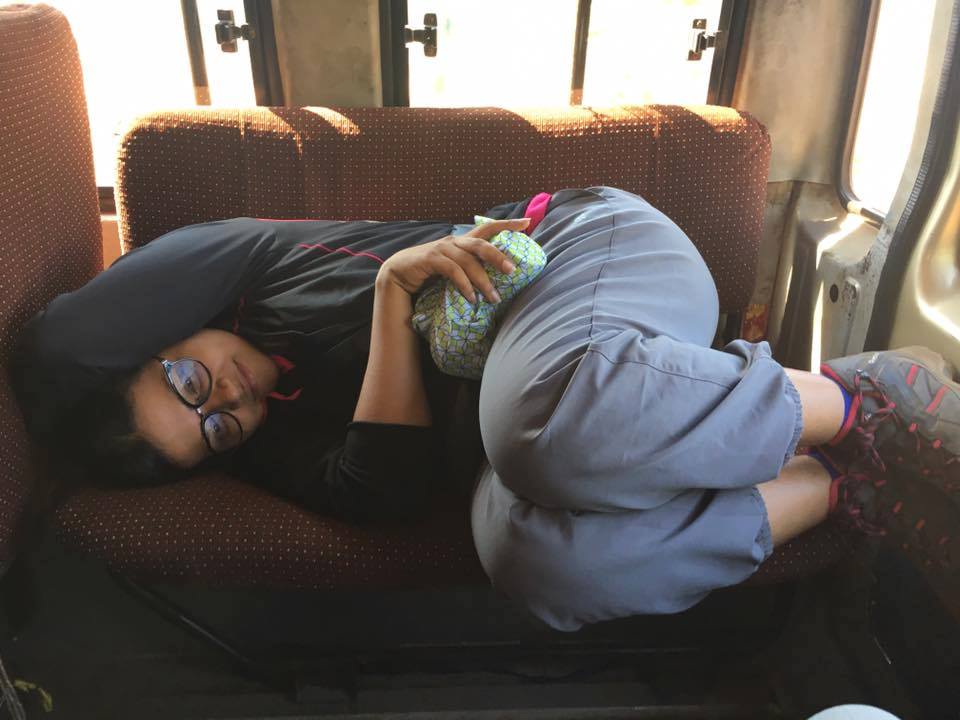 To witness our coastline in such proximity was something that transformed my view of Indian beaches. They were clean, pristine, and absolutely stunning. The journey helped unlearn all the assumptions and form bonds with these unbelievable individuals who went out of their way to help us.
Not only were we safe, but we were fed, we were welcomed in their homes, we were part of family dinners and conversations! It's heartwarming to see what happens when you break down these imaginary walls and step out to see the world. Especially as women. We are constantly told what our limits are, and what we can or cannot achieve, but these people chose to just see our excitement, curiosity, and wonder to explore the outdoors. They did not choose to attach a gender to our fun!
Time At Goa Wasn't As Fun As The Journey To Goa
When we reached Goa, we were hosted by Nikhil and Jui Damle, and their playful pet Tina! Having reached our destination, we realised how our journey became so much more important to us, that Goa didn't seem exciting enough. We missed our casual, random encounters with people on the road, we missed the uncertainty, and we missed the laughs, and candid conversations we shared with those on the way. We think a lot about where we need to be, and often in that process forget to enjoy what we have now…the journey, it was one of those cliches which we lived, and loved.
While on the road, we decided to shoot our experiences and came back with so many insights, and memories that we thought the world needed a little more hope, and some better stories, and that's when 'hello' Project docu-series came to birth. A travel series that does not talk about the destination, but the journey and the people who made it worthwhile. We are still in touch with those families who helped us along the way. They send us love, and their blessings every festival and invite us into their humble abodes. Human connections can last a lifetime, no? A simple 'hello' can be a game-changer for sure.
This article was contributed to Curly Tales by Sukanya Sharma. If you have a story to tell us, drop us an email to hey@curlytales.com