You must have come across many street vendors who sell normal food in completely different and unique ways. This attracts a huge number of customers, and in this new age of social media, it helps them go viral. A video going viral in this new age means more and more customers, for sure. One of such viral videos features a street vendor from Surat. The reason behind his virality is that he dips his bare hands into hot oil to fry bhajiyas. 
Surat Street Vendor Dips Bare Hands In Hot Oil To Fry Bhajiyas
View this post on Instagram
A street vendor from Surat, Gujarat, has made it to the viral food videos list for 2023. A video posted by @foodie_addicted_ in collaboration with @rajaironman75 features a street vendor from Surat selling bhajiyas. 
These are Dabholi's famous Kumbhaniya bhajiya and are loved by the people here. What sets this street vendor's stall apart is his unique way of frying these bhajiyas. He dips his hand in hot oil in the vessel to fry these bhajiyas. Yes, you read that right. 
He starts dipping his hand in the batter of the bhajiya and then very effortlessly dips them in hot oil to release the bhajiya into it. He then also stirs the same to make space for more of them in the oil. The vessel can be seen placed on a high flame. 
Over 4 Million Views
View this post on Instagram
While sharing the video, it was captioned India's Got Talent-10 Bhajiyawala Of Surat. The caption addressed the man as 'fire proof' man and also called his hand 'fireproof' as he uses it to stir the bhajiyas in the oil.
The caption also includes the location of the place. This little stall selling Kumbhaniya Bhajiya is located in Dabholi, Surat, at Bapa Sitaram Kumbhaniya Bhajiya. The video has by far received over 4.5 million views and over 66.6K likes on Instagram. 
Also Read: Karwa Chauth 2023: Dates, Significance, Rituals, All You Need To Know
Netizens Are Completely Blown Away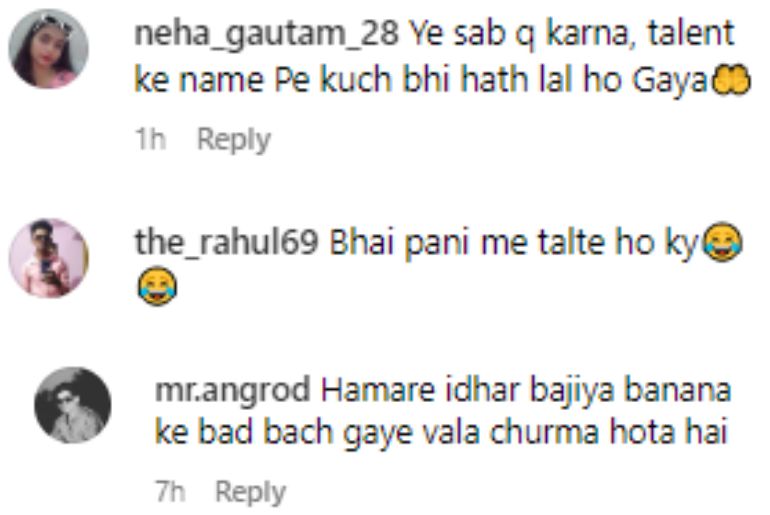 Many people on the internet commented on this post. While some of them called the vendor an iron man, others were trying to believe their eyes after watching the video. 
Some of them tried to understand if he was actually frying in hot oil or water. One of them commented, "Bhaiya pani me talte ho kya?" which means "Are you frying them in water?". 
One user tried to understand the possibility of this. She mentioned how rice steam too gives her boils. She failed to understand how the man suffered zero burns on his hands even after putting them in boiling oil. 
There were some users who wondered the reason behind him frying it with bare hands. Some commented on how this is a completely dangerous act and should not be followed by children or even adults, for that matter. 
Also Read: Vietnam Is All Set To Host North East India Festival With Sessions On Tourism, Business, Trade & More
What are your views?
Cover Image Courtesy: @foodie_addicted_/Instagram
For more such snackable content, interesting discoveries and latest updates on food, travel and experiences in your city, download the Curly Tales App. Download HERE.
Good news! We are on WhatsApp! Subscribe to Curly Tales WhatsApp Channel to stay up-to-date with exclusive content and BTS. Join HERE.