Travel enthusiasts can now rejoice as the Taj Mahal and Agra Fort will reopen for visitors from September 21. The monuments were closed to the public since the nationwide lockdown in March to combat the coronavirus pandemic. We always find couples eager to get a picture of themselves on the bench before the Taj Mahal. It's a picture pose coveted through the ages by famous personalities, leaders and the public alike. However, now, couples will have to wait before they can get a romantic picture in front of the iconic Taj Mahal. Even though the beautiful monument reopens, after a five-month shut down due to the Covid-19 pandemic, the social distancing guidelines in place does not allow any cosy couple shots or close family pictures in the premises.
Stay Six Feet Apart & Say Cheese
According to the new guidelines, more than one person can stay in the picture frame, but only if they maintain a distance of six feet apart from each other. The six-foot space between visitors is mandatory even when not clicking pictures.
Bookings Possible Through E-Payment Only
Among other new guidelines, bookings of tickets and bar cash transactions on the premises will only be possible through e-payment. Every tourist visiting Taj Mahal will need to carry a mask as well as a sanitiser. The iconic Taj Mahal and the majestic Agra Fort shall open to travellers with a capacity of 5000 and 2500 people respectively per day. Masks will be mandatory. And visitors must only purchase their tickets online.
Taj Mahal And Agra Fort Will Reopen To Tourists From September 21
Agra District Magistrate Prabhu N Singh on September 7 announced that the Taj Mahal and Agra Fort will reopen for visitors from September 21. The monuments were closed in March to contain the spread of coronavirus.  And now after 6 long months, they will reopen once again for travel enthusiasts who're eager to witness these magnificent monuments.  Vasant Kumar Swarnkar, superintending archaeologist of the Archaeological Survey of India (Agra Circle) informed NDTV that tourists must follow guidelines when visiting these monuments. He informed "Masks are mandatory to enter the monuments and all tickets must be purchased online. Ticket counters will not be open."
Also Read: Hotels With The View Of Taj Mahal From ₹600 to ₹60,000
Taj Mahal To Only Permit 5000 Visitors Per Day
Entry to the Taj Mahal is restricted to 5000 visitors a day, including 2500 before 2 pm. Agra Fort shall witness a footfall of 2500 people a day. More than 70 lakh tourists head to Taj Mahal each year. And 30 lakh people explore the Agra Fort annually.  The Centre issued the Unlock 4 guidelines on August 30. The Union Ministry of Home Affairs directed all schools, colleges, coaching centres and other educational institutions to remain shut till September 30. Sports, academic and entertainment functions have a cap of up to 100 people only.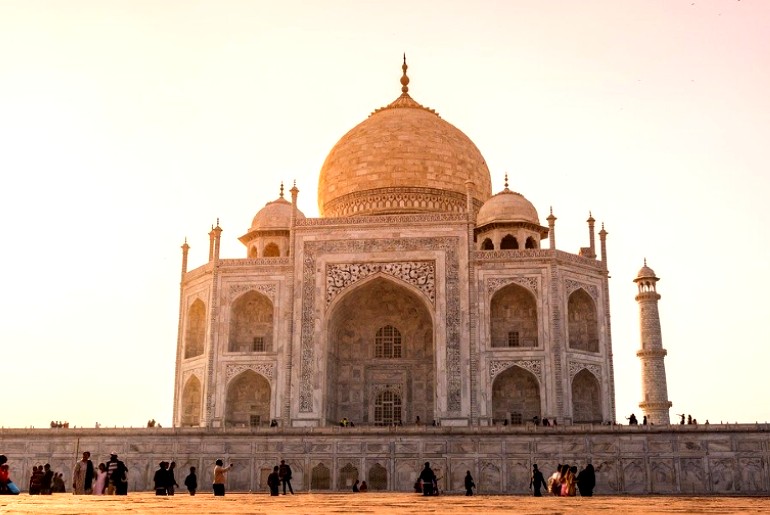 Also Read: Here Are India' Best Destinations For Every Month Of The Year!
Currently, India has a total of 42,04,614  coronavirus cases. It's the second most affected country by the pandemic after the USA. Fortunately, the recovery rate in India is 77.31%. So, 32,50,429 people have recovered so far. But in spite of monuments reopening, it's always advisable to avoid unnecessary travel. So travel at your own risk. And if you want a quick holiday, then travel to Delhi from the comfort of your home through this virtual tour.