Everyone's favourite party destination Goa has a lot to offer. From the gorgeous beaches to the untouched wilderness to its nightlife, Goa is a feast for the senses. And while the sunshine state is buzzing with gorgeous properties, bookmark this all-glass villa for your next Goa trip. Well, this glasshouse offers a 360-degree peek into its surrounding surrounding green palms. And guess what? This dream weekend home is designed by ace fashion designer Tarun Tahiliani.
An Abode Nestled Amid Green Palms And Backwaters
Have you ever imagined sleeping underneath a translucent ceiling surrounded by unparalleled views of the star-studded sky? Nestled amidst lush greens and the backwaters of Nachinola in Goa, the AIS Glass House is everything that dreams are made of. The 4bkh glasshouse has airy rooms with laterite walls, old wells, and a cluster of palm trees.
Also read: This Goa Village Stays Submerged For 11 Months, Appears Only In Summers
View this post on Instagram
Take In 360-Degree Views Of The Gorgeous Surroundings
You can enjoy postcard-perfect views from every corner of the villa. In keeping with the spirit of modern architecture, this glass villa is a tribute to the marriage of old and modern. It is evident from the classic Goan courtyard structure and giant glazing fold-out glass doors. The old trees retain their beauty from the glass chambers in the bedrooms.
Also read: Escape The Goa Crowd & Chill In This Secluded Beach Villa Few Hours From Mumbai
View this post on Instagram
The Infinity Pool Gives You The Illusion Of Floating Over Backwaters
The two-level 4BHK AIS Glass Villa has a built-up area of 6,628 sq ft. The master bedroom en suite bath includes a special cove study area and massage rooms. The home is beautifully adorned by landscaped gardens. But the highlight of this stunning villa is the infinity swimming pool, which appears to be floating over the pristine backwaters.
Also read: Olaulim Backyards Villa Is A Tropical Paradise In Goa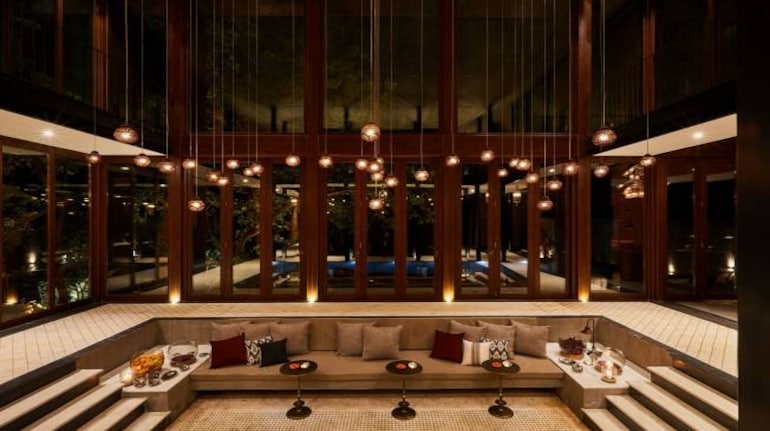 The villa redefines luxury in Goa and it is the perfect place to unwind away from the hustle and bustle of the city.