Can you gorge on heavy food platters? Then, this is what must try! Find Mumbai's biggest non-veg thali comprising of 25+ dishes at Sangeeta's Kitchen. Known as Asur Thali, it is impossible to finish the entire platter alone. At least four people need to eat to finish it off on one seating. You will find this jumbo thali served at Sangeeta's Kitchen, a Konkani restaurant in Andheri East.
What's On Mumbai's Biggest Non-Veg Thali?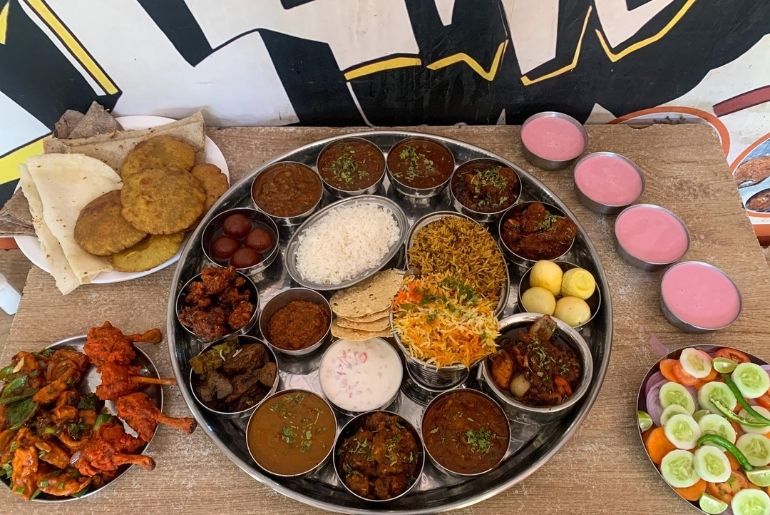 A plethora of dishes are served in this humongous thali, starting from chicken chilli, chicken lollipops, schezwan sauce, salad, chicken masala, chicken curry, chicken kaleji, chicken sukha, wajri, black pepper chicken, boneless chicken pakora, egg fry, mutton keema, mutton curry, mutton masala, mutton sukha, gulab jamun, thesa, lasan ki dry chutney, plain rice, keema pulao, a bucket of biryani, chicken handi, four types of Indian bread, raita and solkadhi.
And no, even if you think you have all the appetite in the world to finish this thali alone, you won't be able to do so. However, you can also visit the place with an empty stomach and relish this delicious non-veg thali.
Also Read: This Is Mumbai's Only Surviving Chinese Temple In The City's Lost Chinatown
Price Of Mumbai's Biggest Non-Veg Thali 'Asur Thali'
The prices depend on the number of people sharing the Asur Thali. If four people share the thali, it will cost ₹1499; however, if there are more than four, the price will go up to ₹1999. 25+ in these prices is a good deal. The owner of Sangeeta's Kitchen, Sangeeta began this eatery with a mere ₹2500.
Location: Address | Plot No, 13, Chakala Rd, Tarun Bharat Society, Tarun Bharat, Andheri East, Mumbai
What Are The Other Food Items Served Here?
Other popular dishes served here are Chole Pav, Prawn Pulav, Masala Prawn, Mutton Masala, Mutton Thali, Chicken Masala etc.
Timings: 8am – 12:30am
Also Read: Asia's Longest Bar Is In Mumbai With A 210-Feet Long Table