Let the mighty Himalayas unfold in front of your eyes as you relax inside a cosy wooden cabin, soaking in a hot tub. Take the much-needed pause, indulge in slow sips of a drink and gaze at the beautiful snow-clad peaks. A breather like this is a rejuvenation to allow the soul to free itself in the lap of nature. The hot tub is cocooned in the Luxury Cottage of The Whitestone Cottages & Resorts in Himachal. The cottage spreads across an area of 150 square kilometres and overlooks the picturesque valley. A brook meanders by the cottage, amplifying the beauty of the place.
Also Read: This Goa Resort With Open Air Hot Tub Lies Amid A Mesmerising Forest
Stay In This Himachali Cottage With A Mountain Facing Hot Tub
The Luxury Cottage at The Whitestone Cottages & Resorts is crafted with Himachali stone and wood. The slanted roof gives it a rustic feel which contrasts strikingly with the luxury bedding, royal sofa set and other plush elements. With amenities like wifi, spacious sit-outs, tea and coffee maker, the cottage delivers a sense of home in the hills. The mountain facing hot tub at the accommodation comes with a blue tooth speaker as well. Thus, while enjoying the views, you can pamper yourself with some melodious tunes too.
Also Read: This Hostel In Rajasthan With A Rooftop Hot Tub Offers Stays At Just ₹225 Per Night
Take Sips Of Your Favourite Drink As You Unwind In The Hot Tub
At the swanky property, you can get gourmet food and drinks delivered to your cottage and savour them while relaxing in the hot tub. The resort houses the restaurant Ruthay Bagad which means delectable food in the local language. The state-of-the-art interiors of the restaurant let guests enjoy fine dining with profound elegance. It serves Indian, continental and Chinese cuisines. The Whitestone Cottages & Resorts has a sweeping lawn too, making the place perfect for destination weddings.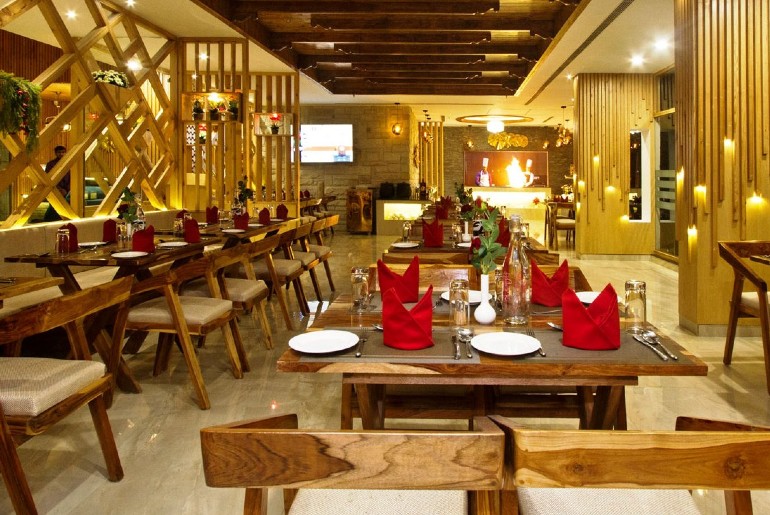 So, the next time you visit Himachal, have a surreal experience at Whitestone! To book, click here.
Address | Hamta Road, Prini, Manali, Himachal Pradesh 175143