The UAE's 49th National Day is just around the corner. And that also means, there's a 5-day long weekend coming up! In celebration of the occasion, there are plenty of interesting cultural activities to try out across the Emirates.
Here are some fun things to do in the UAE this long weekend.
1. Emirati Buffet At The Ritz-Carlton, Dubai
This long weekend, indulge in some lip-smacking Emirati delicacies at The Ritz-Carlton, Dubai in JBR.Amaseena restaurant is set to host a grand Emirati spread on 2 December. The traditional meal will start with a customary saffron custard drink, followed by a range of locally inspired dishes, including lamb ouzi, shish tawook, lamb chops, shish kebab and lamb kofta.
Where: Amaseena, The Ritz-Carlton, Dubai, JBR
Timings: 7pm-11pm, Wednesday, December 2
Cost: AED 299
Contact: 04 318 6150

2. Camp At Laguna Waterpark
Camp overnight under the stars at Laguna waterpark. Known as the region's first-ever overnight waterpark experience, Laguna waterpark launched a brand new camping experience on October 15. And now, the waterpark has extended this into the long weekend.  The experience is available to book from Wednesday, 2 December to Thursday, 3 December, with just 10 tents available.
Guests can check in at 5.30 pm and spend the evening enjoying the water park, as well as an unlimited barbecue dinner, which is on offer until 10pm. Campers can play board games or sit around a campfire. End your stay with a sumptuous breakfast in the morning.
Where: Laguna Waterpark, La Mer, Dubai
Timings: Wednesday to Thursday, December 2 to 3
Cost: AED 700 for a two-person tent, AED 1,200 or a four-person tent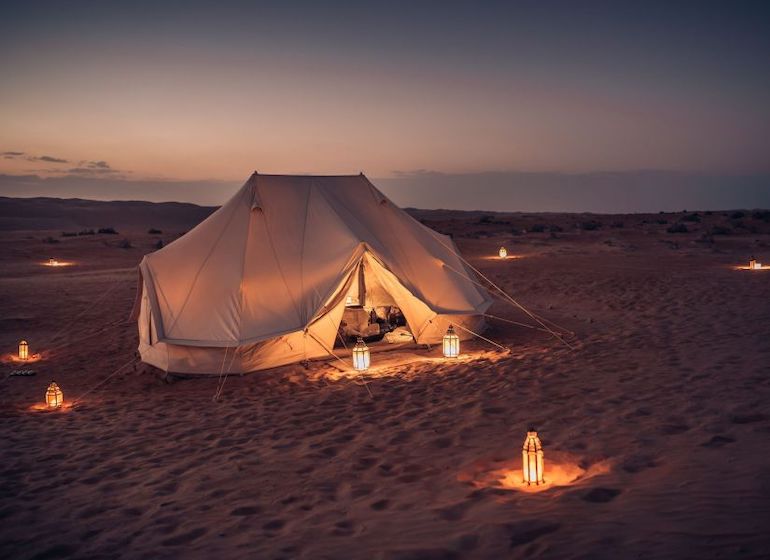 3. Binge On National Day Themed Desserts At Sikka Cafe
Emirati restaurant Sikka Cafe is serving desserts with a National Day twist. Treat your tastebuds to pistachio sahlab (AED 25), a traditional Emirati milk pudding, which will be decorated in the UAE flag colours. The delicacy is layered with rose water, milk, pistachio nuts and coconut powder. You can also opt for saffron milk cake (AED 35), or Sikka's take on a tres leches cake.
In addition, diners at the cafe will enjoy a complimentary traditional afternoon tea experience, from Wednesday, December 2 to Friday, December 4. Guests can relax and enjoy Emirati classics such as luqaimat and mini chebabs, from 3pm onwards, with oud music from 6pm.
Where: City Walk, La Mer and Al Khawaneej, Dubai
Deals: Various deals, until Friday, December 4
Abu Dhabi
1. Enjoy Indian Cuisine At Ritz Carlton
Celebrate the 49th UAE National Day with Punjab Grill. Located in the Venetian village at Ritz Carlton, Abu Dhabi, this fine dining Indian restaurant is inviting diners to try their special dishes inspired by the UAE. Indulge in the authentic Indian flavors created by the Executive Chef Sandeep Ail, such as the Chicken Trio with Beetroot Hummus or the Greenpea Hummus and Black Olives. Guests can also treat their sweet taste buds to the 'National Day' special dessert, Rasmalai Rabdi. Guests can book to dine indoors or at the outdoor terrace with stunning canal views.
Where: Ritz Carlton, Abu Dhabi
Contact: +971 50 668 3054
Also read: Top 5 Attractions To Visit In Abu Dhabi

2. Sheikh Zayed Heritage Festival
Get an insight of Emirati culture at the Sheikh Zayed Heritage Festival. Happening until February 2021, the festival celebrates UAE's rich culture and heritage. The festival is taking place at Al Wathba, and will have a programme of arts, crafts, food and performances throughout its three-month run. Besides, there will also be falconry displays, camel races and fireworks as part of the National Day celebrations.
Where: Al Wathba
Timings: Until February 20, 2021, daily, from 4pm
Cost: Free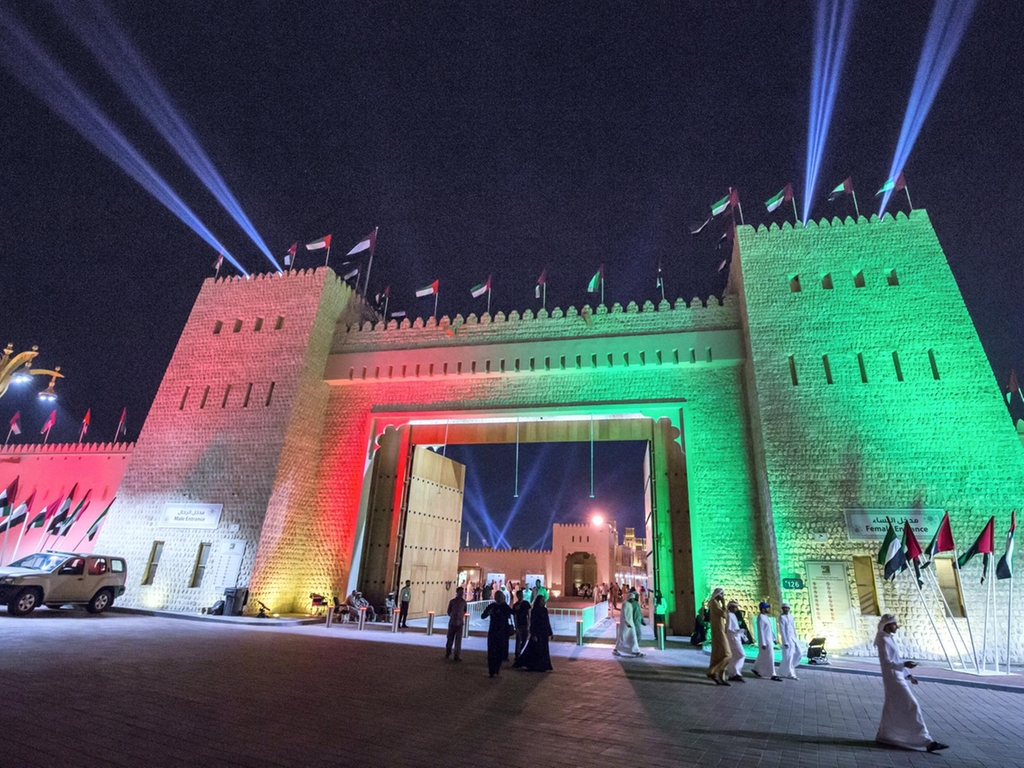 3. Yas Theme Parks
As part of National Day celebrations, Yas Theme Park is offering 49% off ticket bundles, which will give entry to two of its parks. Buy tickets for Ferrari World and get free tickets to Warner Bros World Abu Dhabi or Yas Water World. The offer is valid from 26 November and will be available until Wednesday, December 2. The offer is valid on tickets purchased for dates up to and including Friday, December 25.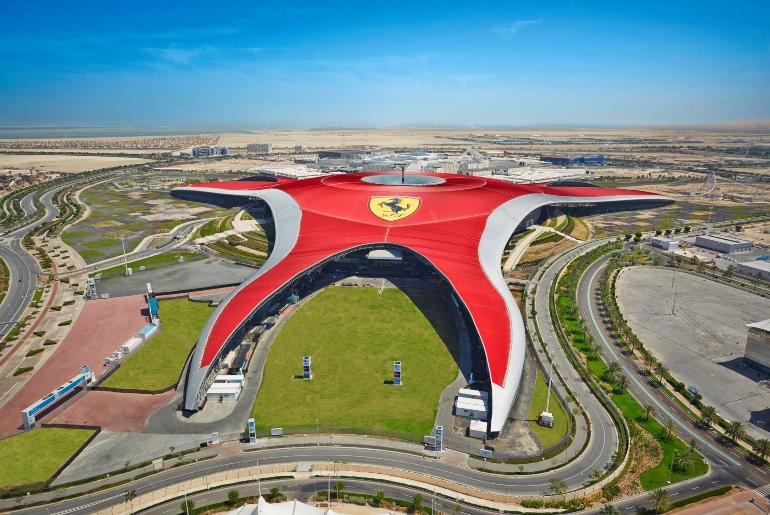 4. Kayaking Under The Full Moon
Kayak under the sky at Louvre, Abu Dhabi. The museum's full-moon kayaking is back on 1 December, giving visitors a chance to get an insight into the museum's impressive facade, designed by famed architect Jean Nouvel.
Where: Louvre Abu Dhabi, Saadiyat Island
Timings: Tuesday, December 1, 7pm-9pm
Cost: AED 126 per person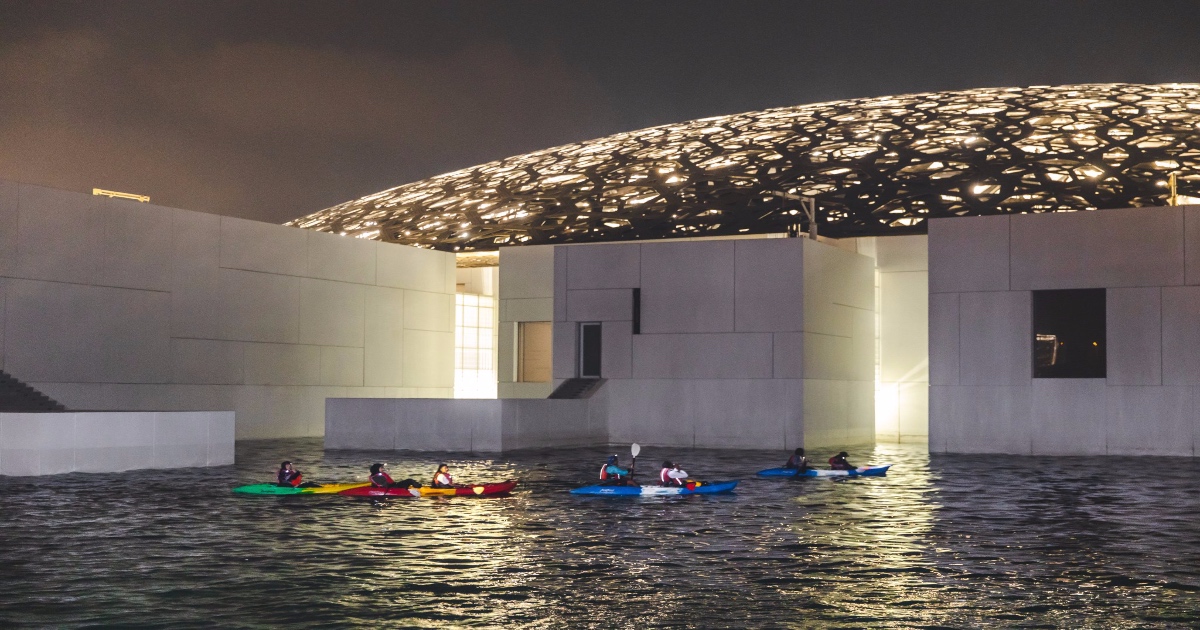 5. Yamanote Atelier
What's National Day without themed treats! Yamanote Atelier is offering a special range of National Day treats. Indulge in the Japanese bakery's National iced bun, topped with an edible UAE flag, for AED 18. And while you're here, also try bambukshen with matcha and date croissants.
Where: Abu Dhabi Mall and Al Seef Village Mall
Timings: Until Saturday, December 5
Cost: From AED 18
View this post on Instagram