Abu Dhabi's first Hindu temple has finally started taking shape! The construction of the UAE's first Hindu temple is in full swing and Pink sandstones hand-carved by more than 2,000 sculptors have now started arriving from India. The BAPS Hindu Mandir in Abu Mureikha area off Sheikh Zayed Road is a national project for both UAE and India.
The Hand-carved Pink Sandstones Arrive From India
On this, Pavan Kapoor, Indian Ambassador to the UAE said that the construction of the temple is progressing with the blessings and support of His Highness Sheikh Mohamed bin Zayed Al Nahyan, Crown Prince of Abu Dhabi and Deputy Supreme Commander of the UAE Armed Forces, and Prime Minister Narendra Modi.
"To see the amazing progress that has been made despite the times of Covid is extremely reassuring and encouraging. This is a national project, not just for the UAE, but the government of India, and it is contributing to both India and the UAE and to the bilateral relationship," Pavan said.
On February 11th 2019, Narendra Modi, Prime Minister of India laid a foundation stone for a Hindu temple to built in the capital city of UAE, Abu Dhabi.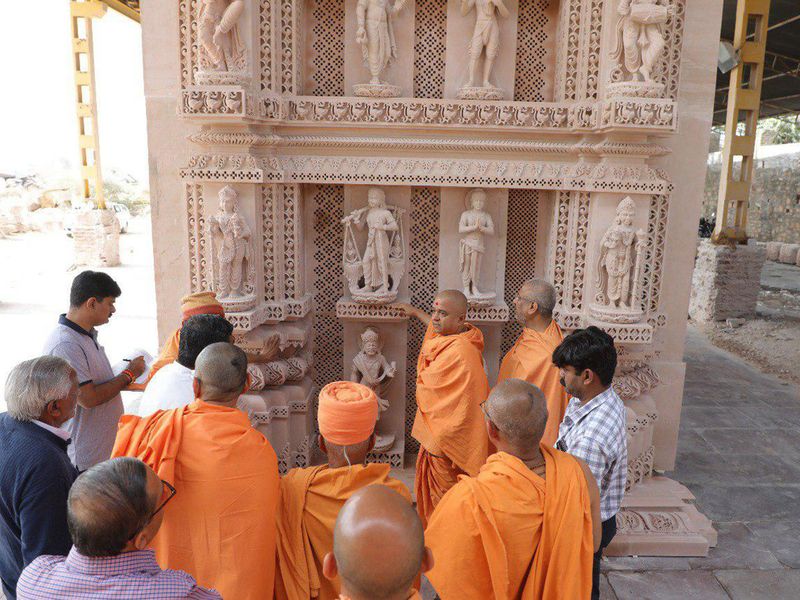 A Brand New Hindu Temple Is Coming Up In The Dubai-Abu Dhabi Highway
Abu Dhabi is home to a huge Indian diaspora and currently, both the Hindu temples in UAE are located in Dubai. To avoid the inconvenience caused to devotees in Abu Dhabi the decision to build a temple in Abu Dhabi was made by PM Modi during his visit to UAE in August 2015. The foundation stone was laid by PM Modi from the Dubai Opera House via video conferencing. The temple is to be built at Abu Mureikhah, off the Dubai-Abu Dhabi Highway and will be managed by Bochasanwasi Shri Akshar Purushottam Swaminarayan Sanstha (BAPS), a socio-spiritual Hindu organisation that was set up in 1907 and currently runs over 1200 temple complexes around the world.
It was a special moment to witness the groundbreaking ceremony for the first Hindu temple in Abu Dhabi. I thank HH Mohamed bin Zayed Al Nahyan for the remarkable gesture of donating land for the temple. @MohamedBinZayed pic.twitter.com/tNOMjH2A4t

— Narendra Modi (@narendramodi) February 11, 2018
Intricate Carvings For The Temple Take Shape In India
Stone carvings for the country's first traditional Hindu temple in Abu Dhabi are being made in India. Visitors will be able to get a glimpse of certain parts of the temple before Expo 2020 Dubai. Spread across 55,000 square metres of land, the temple will feature intricate architecture and delicate carvings that will re-tell ancient stories from Indian scriptures about peace and spirituality.
The stones on the walls and floors of the temple are hand-carved by artisans in India and assembled by professionals in UAE. The temple will be open to people of all religious backgrounds and intends to convey the message of Vasudev Kutumbakam.
"There is no steel reinforcement in this foundation which also makes it unique and follows the tradition of ancient stone architecture that is being used for religious stone buildings in India", said Swami Brahmavihari, the priest handling international relations at Baps Swaminarayan Sanstha.
Crown Prince of Abu Dhabi Welcomes BAPS Sadhus and Temple Committee, Abu Dhabi, UAE https://t.co/2MzfjL2mLB pic.twitter.com/NXLJjo8sfu

— BAPS (@BAPS) February 13, 2018
Also read: Everything You Need To Know Before You Head To Dubai!
The temple in Abu Dhabi is predicted to look like the Akshardham temple in New Delhi, India which is also managed by the BAPS. Designed to be an architectural wonder, this temple will incorporate all aspects of a traditional Hindu temple and over and above comprise of a visitors' centre, prayer halls, exhibition centre, learning areas, sports area for children and youths, thematic gardens, water features and a food court. The UAE's first traditional Hindu temple is expected to be completed in 2023.