Bhutan, our tiny little neighbour has many accolades to its name from the being the world's only carbon negative country, to being called the last Shangri-La to being conferred the title of Happiest Country In The World. When you compare it by size to India, it is just a speck on the map but don't let its tiny size fool you. Bhutan is a magical fairyland where dreams do come true.
Our favourite cricketer Virat Kohli and his gorgeous wife, Bollywood actor Anushka Sharma are currently in Bhutan to celebrate the former's 30th birthday. Proof that everyone loves to travel for their birthday. The two celebs are spending some quiet time in beautiful Bhutan instead of a wild party and we are all for the idea!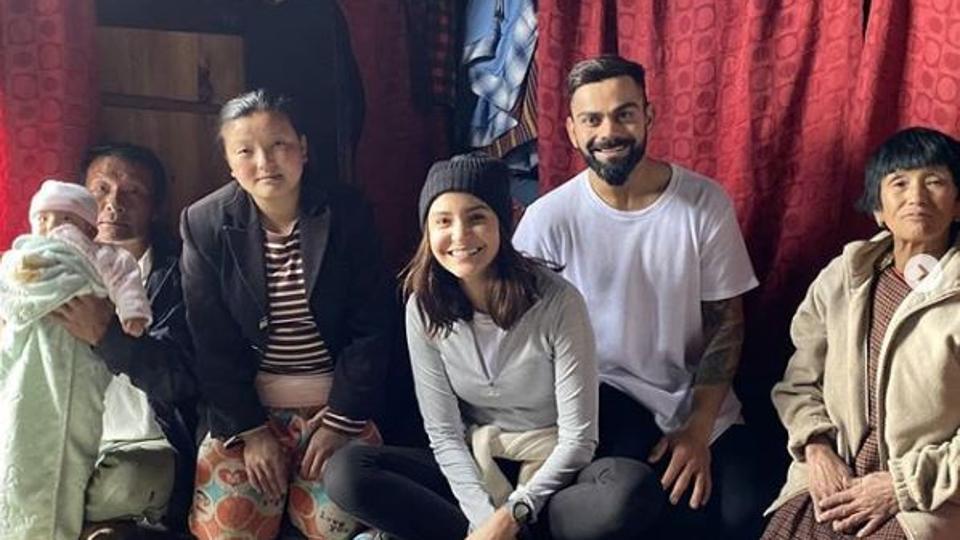 If you are planning a trip to Bhutan, here are 10 unique things to do in the country.
1. Trek Up To Tiger's Nest, Paro
Paro Taktsang or Tiger's Nest is probably one of the most prominent landmarks of Bhutan and with good reason. The Buddhist shrine was built way back in 1692 and is a dedication to Guru Padmasambhava. If you take a look at the architecture, it seems almost impossible to have been built without divine help and you'd be almost inclined to believe the stories that revolve around the construction and architecture of Tiger's Nest. The name itself is derived from an interesting story. Padmasambhava is said to have flown on the back of a tigress to the very spot of the shrine in the 8th century. He then meditated for three years, three months, three weeks, three days and three hours and it is this man with all his wisdom who is credited of introducing Buddhism to Bhutan.
The trek up to Bhutan has honestly been one of the most exhausting treks of my life. I'm not overly fit, but I do enjoy a trek once a quarter. The climb up to Tiger's Nest and the return are both extremely challenging. There is no particular path – just uneven steps cut out of rocks and paths carved by years of people walking along a track. There are horses available to take you halfway, so that is helpful to those who do not want to climb. But, please note there is no way to escape the climb. Another important thing to note is that  you must buy tickets right at the bottom. No cell phones or photography devices are allowed in the shrine, so you have to put them in a locker.
Also read: A 7 Day Detailed Itinerary For Bhutan Under ₹50,000 Trip Cost
2. Get Awestruck At Punakha Dzong
This is literally considered one of the most beautiful Dzongs in the country and I must say I'll have to agree. I'm not too big a fan of architecture and I still had to bow down to this beauty. The setting of the Dzong is almost perfect, with pop coloured trees, a flowing river, a rickety wooden bridge, a cool breeze and a sense of imposing history.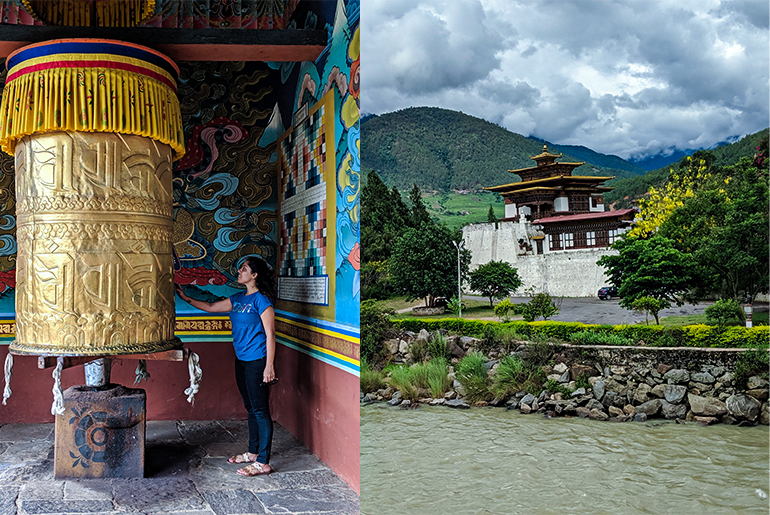 Make sure you add Punakha Dzong to your Bhutan itinerary, when you decide to visit this hilly kingdom.
3. Take Part In The Local Festivities
Bhutan is a land filled to the brim with culture and tradition. This is the only country I've ever visited that people spend more time looking around and talking to each other than on their cell phones. In fact, did you know that Bhutan doesn't have a single cinema hall and got cable less than a decade ago? The result has been plenty of activities for people to bond over. If you do get a chance to visit Bhutan during a celebration, make sure you are a part of it. There's a riot of colours, singing, music, dancing and cheer. Here is All You Need To Know Before Planning A Trip To Bhutan.
4. Visit Eastern Bhutan
Most visitors who come to Bhutan usually follow a set guide – Phuentsholing, Paro, Thimphu & Punakha. The Eastern side of Bhutan remains vastly unexplored, especially by Indians. This side of Bhutan is stunning and is filled with minority ethnic groups, some with numbers lesser than a 1000. For adventure enthusiasts, there are plenty of treks to take on; for those who like a little seclusion, you'll be rewarded with no crowds and a space dedicated solely to you.
5. Interact With The Bhutanese People
In a fast paced world filled with stress and craziness, the Bhutanese teach you to slow down and smile – a lot! The Bhutanese are extremely simple and honest people who value a conversation over a film and a cell phone. God knows that's something most of us could use. The Bhutanese are quick to help, smile and respect you. They are deeply respectful with a sense of innate kindness. One of the things I loved about Bhutan and the Bhutanese is the abandonment of pretense. None of the girls (not even in the cities) try to out dress each other, or ridicule each other. There is a sense of equality and wonder. Spend your time talking to the locals and you'll wonder why you're so caught up in the rat race. Check out The Utopian Kingdom Of Bhutan; 5 Compelling Reasons To Visit!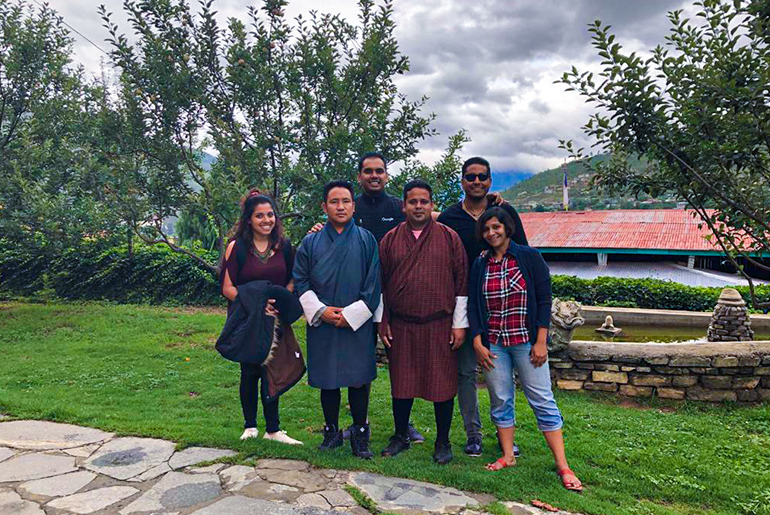 Here is a note by Anushka Sharma from her time in Bhutan and we couldn't agree more:
"Today, during our 8.5 km uphill trek we stopped by a small village on a mountain to pet and feed a baby calf who was born just 4 months ago. While we did that the owner of the house asked us if we were tired and wanted to have a cup of tea ? So we went into the home of this beautiful and warm family who had absolutely no idea who we were and yet they treated us with such warmth and love. We spent some time with them chatting and drinking tea and the whole time they just know us as two tired trekkers!
Whoever knows Virat and me very closely, know that both of us live for such moments of genuine, simple & pure human connection. It fills us with such joy and peace knowing that they just wanted to be kind to two random foreigners ( plus our guide ) without seeking anything in return. If this is not the true meaning of life then I don't know what is. A memory we will cherish forever."
6. Go Rafting On The Po chu River
For the adventure enthusiasts and for those who aren't, believe me when I say you must go rafting in Bhutan. You can basically go rafting on two rivers – the Mo chu (female river) and the Po chu (male river). The Po chu river is a thrilling river ride that you just can't miss. It's high octane and yet something that's totally doable by even beginners. If you;re someone who wants something lighter, try rafting on the Mo chu river. It's softer with much simpler turns and it crosses the King's winter palace that's absolutely stunning.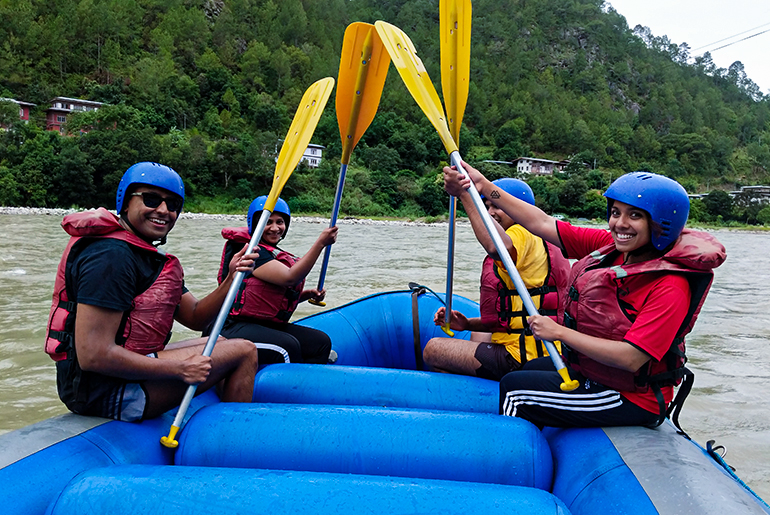 7. Stop & Stare In Bhutan
Stop and stare? What!!! This may seem like a strange suggestion to give but how often do you visit a country that's friggin' picturesque at every turn. There is simply no road or turn or mountain in bhutan that's not stunning or photo worthy. The air is crisp and clean and literally nobody interferes with you or what you want to do. I clicked this pic at a random spot in the middle of nowhere and just look at the view!
8. Watch/Learn Archery
Archery to Bhutan is what cricket is to India. It's almost a religion with the star archers being hero worshipped and commanding the love of the country. The archery craze in Bhutan is almost a drug with competitors even considering shamans to improve their game. However, the actual game is one filled with precision and skill and worth watching. A tourist can also learn archery at one of the many spots. However, only men are allowed to play. Women, on the other hand are more like cheerleaders. An actual tournament is extremely fun to watch. The crowd cheers, throws insults & teases the archer, while he is expected to keep his cool through it all.
9. Let Loose & Party It Up In Thimphu
The only place you'll get night clubs is at Bhutan's capital city, Thimphu. The energy is palpable and very fun. Dance to some local music and indulge in the local alcohol. The beer in Bhutan is quite delicious and my personal favorite was the Druk 2000. It's light and frothy. smoking is banned in Bhutan but you can consume as much alcohol as you please. There's also a fun concept called Drayangs, where local Bhutanese girls dress up in their national costumes and perform song and dance.
10. Experience A Landing At Paro Airport In Bhutan
I Travelled On A Wellness Journey To Beguiling Bhutan & the airport ride was the most beautiful of it all. Paro is the only international airport in Bhutan and let's just say that getting into Bhutan is as thrilling as Bhutan itself. The airstrip is so small and the landing is so tricky that only experienced pilots are allowed to fly this route. Situated in a valley, bang in between 2 mountains at a height of 5500 metres, with a flowing river and a tiny rickety flight, believe us when we say that it will be amongst the most adrenaline filled, exciting things you'll do.