Bali. One word, two emotions. On the one hand there resides sadness and on the other, elation. I know that these two can't coexist, but that's how my story begins. You see, this trip to Bali was supposed to be our first international holiday together — my boyfriend and mine. But at 9 pm, just a few hours before our flight, I, Zara, was sitting on the bathroom floor looking like the air had been sucked out of my lungs. My feelings at that point in time consisted of shock, betrayal and complete denial because my boyfriend, Ayaan and I had just broken up and here I was, all packed for Bali with every thought to cancel.
Also read: My Mobile Stopped Working During My Solo Trip To Europe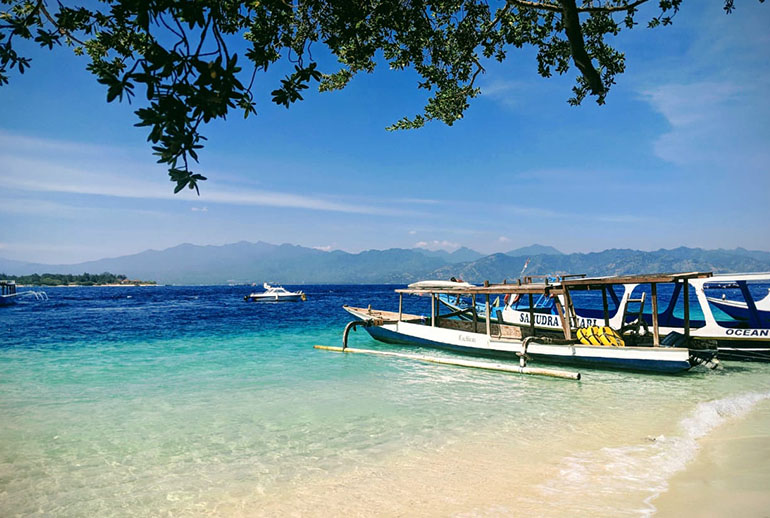 It took every ounce of my will power to not tear those plane tickets at first sight. I thought of the movie Queen in which Kangana Ranaut makes it alone to her honeymoon. At least, I wasn't married. As I stared at our seat numbers, something inside me hardened. It was then that I resolved that I was going to Bali, unruly single. I made it to the airport with only this thought in my head. I was ready. Thoughts of how things had ended between me & Ayaan swirled through the entire 9 odd hours on the flight. But as we landed and I looked out of the airplane window, I laid my eyes upon Bali for the first time and my mind stilled. Silence. No thoughts except for what awaited me on the other side of the window. It was nice, after all that incessant mental chatter.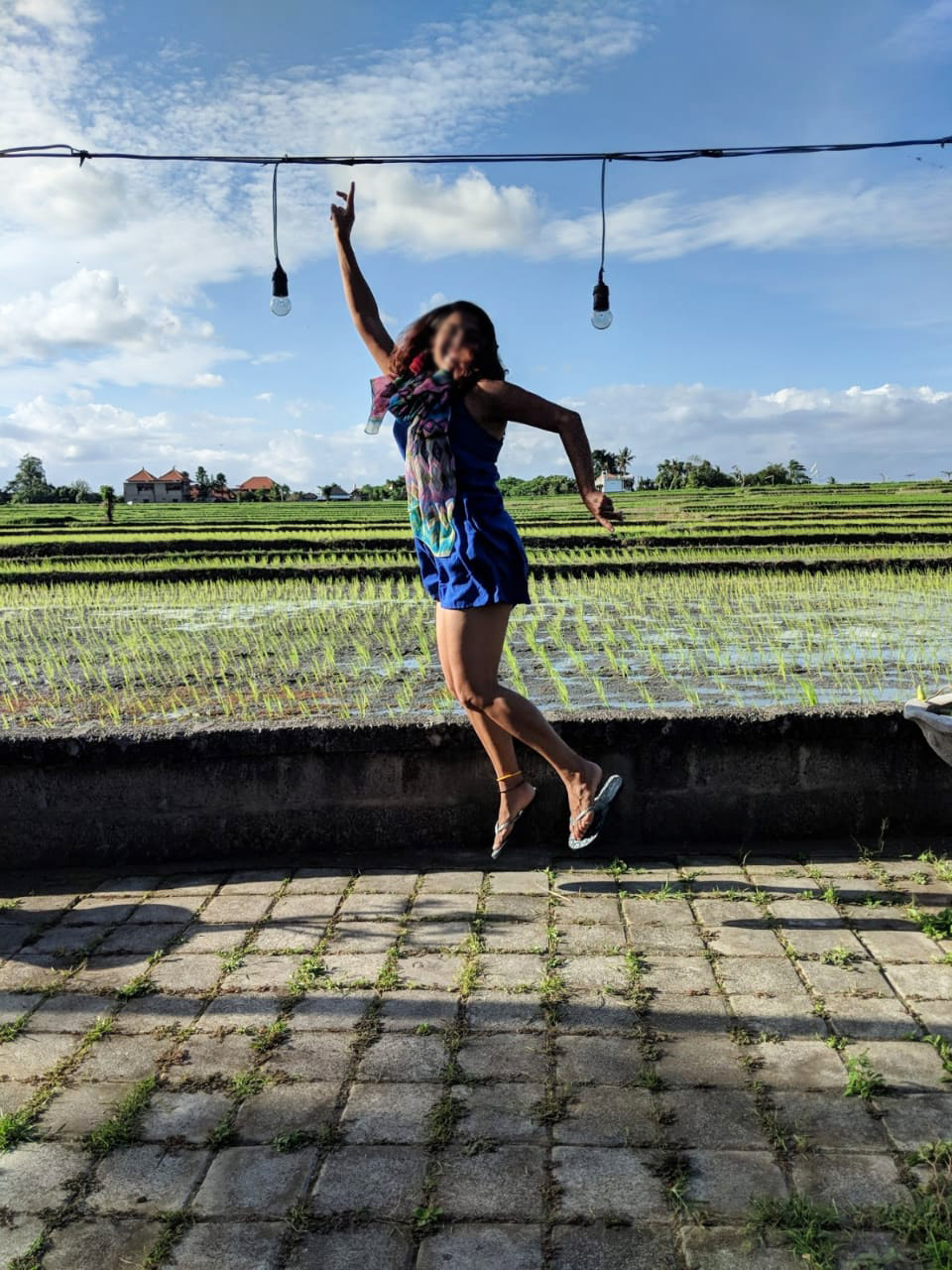 Ayaan and I had no set itinerary planned for Bali. We are spontaneous travelers and prefer meeting a new place in a rather unplanned fashion. Luckily, we did have a private cab booked that was to take us to our hotel here. I spotted my name's placard and hopped into the cab with the driver. On the way, as I watched the sprawling landscapes of green, the thought of a broken heart slowly moved to the back of my mind. I was here, in a place I had felt a pull towards since the last few years. I was finally here and I just wanted to breathe it all in. Sure, things could have been different. I could have been with the person I loved the most in a country that had come to be such a dream destination for both of us. But I pushed that thought away and instead, took a deep breath and let the hum and smells of Bali fill my body.
Also read: My 7 Day Solo Trip To Egypt In ₹1,10,000 Including Flight Tickets
After successfully not bawling my eyes over the swan-shaped heart towels in our "supposed to be" couple suite, I decided to head down to the restaurant. Post dinner, I passed out like a log (all the puns intended). The next morning, I woke up to the prettiest view outside my room's window. For as far as I could see, there were clouds kissing all the green that enveloped the ground. I got dressed and decided to rent a bike to Pura Lempuyang. At the back of my mind, I could see how happy Ayaan would have been to be here. It made me smile. I wanted to see the Gate of Heaven for us. We weren't together anymore but it was still one of our most anticipated parts of the trip. Let me just say that the Gate of Heaven was truly a slice out of another dimension. With Mount Agung in the background and the sun just a bit shy of the clouds, my breath whooshed out of me. Damn, it was gorgeous. How could one not look up and wonder about one's tiny existence in front of such a majestic sight?
Also read: Should You Go On A Solo Trip After A Breakup?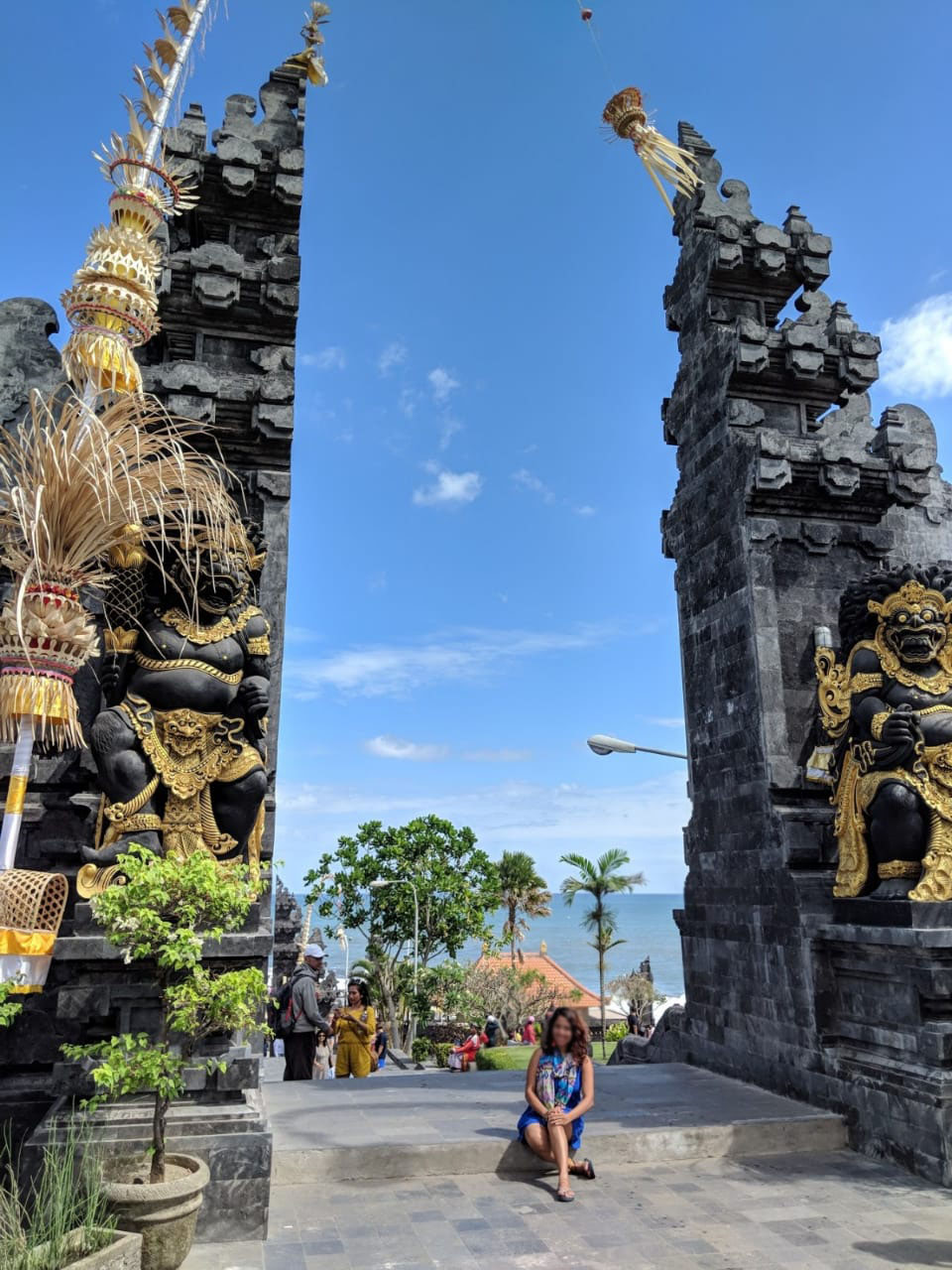 That evening I took a connecting boat ride to Ubud. When you're travelling with the locals on a jetty, it's an experience on its own, altogether. The people of Bali were so warm, open and friendly. Everywhere around me, I saw tooth-gaped smiles and raucously sweet banter. The next day I was up and about, my heartbreak seeming like a distant bad dream. I decided to head to Tegallalang, an upland area just a short distance from Ubud's main center. Bali is known for its traditional, co-operative irrigational system named "Subak" and Tegallalang is the most scenic spot to capture a gazillion pictures of the country's infamous rice terraces.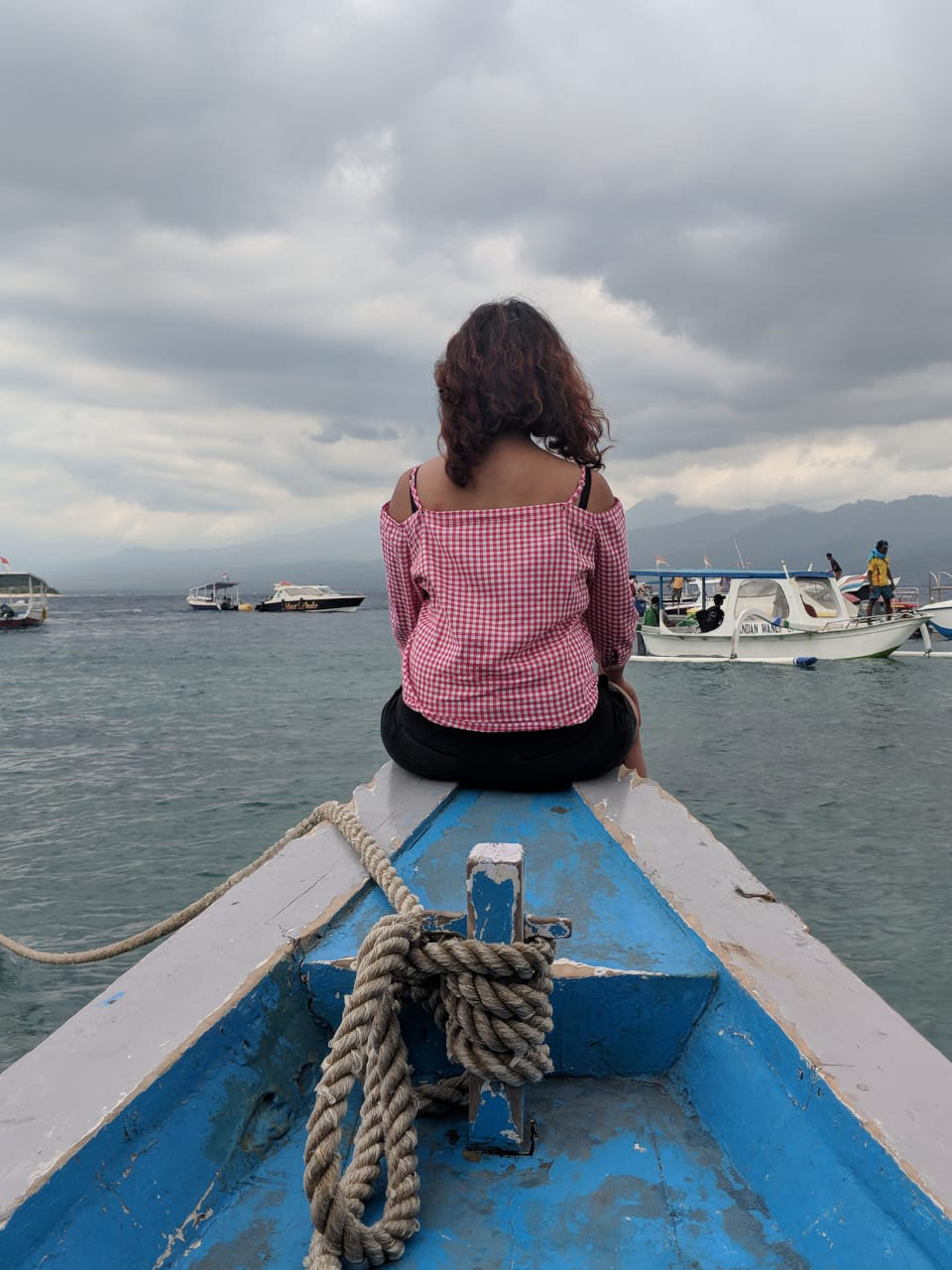 After a quick lunch at one of the many Balinese shacks at the Ubud Art Market, I knew it was time to score some souvenirs. I am a sucker for ceramics and the market surely didn't disappoint. I got the prettiest blue and green crockery and even a cute coffee mug for Ayaan. Also known as the 'Pasar Seni Ubud', the market is a treasure trove for silken scarves, lightweight handwoven shirts, baskets and hats. I bagged another suitcase worth of goodies (yep).
I made a quick detour to the hotel to drop off all of my purchases. After which I decided to head straight to one of the local cafes by the beach and spend my afternoon sipping on fresh fruit juice and listening to the sound of the waves. Those two days in Ubud consisted of hopping around to check out the infamous Goa Gajah 'Elephant Cave' and taking a walk on the Campuhan Ridge to catch the most beautiful sunset of my life.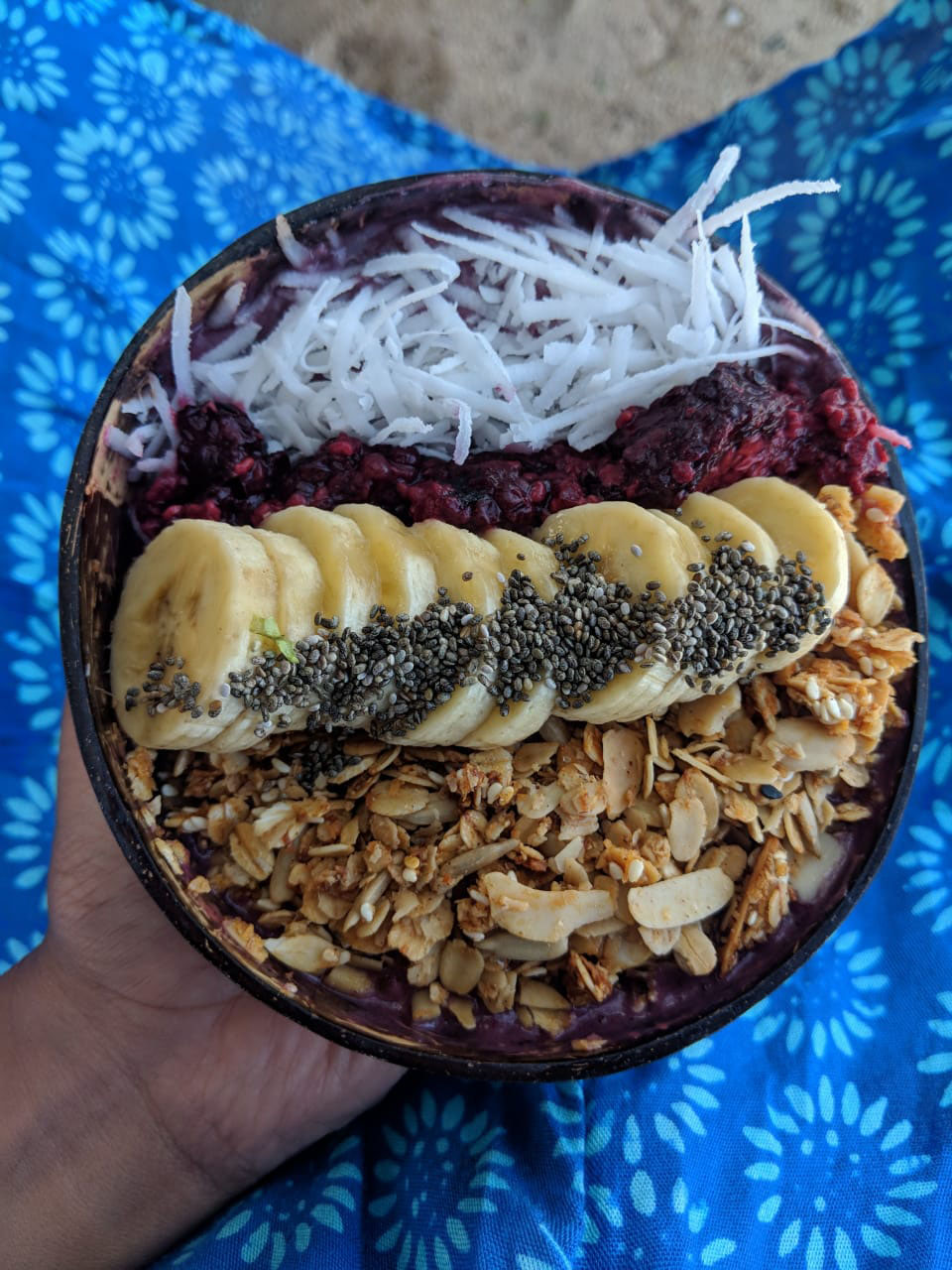 My last three days of the trip were assigned to the little island of Gili Trawangan, to see a side of Bali very few tourists choose to. It was the fifth day after my breakup and the memories of Ayaan kept popping up too much for my liking. However, Bali filled me up with a certain calm that also acted as a soothing salve on my still-fresh wound. I did miss Ayaan and I missed him bad but there's something about travelling all by yourself to a new country. It adds layers of perspective to a situation wouldn't have been able possible had I chosen to cancel the trip and stay home.
Also read: World Tourism Day: 9 Destinations For Your First Solo Trip, Take A Risk Ladies!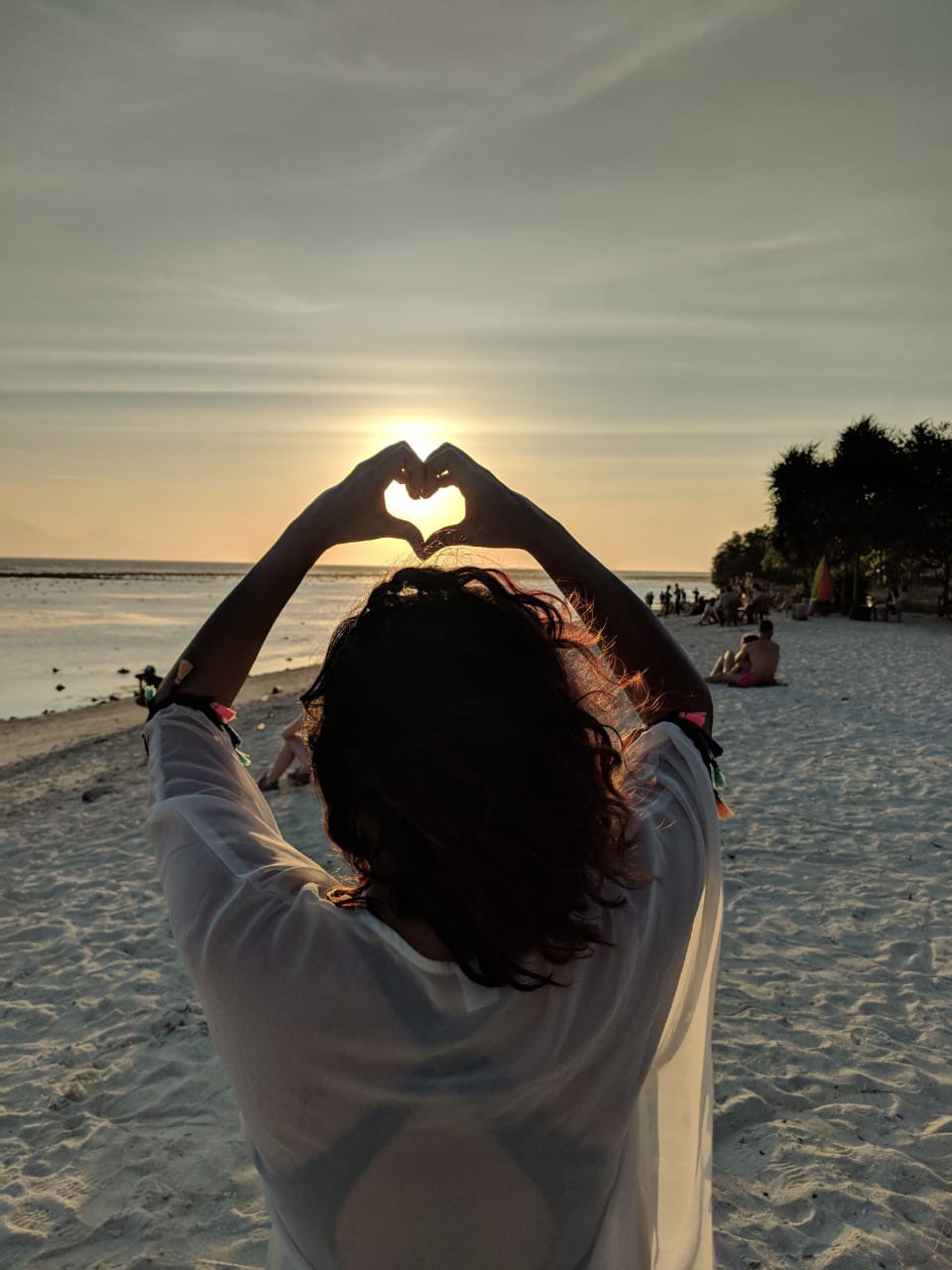 In Gili Trawangan, I undertook my first scuba diving adventure. Known for clear blue waters, and in some cases green, the island is an absolute delight for water babies. Diving in and letting all those unknown, exquisite, beautiful schools of sea creatures sidle past me is a memory that is too beautiful to be put into words. It was here as I dived deeper into the ocean that I felt the weight of my heartbreak slowly lift up from my shoulders.
On my second day, I knew I wanted the quintessential Bali "swing shot". Heading to Ombak Sunset Resort, I had my wish fulfilled. The sun was about to set and the sky was ablaze in all shades of crimson and there I was on that swing with the day kissing me goodbye. I smiled wide. How much better could this get? And how much more could Bali offer to this healing heart of mine?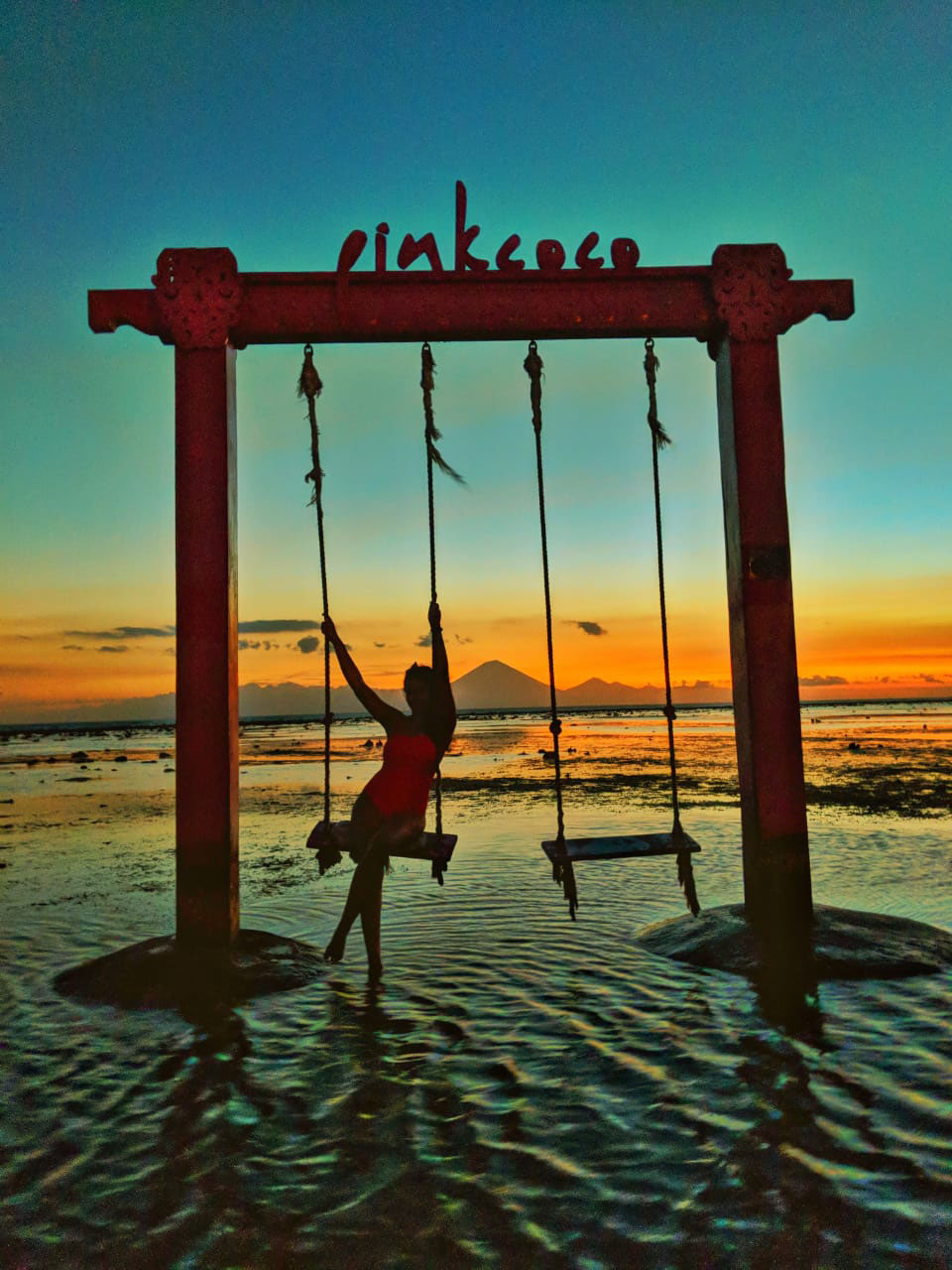 On the last day in Gili Trawangan, I decided to have a dinner-on-the-go at the famous night market. I went to one of the many stalls and called for a classic Balinese chicken dish. It was served with three vegetable sides and a bowl of rice. As I absorbed the sounds around me, of people walking and the hawkers clanging those ladles to the hot woks and the sweet, sticky fragrance of freshly cut fruits, I felt at home.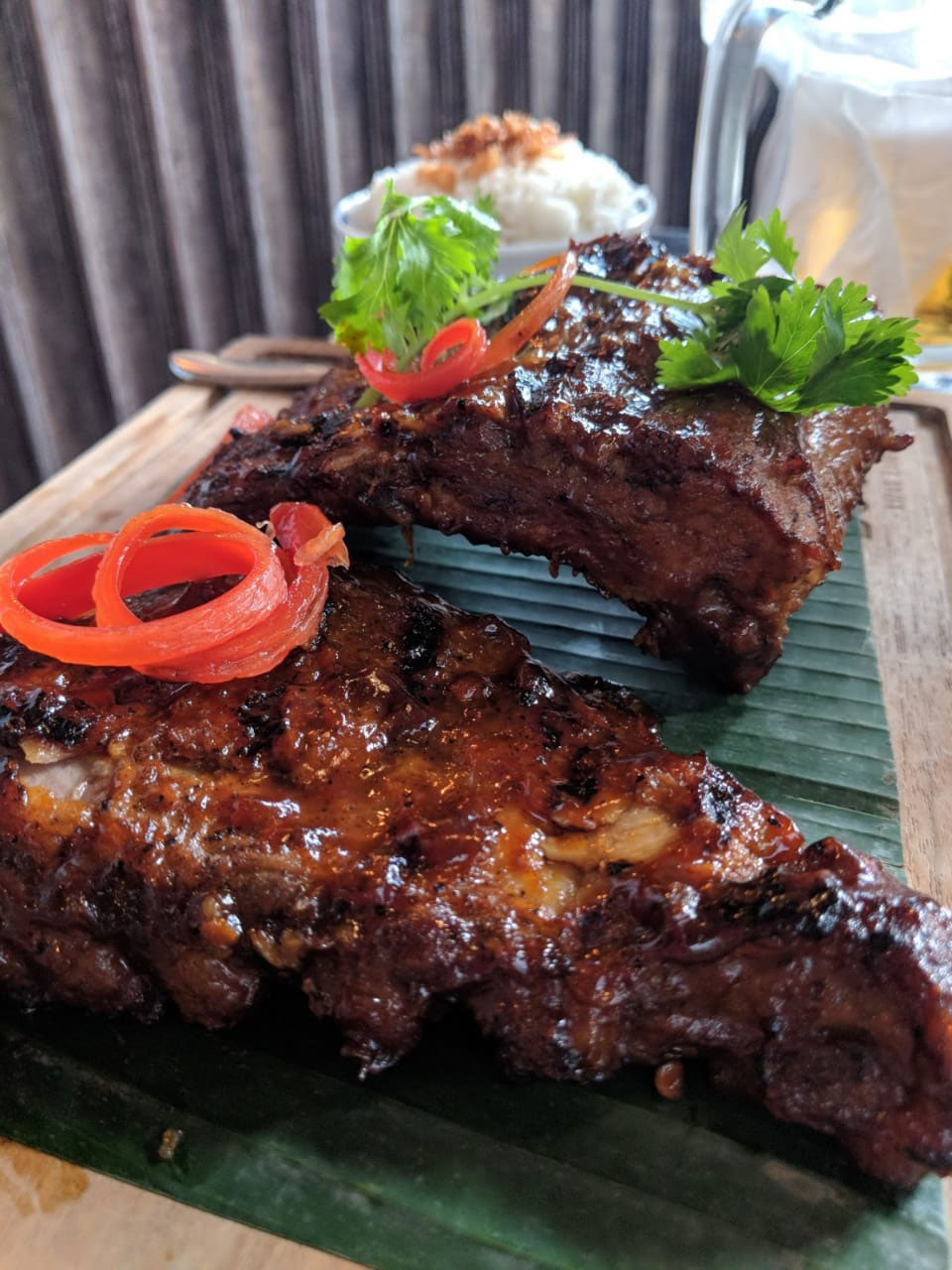 On my way back to the hotel, I couldn't help but feel immensely grateful to myself and to this new adventure I had embraced. Grateful to myself for coming here, despite whatever had happened and not ditching Bali for the bruises my heart still carried. And grateful to Bali because not only had it poured love inside the cracks of my wounded heart but it had carried my grief in its arms, slowly transforming it into hope and joy.
I broke up with my boyfriend just a day before our first international trip but I am glad that I came to meet and love Bali anyway.
Read More: This Group Got Inspired By YJHD And Went To Manali For A Trek