Bigg Boss fans, assemble! Talk about that one TV reality show that rules not only the TRP of the channel but also the hearts of a million audiences, and I am sure Bigg Boss comes to mind. Bigg Boss season 17 is all set to air on Indian television on October 15, and Curly Tales anchor Arohi Thatte got a chance to visit this house right before its premiere. Everyone dreams of being here at least once in their lifetime, so here's a sneak peek for you!
We Went Inside Bigg Boss Season 17 House
Curly tales anchor Arohi Thatte recently went to the Bigg Boss season 17 house and was completely blown away by it. What has always made every fan of this reality show curious are the contestants and the theme for the season. This year, the theme is The Majestical World of Bigg Boss, designed by Omung Kumar. 
The walls of the living room are filled with buildings with various different spaces inside. If you have been a fan of classic English novels, this house will surely bring a smile to your face. It has everything from cute balconies and quaint cafes to cobblestone streets.
The swimming pool has a big eye over it. The kitchen looks stunning, with a bygone European-era vibe to it. This time there is no huge dining table in the house, but instead they have small tables with chairs in every corner inspired by European streets. 
 Also Read: Fired Starbucks Employee Leaks Every Drink's Recipe Online; Netizen Says, "Hereafter It's Homebucks"
From Confession Room To Bathroom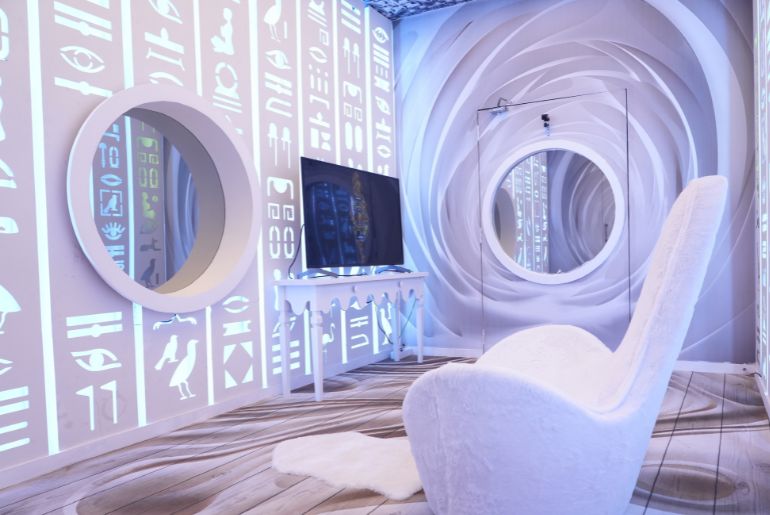 Our anchor, Arohi, walked inside the first room, which is also known as the "Room of Heart," and it's simply beautiful. The first thing to note is that this room has no single bed! Isn't that interesting?
The luggage area, which generally used to be outside the house, is now right inside the rooms, and it's the same with bathrooms too. There is another room inside, which is named "therapy room," and we can't wait to know what it is for. 
Quite opposite to the first room is the second one, which signifies a person's mind. The third room looks like a land of fantasy, and we so want to know what it signifies! Last but not least, our anchor took us to the mighty confession room! 
We cannot wait to see who the contestants will be and what tasks will Bigg Boss assign them! 
Also Read: World Cup 2023: Swiggy Receives Over 250 Biryani Orders Per Min During IND vs PAK; 1 lakh Cold Drinks Too!
Did you like the theme for Bigg Boss Season 17?
Cover Image Courtesy: Media Library
For more such snackable content, interesting discoveries and latest updates on food, travel and experiences in your city, download the Curly Tales App. Download HERE.
Good news! We are on WhatsApp! Subscribe to Curly Tales WhatsApp Channel to stay up-to-date with exclusive content and BTS. Join HERE.