Ever since the pandemic broke open, a host of new ways of working have been introduced. Work from home has become the new norm and in fact a few countries around the world are also offering remote work visas. However, one Japanese theme park might have come up with the most adventurous solution yet.
Yomiuriland, a theme park in Japan now permits people to work from a Ferris wheel. Guests will also have access to a table, chair, deckchair, Wi-Fi and power socket. Talk about a fanc-eh work station!
Meanwhile, Japan Has Launched A New Bullet Train That Rescues Passengers During An Earthquake. 
Yomiuriland In Japan Allows People To Work From A Ferris Wheel
This has got to be the quirkiest office ever! Located 30 minutes from Tokyo's city centre, Yomiuriland is now offering workation packages, permitting guests to work from the family-friendly attraction. Remote workers can have their own, cute work station overlooking a pool, complete with a working desk, Wi-Fi and power socket.
Also check out This Japanese Experiment Which Shows How Quickly COVID-19 Can Spread At Buffet Restaurants.
The package also includes tickets to a giant Ferris wheel, from where guests can co-work for up to an hour. The capsules are fully equipped with WiFi, which means you can have a zoom call in the sky or even complete your work with an added adrenaline rush. The package costs from 1,900 yen ($17.99) on weekdays or 2,000 yen ($18.94) on weekends and public holidays. The cost is inclusive of general admission to the theme park, access to Oka no Yu bath house, as well as a co-working booth.
The deal is available from 15 October and requires advance reservations. Ticket holders can enjoy rides in the park from 4 pm onwards. However, do note that its a theme park, so there will be whooshes of a rollercoaster, shrieks of people and a lot of other disturbances. Guests who prefer to work in a quiet environment might be better staying at home. on another note, A One-Person Restaurant Is Opening In A Meadow In Sweden For A Truly COVID-19 Free Experience.
Japan Asks Theme Park Visitors To Avoid Screaming On Roller Coasters
Theme parks in Japan have asked people to stop screaming when on a rollercoaster. Shouting, hooting, and cheering in theme parks will be banned along with a set of other protocols, when the parks reopen.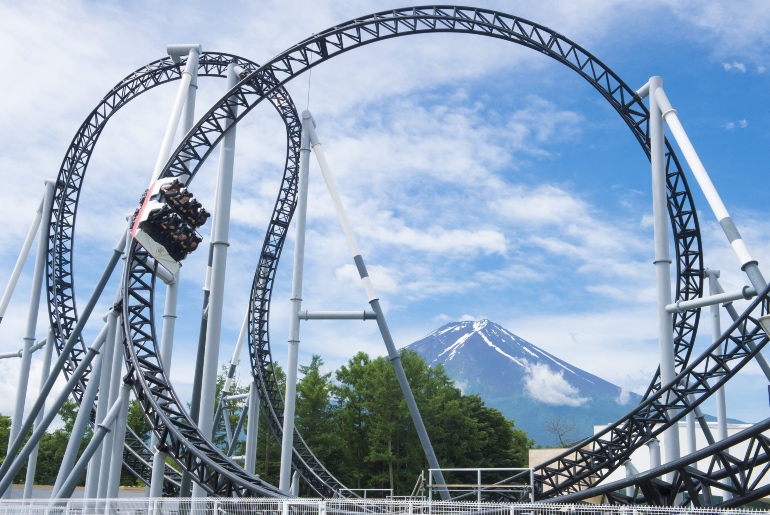 Japan is home to some world famous theme parks including Tokyo Disneyland, DisneySea, and Universal Studios Japan. The idea behind the new rule is pretty simple and logical. Screaming causes droplets to transfer one person to another, thereby increasing the risk of infection. Besides, some park employees cannot wear facemasks at all times, due to their nature of work. This will in turn put them on a high-risk zone.
Apart from no-screaming, authorities have also amped up sanitation, and are encouraging face masks, temperature checks, and social distancing. In addition, conversations between people are said to kept minimal, with the increased use of hand and eye gestures.