Japan is situated along the Pacific Ring of Fire which is said to be the most active earthquake belt in the world. Japan has a history of most disastrous earthquakes in the past. The Tohoku earthquake of 2011 was one of the most dangerous one with 9.1 magnitude and nearly 29,000 lives were lost. It seems Japan has now found solution to this long term problem. The city now has a brand new bullet train that can save people during an earthquake. How cool is that!
N700S- The Magical Train That Saves People During An Earthquake
N700S is one of the best bullet trains Japan has produced. The "S" in its name stands for Supreme. The bullet train will operate between Tokyo and Osaka on the Shinkansen line, reaching a speed of 360 kilometres per hour. That's roughly about 233 miles per hour. The train was launched on July 1 and was supposed to coincide with the Olympics 2020, which had now been postponed to 2021.
Meanwhile, here's everything you need to know about Olympics 2020.
What's Special About The Train?
The bullet train is different from all its former models because it has special in-built emergency systems. The train has a lithium-ion battery, equipped with self propulsion system. This system will help the train operate on its own for a short period during emergency situations like power outage. This in turn, helps the train avoid high-risk areas like tunnels, bridges etc, during a natural disaster. It also has an automatic control braking system which helps the train halt faster in emergency situations.
The train also has a facility where overhead compartments light up when a station arrives. This is to remind the on board passengers to carry their belongings before getting off the train. Also the cameras installed in each car compartment have been increased from two to six. Comfortable seats that recline further and softer inner lighting will provide the passengers a better travelling experience altogether.
Also check out This Japanese Experiment Which Shows How Quickly COVID-19 Can Spread At Buffet Restaurants.
Japan Asks Theme Park Visitors To Avoid Screaming On Roller Coasters
Theme parks in Japan are proposing the idea of asking people to stop screaming when on a rollercoaster. Shouting, hooting, and cheering in theme parks will be banned along with a set of other protocols, when the parks reopen.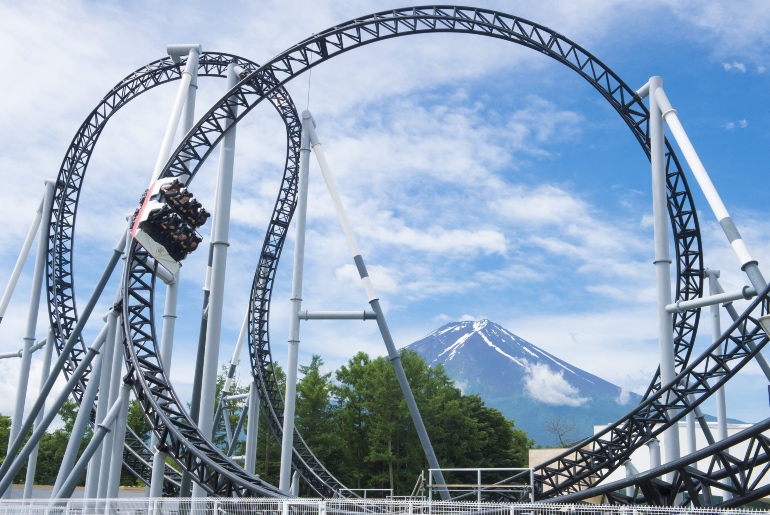 Japan is home to some world famous theme parks including Tokyo Disneyland, DisneySea, and Universal Studios Japan. The idea behind the new rule is pretty simple and logical. Screaming causes droplets to transfer one person to another, thereby increasing the risk of infection. Besides, some park employees cannot wear facemasks at all times, due to their nature of work. This will in turn put them on a high-risk zone.
Apart from no-screaming, authorities have also amped up sanitation, and are encouraging face masks, temperature checks, and social distancing. In addition, conversations between people are said to kept minimal, with the increased use of hand and eye gestures. on another note, A One-Person Restaurant Is Opening In A Meadow In Sweden For A Truly COVID-19 Free Experience.