Under 140 Characters
These 10 dishes in Mumbai are a must-try if you are a complete daredevil foodie, who always wants to experiment!
1. Cheese Pizza Pani-Puri, Shreeji Stall, Borivali
This is an unusual hybrid that combines chaats like pani-puri and sev puri with the likes of pizza and Panini. These unique dishes are a delight because they are so cheesy! They mix vegetables, paneer, olives, corn and lotsa cheese to make a filling. They then add some pizza sauce and tomato sauce, and oodles of shredded cheese over it. But the actual drama starts when the gentleman there, takes out a cooking blow torch and fires up the dish. What finally churns out is a tasty combination of pizza and pani-puri!
Read all about it here
Address: 1, Sardar Vallabhbhai Patel Road, Himmat Nagar, Borivali West, Mumbai, Maharashtra 400091
Price: ₹90
2. Sev Puri Sandwich, Gupta Chat Center, Matunga East
Gupta Chat Center in Matunga East is a phenomenal place for all chaat and snacks lovers. It is famous for unique varieties of chaat and experimental sandwiches. It serves the famous Sev Puri Sandwich with stuffing of cheese inside it. From the outside, it looks like your regular grilled sandwich. But when you take a bite out of it, you'll know the real deal. 6 pieces of sandwich, each infused with a piece of sev puri along with papdi, sev, and different types of chutney. It is topped off with a few chopped onions and chillies. But you're still to know the best part about this sandwich. All this is laden with lots and lots of cheese. 
More deets here: Try The Sev Puri Sandwich At Gupta Chat Center Only In Mumbai
Address: Shop No 3, 4, LBS Market, Matunga East Circle, Matunga East, Mumbai, Maharashtra 400019
Price: ₹70
3. The Jamun Burger, Turban Tales, Powai
It's monsoon season and you know what that means? It means those lovely purple little taste nuggets are here! Turban Tales has introduced the world to Jamun Burger! This burger is made of flavorful jamun sauce that makes the bun-base of the burger appear purple. Head over to Turban Tales and grab on to this Rang Birangi Burger from their monsoon menu for a chill evening!
More deets here
Address: 20, JVLR, Panchkutir Ganesh Nagar, Powai, Mumbai, Maharashtra 400076
Price: ₹210 (veg), ₹240 (nvg)
4. Sushi Pizzas, PaPaYa, Colaba
PaPaYa is an eclectically decorated contemporary restaurant with an innovative and experimental menu ranging across Asia. You could try their Sushi Matrix- a combination of 19 pieces of Nigiri, Maki, Uramaki served on a special handcrafted wooden plate, Pork Belly Skewers, Miniature Sushi Burgers (₹285 for four pieces), Sushi Pizza Slices (₹325 for four pieces) ,  Crisp Lotus Stem Chips (₹325,  the falafel-like edamame and chickpea sliders with chilli mayonnaise (₹375) Be it the presentation or the flavour, there is a tinge of uniqueness to everything that arrives on your table.
Read more here
Address: Hotel Diplomat, Whitehouse Building, 24-26, B. K. Boman Behram Marg, Apollo, Bund, Mumbai, Maharashtra 400001
5. Cheese Burst Vada Pav, Hungry JD's, Borivali
Ever imagined having your favorite Mumbai street food filled with oodles of cheese? Well, the Latino cheese burst vada pav here is true to its name, and the vadas boast of oodles of dripping cheese! The vada is made with potato, beans, jalapeno, spiced up with chipotle and the buns are arranged with lettuce, slice of cheese, cherry tomato and chipotle mayo. You have to witness it, to believe it! They serve the cheese burst vada pav between 12 noon and 7pm only.
All the deets available here
Address: Hungry JD's, Near Shubharam Ground, Ahead of Eskay Resort, Link Road Extension, Borivali West, Mumbai – 400091
Price: ₹150
6. Green Pav Bhaji, Fort001, Fort
SoBo's newest entrant is a quirky new café with interiors picked out from the best of Pinterest – cage lights, an art wall, white floral chairs, and wall-hangings. This café's most popular dish is Mumbai's very own 'Pav Bhaji', although, this one comes with a twist – it's green in colour! Buttered pavs stuffed with a green bhaji made of green tomatoes and green vegetables served as an appetizer at Fort 001 is a favourite among its guests. Bold and zesty flavours topped with a little spice, the Hariyali Pav bhaji is not only worth your Instagram but also an innovative addition to your must-haves. Let your taste-buds feel the tangle with this twisty greens!
Also read: Green Pav Bhaji Is the New Black At Fort 001 Café
Address: Janmabhoomi Marg, Fort, Mumbai
Price: ₹175
7. Ice-Cream Tacos, Froozo, Maladfro
Froozo in Malad is serving some of the best ice-cream combinations that you can ask for. They have ice-creams in form of rolls that have been trending for a while now, and are made live in front of you. Their menu has ice-creams like Bubble trouble (₹149), Brownie affair (₹149, even Pina colada (₹149), or The Indian delight (₹149), which is a blend of Gulab jamun, kesar, caramel sauce and almonds! They have an added twist to their ice-creams, where you can convert any regular ice-cream or froozo (as they call it), into a taco! And then you have yourself a taco ice cream! Adding a taco to your froozo costs ₹29 only.
Also read: Try Ice-Cream Tacos At Froozo In Malad!
Address: 3, King Palace Building, Opposite Link House, Link Road, Malad West, Mumbai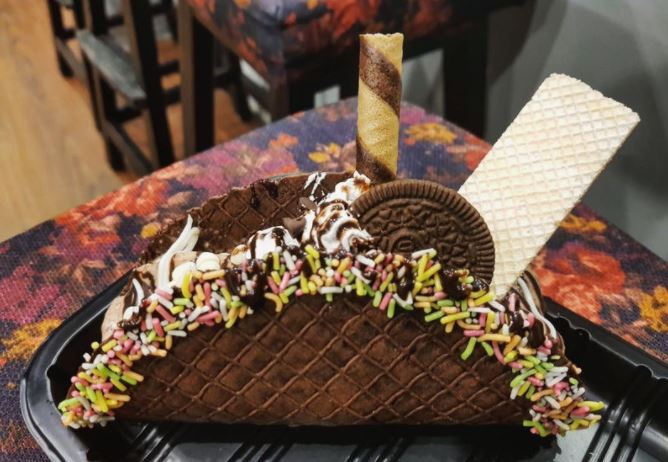 8. 
Tacos Dosa, South High Restaurant & Bar, Lower Parel
South High Restaurant & Bar has recently opened up in Lower Parel and it's a must go for all South Indian food lovers and others, of course. The Karanama dosa is an extraordinary dish served at the South High Restaurant & Bar with the stuffing of tacos inside it. Giving it an awesome twist, this dosa never disappoints.
Also read: South High Restaurant & Bar Opens At Lower Parel
Address: Lower Parel, Mumbai, Maharashtra 400013
Price: ₹175
9. Vodka Pani-Puri, Mumbai Vibe, Khar
Feel the buzz with this cross between vodka shots and pani puri. Here instead of Spicy pani, there is vodka in shot glasses. Sound fun? Served in a small cart (Thela) are 6 shot glasses filled with Vodka and above them is the puri with potato and chick pea filling and also Meethi chutney. You eat the puri, take the shot and well, feel the heat of vodka go down your throat and up your head.
Also read: Feel The Buzz With Vodka Pani Puri At Mumbai Vibe In Khar
Address: Ganga Jamuna Block, 14th Road, Linking Road, Khar West
Price: ₹225
10. Goth Menu, Ticca Tikka, Andheri
To keep up with the Activated Charcoal trend, Ticca Tikka has introduced a special GOTH FOOD MENU! And it sure does seem interesting to us. And as if Black ice-creams weren't halloween-y for us, now we have chaas and kebabs in black. The Tikkas and Chaas are made with Activated Charcoal, healthy-fying your favorite Kebabs and also the Chaas. Activated Charcoal certainly makes our food look cooler aka gothic. But also, it aids in digestion, reduces bloating and is said to reduce cholesterol.The special Goth menu here includes Kebabs like Goth Paneer Tikka, Goth Chicken Tikka priced at ₹299 each, and Goth Smoked Chaas (Buttermilk) priced at ₹69.
Also read: After Goth Ice-Cream, It's Goth Food At Ticca Tikka
Address: 4, Royal Classic, New Link Road, Andheri West, Near City Mall
LIKE Curly Tales on Facebook | Instagram | Twitter
You can subscribe to our newsletters