Delhi is a game-changer when it comes to eating the best food ever, be it quirky dishes, street food or main course items, nothing can beat Delhi and its wide range of cuisine. We give you a special list of 5 best dishes to try out in Delhi that will get you lip-smacking and wanting for more. So go ahead and feast on:
1. Herbivores Platter, Wood Box Cafe
A treat for the eyes and tummy, you can't finish this by yourself. Gather your party sqaud and head straight to the Wood Box Cafe on Hudson lane. It is loaded with Crunchy Veggies, Loaded Fries, Garlic Bread, Burger, Honey Chilli Potato, Dimsums and Spring Rolls, fancy much?
Also read: Rekindle Your Adventurous Spirit At This Adventure Park In Delhi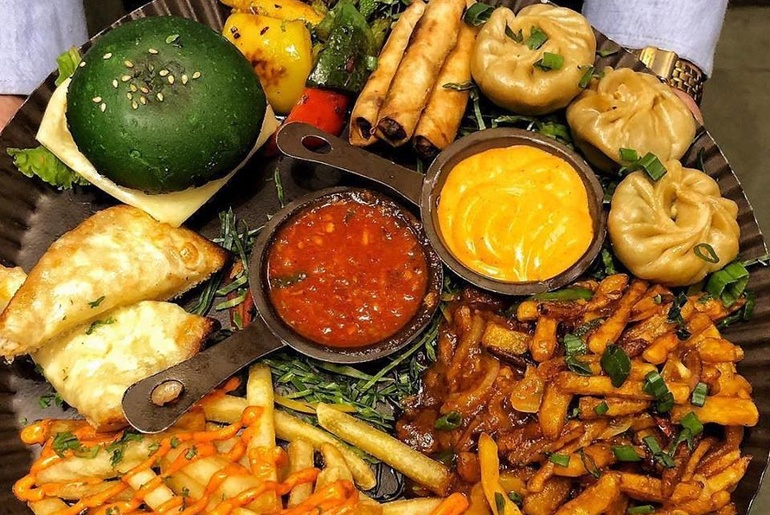 Address: Wood Box Cafe, 2521, Ground Floor, Hudson Lane, Delhi University-GTB Nagar, New Delhi
Phone: +91 9350507004, +91 9818367776
Cost for two: ₹650 (Approx.)
2. Vodka Momos, Kababs N Rolls
Served in Kababs N Rolls of Delhi's Gole Market, these boozy vodka momos are infused with vodka and are so delicious. The momos come in two kinds of stuffing – keema for all the non-vegetarians and paneer for the vegetarians. This stuffing is infused with vodka and the momos are then deep-fried. They're then sauteed in a tangy gravy which has more vodka poured into it with a drizzle of honey. Topped with cilantro and sesame seeds used for a perfect garnishing, they're ready to eat and get high on. 
Also read: Head Out To Monkey Bar In Delhi To Experience Life At The Pyramid
Address: Shaheed Bhagat Singh Lane, Gole Market, New Delhi
Phone: +91 9213776025, 011 43576428
Cost for two: ₹200
3. Rainbow Tacos, Eyes On Ice
This place in Gurugram is serving a crazy variety of rainbow tacos filled with ice cream that will just make your insta-feed pop. Waffle tacos filled with flavours of ice cream and topped with sprinklers is what it is. They come in unique flavours like Roasted Peanut, Tiramisu and even Rum Paan to keep it funky and crazy. They look and taste relishing which are a summer afresh to your otherwise dull and sunny day.
Also read: Head To Baris Restaurant To Try Mediterranean Cuisine In Delhi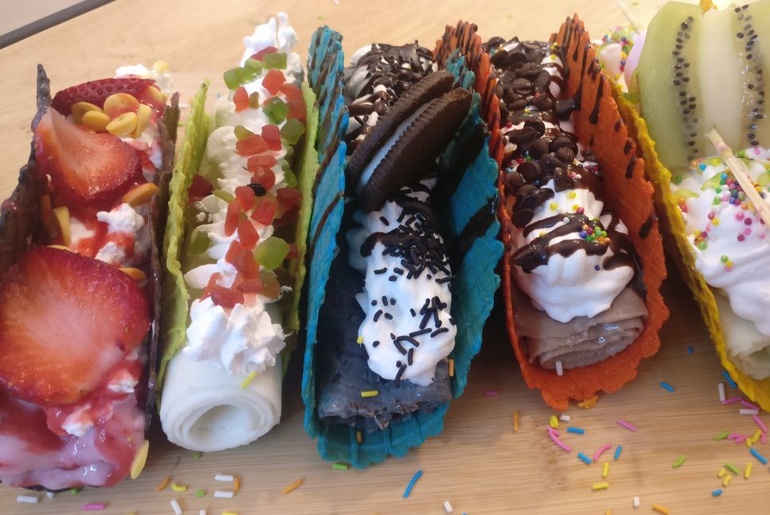 Address: SF 55.First floor Galleria market, DLF Phase IV, Gurugram, Haryana
Phone: 099998 24227
Cost for two: ₹400
4. Freak Waffle, Wood Box Cafe
This waffle tower sandwiched together, dipped in chocolate and whipped cream will send you to sweet heaven. The giant waffle dish is dunked in whipped cream, scoops of ice cream, and drizzled with chocolate saucewith the cherry on top being a chocolate donut. It also has gems, cornflakes, sprinklers as toppings to make for a perfect freaky indulgence.
Also read: Here's A List Of Top 5 Budget-Friendly Cafes In Delhi's North Campus
Address: Wood Box Cafe, 2521, Hudson Lane, GTB Nager, Delhi, 110009
Phone: 093505 07004
Timings: 11:00 am – 11:00 pm
5. Butter-Chicken & Chocolate Gol Gappas, Social Foodie Inside
This fusion food is hard to resist for it combines two of our favourite snacks – Golgappas and Butter Chicken. Imagine butter chicken and golgappas combining to give you a savory delight that you won't be able to forget! Social Foodie Inside has managed to put together our favorites in one to give us the ultimate foodgasm. The chocolate gol gappas are dipped in chocolate and filled with ice cream, nuts and topped with sprinklers, these Gol Gappas are giving us major food goals. They're served in shot glasses with chocolate milk dripping all over it. What's more? It even has some brownie points to it with real brownie chunks inside. Whoa!
Also read: Challenge Yourself To Eating The Biggest Naan Ever At ITC Bukhara In Delhi
Address: Social Foodie Inside, GG II, 71-A, Vikaspuri, New Delhi
Phone:  9711417471, 9971081342
Price for two: ₹300 (Approx.)
LIKE Curly Tales on Facebook | Instagram | Twitter
You can subscribe to our newsletters