New Year's Eve is beckoning us and the planning has begun already! Some of us like it loud and jazzy but some choose this time to get away from the bustle with family and friends. This ones for those who prefer quality time with loved ones tucked away in nature's lap! So here is a round up of the top getaways near Bengaluru.
1.  Stonehouse Farm In Bengaluru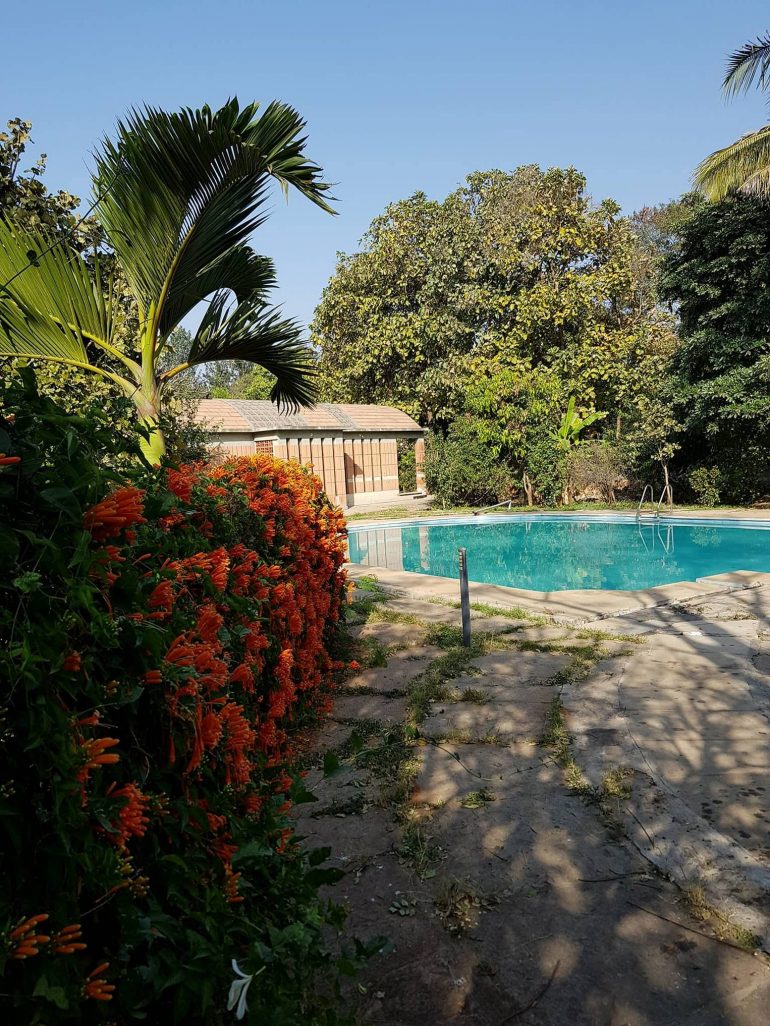 Located right in the outskirts of Bengaluru, this stunning property comes with an outdoor pool & gorgeous rooms that makes it apt for a quick getaway. Located right off the Mysore Road, Stone House Farm is spread across five acres that can accommodate up to eight guests in the midst of lush green surroundings.  Owned by Chef Krishan, Stone House Farm features 4 bedrooms in the lap of luxury and enveloped in nature. The property's another exciting feature is that is houses eight dogs that will give you company and a fun play time. Apart from this, it has an amazing outdoor pool that is perfect for a late afternoon swim on a hot day or to star gaze at night. Indulge in farm fresh organic food cooked by chef and owner himself.Have a splendid stay at the Stone House farm situated in an oasis of greenery in Bengaluru.
Deets
Address: Stone House Farm, Challegatta, Karnataka, India.
Tariff: starting from ₹2,500 per night
Book your stay here.
2. Boutique Homestay In Kotagiri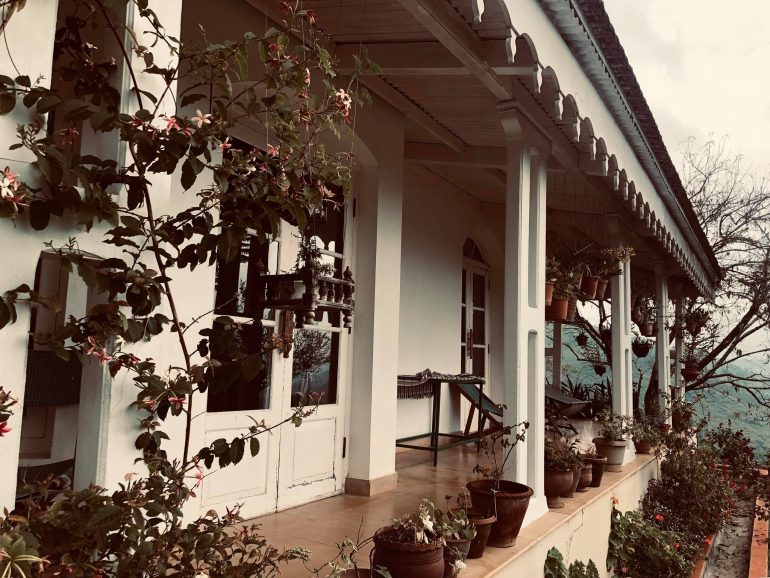 La Maison is a stunning homestay nestled in the blue-hued mountains, the Nilgiris in Kotagiri that makes for a perfect getaway for peeps from Bengaluru. La Maison is the loving home of Benoit Siat, a French gentleman with an industrialist background and love for India, especially the Nilgiris. The bungalow was probably built in 1888 by a Scottish man called Kay.The heritage bungalow features 4 double rooms with attached bathrooms and antique furniture. The rooms also feature a wrap-around verandahwith a hammock and relaxing chairs to enjoy your drinks and the beautiful scenery. Indulge in trekking and activities like Golf, tennis, and horse riding, go on a stroll around the house, play badminton and other games alike.
Deets
Address: La Maison, Hadathorai, Nihung Post office, Kotagiri, The Nilgiris – 643 217, Tamil Nadu, India
Phone: +91 9585857732, 9787258501
3.  Tented Cottages At The Riverside Retreat Near Bengaluru
Stay amidst the forests and rooted deep within at the Riverside Retreat and experience the raw nature.The nature retreat lies deep within the deciduous forests on the banks of the River Cauvery at Galibore near Bengaluru, Karnataka. It features luxurious tented cottages that come with its own hammock. The riverside retreat features 12 tents in total that accommodate up to 3 people at max. Leisure around in the cottages and go adventure trails near the property to explore the forests. There's delicious home lunch served in the dining area or you could choose to indulge in barbecue dinners by the riverside.Go on Coracle rides on the river and indulge in a lot more activities like hiking in the jungle, Elephant rides, Wildlife Safari, or simply laze around in the hammocks under the shade of the trees and enjoy Bird Watching. Take a walk along the riverbank to unwind and refresh your mind.
Deets
Address: Galibore, Bengaluru, Karnataka
Phone: 9699773300
Tariff: ₹5,300 per person per night
Book here
4. The Silver Oak Farm 
The Silver Oak Farm near Bengaluru offers you a picturesque view and is perfect for a weekend getaway. Located within a 30 minute radius from the Bangalore International Airport, Silver Oak Farm offers you a picturesque hill-station getaway, a tranquil ambience, and some fresh air. Spread across 10 acres of fertile land, this eco-friendly farmhouse offers a unique opportunity to actively participate in rural life.Located on the early slopes of the famous Nandi Hills, the location is picturesque in the day and tranquil by the night. Having a pleasant weather throughout the year accompanied with a large variety of birds, this place is perfect for the weekends. Spend your time unseen and undisturbed in the intimacy of their family rooms and double rooms. The double rooms, overlooking the beautiful view of the valley, is furnished with a double bed and a washroom. These rooms can accommodate a maximum of 3 people. You can also help with harvesting fresh, organically grown vegetables and fruits which are served to the guests at mealtime. The hilly terrain of the fram offers an excellent opportunity for invigorating and scenic walks. Adventurous trekkers can also climb to the Balancing Rock, Haider's Peak or even to the top of Nandi Hills. For the adrenaline junkies! Bicycle tours are arranged on Sundays.
Deets
Address: Silver Oak Farm, Nandi Valley, Sultanpet Village, Nandi PO 562 103, Chickaballapur Dist., Karnataka
Email: [email protected]
Contact No: +91-98456-52267/ +91-93425104456
Book Now.
5.  Bethsaida In Bengaluru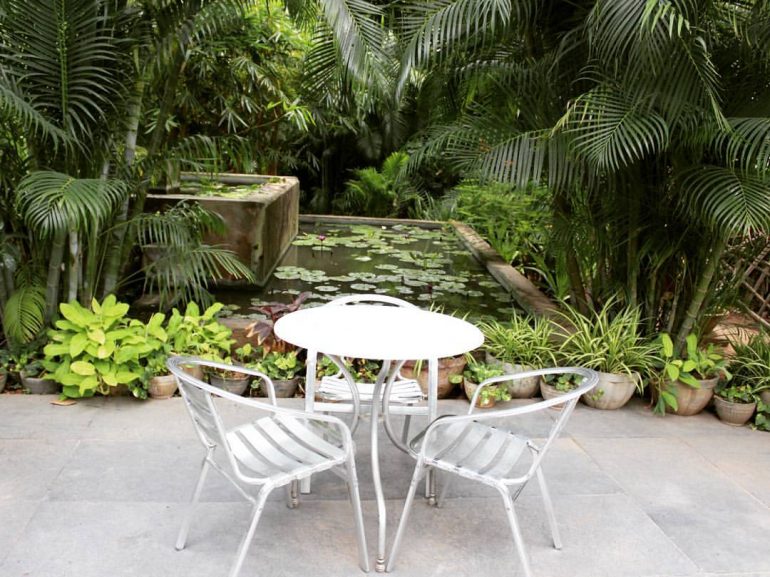 Bethsaida is a 3BHK villa set in the beautiful landscape of the 60 acres gated community of Hollywood Town. This house offers an opportunity to seek a getaway from the hustle and bustle of the city, just at a 5 minutes distance from the airport. Bethsaida makes for an amazing opportunity to break away from the mundane life and escape into the beautiful landscape of this stunning villa in Bengaluru. The property features 3 bedrooms that can accommodate up to 10 guests. Additionally, there are 2 double beds available on the 1st floor for larger groups. It also features a fully functioning kitchen and a dining area to cook and eat your meals.There's a beautiful garden with swings where you can sit and admire the nature's beauty, Mango and Chicoo trees. Guests can also take a leisurely swim in the pool or play a game of badminton and basketball.Stay in the luxurious villa and unwind yourself at this convenient getaway from the city.
Deets
to make bookings click here
Address: #107, Near Sadahally Gate, Sadahally Post Devanahalli, Bangalore, India
Tariff: ₹10,000 for doubles (Approx.)