New Year's is around the corner and the planning has started. Some of you may be looking for options to get away from the hustle of the city and spend time in silence and nature with your friends and family! Here is a round up of top 5 places you can head to for New Year's Eve.
1.   Luxury Villa With A Sprawling Golf Course In Ranikhet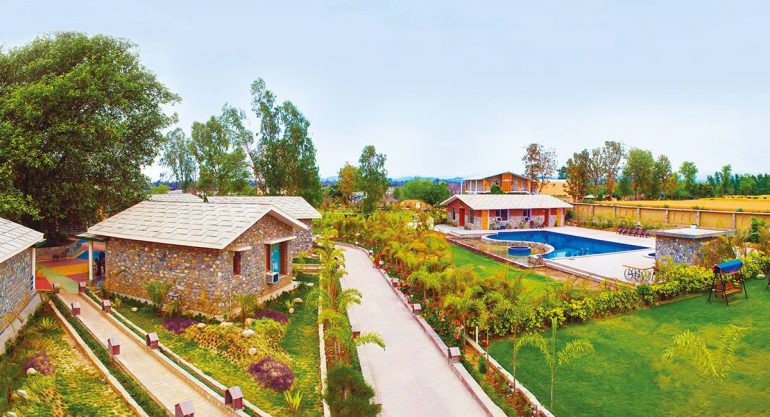 Get a complete Himalayan experience at TAG Resorts Queen Meadows that is spread across 10 acres and boasts 15 residential units that ensure privacy and tranquility along with stunning views of the majestic Himalayan ranges.Tag Resorts Queen Meadows is an Eco-Luxury Resort located in the mystic land of Ranikhet perched on a hill-top and surrounded by the majestic Himalayan ranges. You'll find utter silence and peace at this resort in the lap of luxury, the verdant lawns, the soothing atmospheric vibes from the forests, a cascading stream and the Himalayas will leave you absolutely spell-bounded. The resort features 4 room types – Luxury Tents, Luxury Villas, Family Villa, and Cottage.
Deets
Address: QUEENS MEADOWS, Village Badhan, Chiliyanaula, Near Heda Khan Temple, Ranikhet 263 645 India
Phone: +91- 74000 20002, +91 – 74000 30003
Tariff: starting from ₹7,999 per night
Book your stay here.
2. Surjivan Resort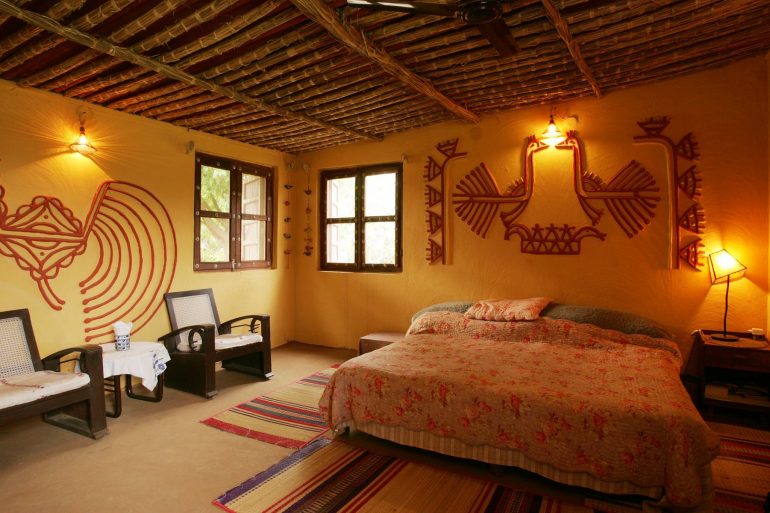 f you're planning a quick weekend getaway around Delhi or a break from the mundane routine then head to Surjivan Resort and let it rejuvenateyour mind and soul. Spread across 50 acres of land of farmlands, the ethnic resort is inspired by traditional Indian ways of living surrounding a theme evoking a deep bond with nature and simplicity of ethnic living.The resort features mud cottages, self-insulating with thatched roofs and jharokhas for natural cooling and airing during summer. The cottages feature solar power lit interiors that are ornamented with tribal art, done by expert tribal artists. The walls depict spirituality enhancing the Vedic Yantra Motifs that will cast a therapeutic spell on you. Surjivan offers 6 Premium huts and 21 deluxe huts.
Deets
Address: Naurangpura-Tauru Road, Opp ITC Grand Bharat Hotel, Gurugram, Haryana 122105
Phone:  01141680098, +91-8506060606, +91-8800150555
Tariff: ₹7,000 per night for doubles
Book your stay here.
3. Game-Of-Thrones Themed Hostel In Kasol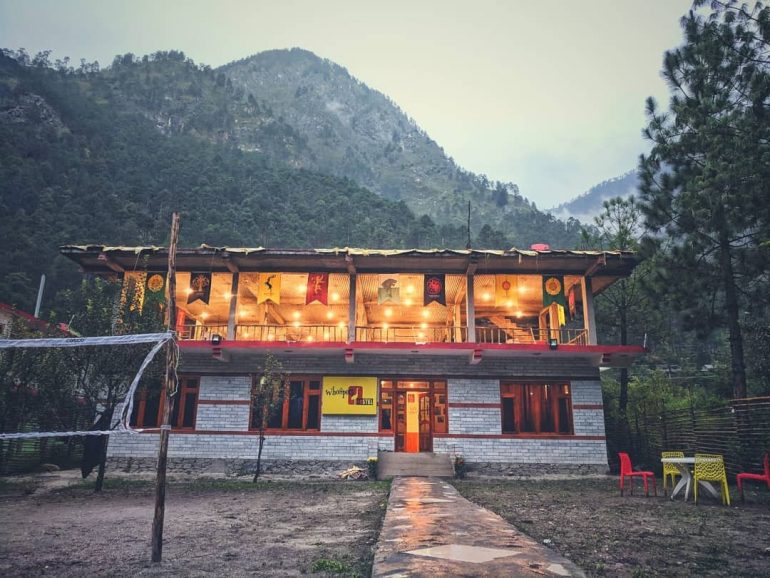 Whoopers Hostel is a paradise for all backpackers, a Riverside Hostel nestled in the woods of Katagala, Kasol. Whoopers Hostel gets its name from a migratory Swan 'Whooper'. It has a theme of Game Of Thrones, a famous TV show that is very popular for its characters and set locations. This Game-Of-Thrones-themed hostel in Kasol  has beds starting at just ₹314. Stay amidst the whimsical woods and chill with your other backpacker friends you'll make at this Game of Thrones-themed hostel in Katagala village. The hostel features a huge open terrace adorned with posters and murals of the entire cast and house banners of Starks, Lannisters, Tyrell, Targaryen of the show.
Deets
Address: Whoopers Hostel, Katagala, Kasol, Himachal Pradesh
Phone: 080765 98237
Cost: Starting at ₹314
Book your stay here.
4. Pet-Friendly Farm Stay Near Gurgaon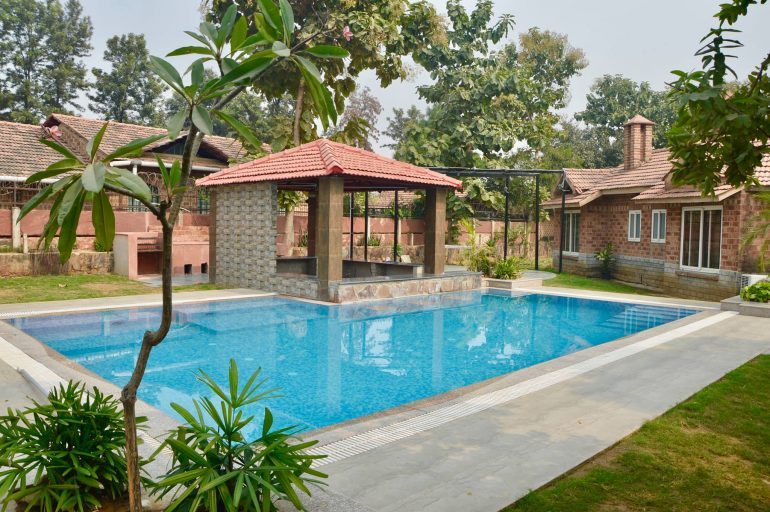 Simbliss Farm villa in Manesar is just thirty minutes away from Gurgaon , great for quick weekend getaways. And what's more is that you can take your pets along too!Ideal for weekend getaways, this villa in Manesar has everything you can do to make your weekend special. We all get overridden by strong  It is a beautiful property with a big swimming pool. The property has 4 spacious air-conditioned rooms, a kitchen, a common room, a pool, and a pretty looking courtyard in the center. The pool is the best part – very clean, huge, and it comes with an attached bar. It's convenient to have drinks, some munchies, and music around. There is a cook available too, you just need to inform him what all meals you want and they will buy the groceries and have the food ready on time.The farm can accommodate up to 15 guests comfortably.
Deets
Address: C-62, Pachgaon – Mohammadpur Road, Manesar, Haryana
Cost: ₹ 18000
Contact: +919667119117
Book here
5.  Woodhouse Farm, Nainital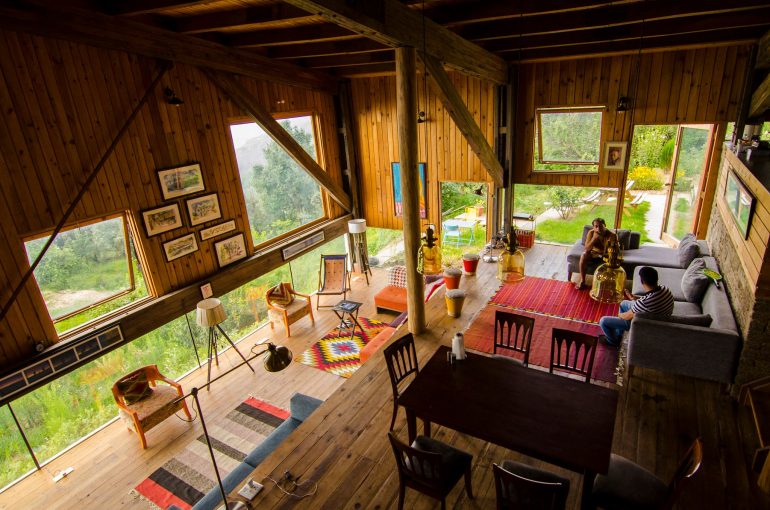 The Woodhouse Farm is located in Satoli village, 45km away from Nainital in Uttarakhand with stunning views of the majestic snow-clad Himalayan ranges in the distance. Make a trip to Nainital this summer for a perfect vacay up in the mountains only 350 km away from Delhi. Find respite in their rustic wooden interiors breathing in sunshine everywhere, it has 5 bedrooms and a fireplace that looks straight out of a fairy-tale movie. Cozy up with your partner next to the fireplace or spend some quality time with your family as it can easily accommodate up to 10 people in all-wood interiors adorned with contemporary furniture, bringing the comfort of a luxurious home along with the rustic touch of a village.
Deets
Address: The Woodhouse Farm, Satoli Village, Nainital, Uttarakhand
Phone: 9810063959
Hosted by: Mr. Lokesh
Cost: ₹35,000 per night (Approx.)