Under 140 Characters

 
Dubai is known for weird things like leopards and panthers as pets, gold plated cars and edible gold food. Only in Dubai can you expect to dine on an on-the-go fast food that's sprinkled with gold, making it a fine-dine dish. We have got five places where you can find edible gold in your meal. 
1.Scoopi Cafe
Scoopi Cafe in Dubai has an ice cream scoop priced at AED 3000 and now I am only more confused if I want a diamond ring or this ice-cream. Dubai is known for weird things like leopards and panthers as pets, gold plated cars and in the news is a Mars simulation Centre which will be popping up soon. Dubai is Dubai and it will leave no stone unturned to surprise us. What has caught notice of ours is the 'Black Diamond'.
Deets:
Where: Scoopi Cafe, Jumeirah Rd, Umm Suqeim 2 – Dubai – United Arab Emirates
When: 3 PM to 2 AM
How Much? Black Diamond: Approx. AED 3000
Also Read: The Black Diamond In Dubai Costs AED 3000 & It's An Ice Cream Scoop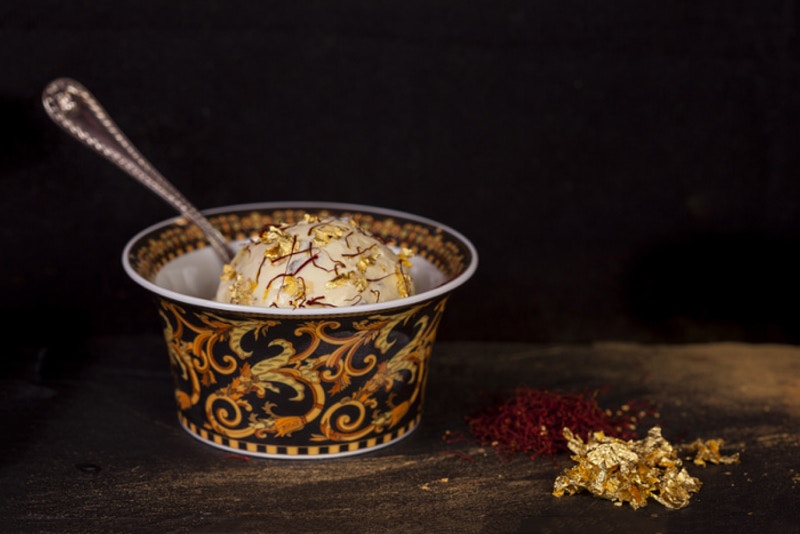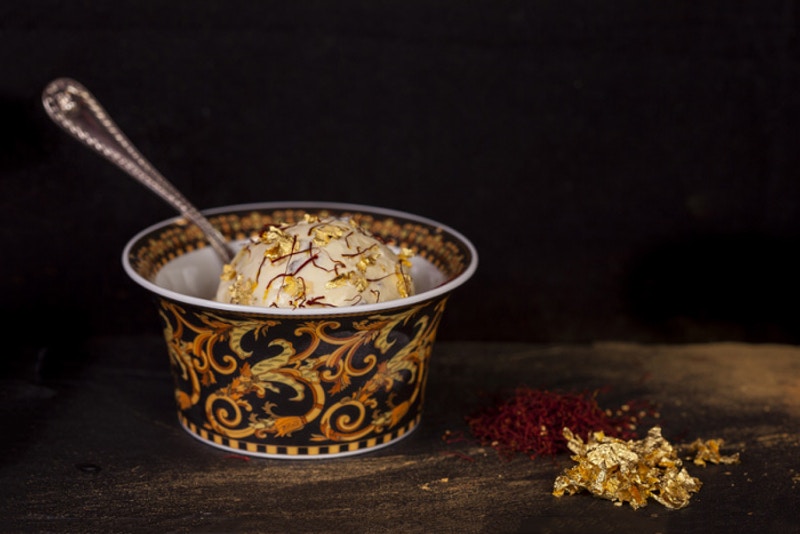 2. Trophy Room
Move over plain chicken nuggets and fries, get some golden ones! Trophy Room, a sports bar at Fairmont in Dubai creates memories of their own allowing food-lovers to indulge in classic British, European and international pub food favorites. On the menu is a golden trophy for foodies-the "Go for Gold" package that offers 24 karat gold dusted chicken nuggets and golden fries, accompanied by a golden tariff of AED 185. There's a total of 4 chicken nuggets in the dish and guests can choose between 3 different sauces: Danish blue cheese dip; black pepper ranch; ranch sauce. The nuggets are made of a French corn-fed chicken and then double breaded. Trophy Room is the first and so far the only venue in Dubai to offer golden chicken nuggets.
Deets:
Location: Fairmont Dubai, Sheikh Zayed Road, Trade Centre Area, Dubai
Opening Hours: 12 noon to 2 am
Contact:04 3118316
Also Read: Drive A Ferrari At Dubai Autodrome

3.Yalla Somosa
Yalla Somosa in Dubai has come up with various different combinations of samosa that one could even think of. But, by far the best one is the 24K gold samosa! The newly launched Yalla Samosa has caught everyone's eyes on social media with its super unique and quirky samosa offerings located in Jlt Cluster D. The 24 karat gold samosa comes with a filling of your choice: savoury or sweet. 
Deets:
Location: Indigo Tower, Lake Level, Cluster D, Jumeirah Lake Towers (JLT), Dubai
Contact: 04 5668099
Cost: AED 100 for two
Also Read: This Place In Dubai Serves A 24K Gold Samosa
4. Rolling Cones
Rolling Cones serves up luxury ice creams & their gold-laced ice-cream is bound to leave you gleaming with joy!The magnum opus is most definitely the 'Rolling Luxury' – AED 55 which is a soft serve ice cream served in a waffle cone and available in Fior Di Pistachio Variegata, French Vanilla, Chocolate and Lotus flavors. This is then covered in pure edible gold, sprinkles of saffron and crunchies. The term 'rich taste' literally comes alive through this dessert.
Deets:
Location: Hyatt Regency Dubai Creek Heights, Health Care City, Umm Hurair, Dubai
Contact: 04 5531234; 0556542277
Ramadan Opening Hours: 7 pm to 2 am
Also Read: Experience The Midas Touch With Ice-Cream Topped With Pure Gold!
5. 24 Karat Restaurant
24 Karat Restaurant is serving some over the top gourmet dishes because sometimes just wearing the bling isn't enough.Guests can choose from an array of gold infused dishes like Black Spaghetti with clams, calamari, and bottarga – AED 145 or without gold option for AED 95. You can also get a gold upgrade to options like pizza, pasta and burger on the menu. Loyal guests have their own signature cutlery sets engraved with their names in gold for personal use during their dining at the restaurant. (Now that's royal treatment!)
Deets:
Cuisine: Italian, Steak, Seafood
Location: Mezzanine Floor, Marriott Hotel Al Jaddaf, Za'abeel, Dubai
Contact:04 3577733
Book Here
Also Read: Eat Gold! This Restaurant Serves 24 Karat Gold In Their Dishes!
LIKE Curly Tales on Facebook | Instagram| Twitter
You can subscribe to our newsletters