Winter is here and if you're craving for some rain, snow or thunderstorm, Dubai has a lot to offer. While there's a lot you can do in Dubai during summer, the winter brings with a whole lot of 'cool' activities as well.
From getting drenched in a thunderstorm to sipping on hot chocolate in the ice and enjoying breakfast with penguins, here are 5 winter activities in Dubai you must not miss!
Also read: Camp In Luxury Tents Or Hammocks In A Tropical Rainforest Under The Stars In The Middle Of Dubai
1. Get Drenched In A Thunderstorm At Green Planet, Dubai
Peppa Pig fans can now get a real taste of the fictional cartoon at Dubai's Green Planet. The rainforest now has a new experience called the Tropical Thunderstorm, happening everyday between 1-5 pm. The new experience gives you a sneak peek of what a thunderstorm would look like in a rainforest.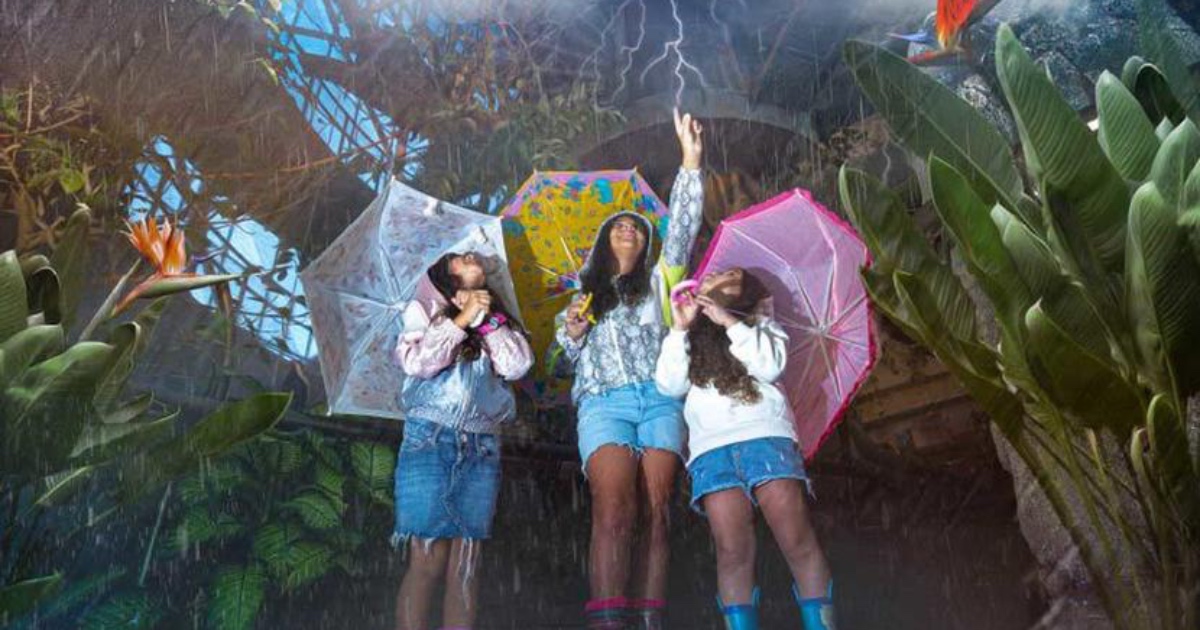 The storm in the tropics lasts around five minutes and will instantly transport you to the heart of the jungle. Kids can sing, splash, jump and hear the rumbles from thee jungle, making the experience more real. In fact, you can also spot animals playing in the storm and in the rain puddles. Oh and don't forget to watch the electric flashes of light and feel the wind blowing! The specially designed rain system, combined with high tech audio and visual effects, lets you experience a massive thunder storm right in the heart of Dubai.
In addition, the storm is guided by a Green Planet expert who explains why thunderstorms occur in the tropics and how animals react to it.
And that's not all! Families visiting after 2 December, can take a trip to the indoor biodome and experience what's it's like in the jungle when the sun goes down. The new experience is available every Wednesday between 7pm and 9pm.
Where: The Green Planet, City Walk, Dubai
Timings: 10 AM To 6 PM Daily, Closed on Sundays.
Contact: 04317 3999
Also read: You Can Now Enjoy Breakfast At The Dubai Frame As You Watch A Stunning Sunrise; Here's How
2. Drink Hot Chocolate In The Ice At Sub-Zero Chillout Lounge
Experience sub-zero temperatures in this ice lounge decked with ice, glass, and steel. Sip a soothing mug of hot chocolate or buy yourself some soup to get a feel of what staying sub-zero temperatures feels like.
Where: Times Square Center – Ground Floor – Sheikh Zayed Rd – Dubai
Working Hours: 10 AM- 10 PM on weekdays, 10 AM- 10 PM on weekends
Price: Adult: AED 80, Child: AED 40, Children under 4 enter for free
Contact: 04 341 8121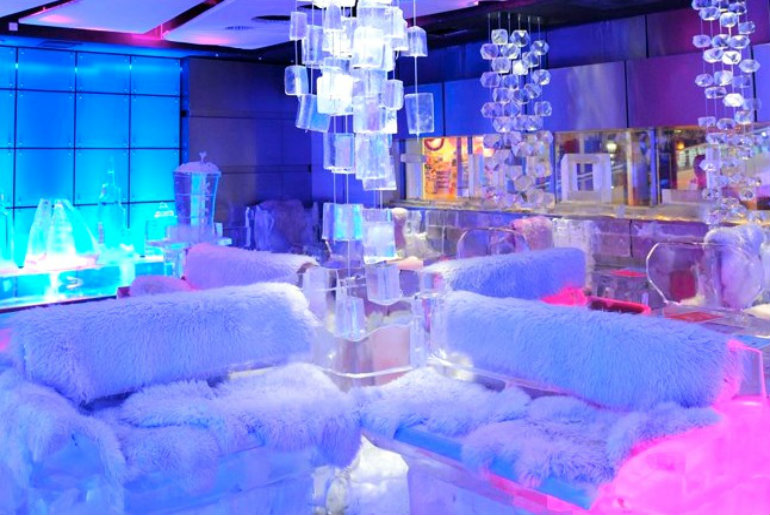 Also read: 6 Cool Things To Do In Downtown Dubai Under AED 100
3. Enjoy The Rain Without Getting Drenched At Sharjah's Rain Room
Experience the rain without getting drenched. Win-win isn't it? Head out to the Sharjah Rain Room to experience a heavy downpour. And the best part- you can experience the rain without getting wet. The rain room has motion sensors that detect human movements and pauses rain, in areas where you move. How cool is that! Read more about it here.
Where: Sharjah Art Foundation
Timings: Saturday – Thursday: 9:00 AM to 9:00 PM, Friday: 4:00 PM to 11:00 PM
Price: Starting from AED 25
Contact: +971 6 561 0095
Also read: TopGolf Dubai To Open At Emirates Golf Club In December
4. Float On The Wind At iFly Dubai
Get an exhilarating feeling of flying like a plane with iFly Dubai. Scared of the heights and jumping off the plane? This one fixes it for you. Go against the gravity as you fly 4 meters high this summer at iFly Dubai. Add this indoor skydiving experience to your bucket list and take to the skies with the help of experienced instructors.
Where: Mirdif City Centre
Timings: Sunday- Wednesday: 12.00 PM – 9.00 PM, Thursday- Saturday: 12.00 PM – 10.00 PM
Cost: Starts from AED 149 onwards
Contact: 97142316292
5. Walk & Dine With Penguins At Ski Dubai
Guests at Ski Dubai can now enjoy breakfast at the Alpine-themed restaurant North 28 in Mall of the Emirates from 8.30am to 9.15am. The offer is priced at AED 150, includes one breakfast item and one beverage from North 28's menu. Foodies can binge on breakfast favourites like blueberry pancakes, scrambled eggs on toast, home-made granola and more.
The breakfast experience is available only on Tuesdays and Thursdays, and spaces are limited to seven tables. Children under the age of 2 are currently not allowed within the snow park, while those under the age of 14 have to be supervised by an adult.
And the fun does not end there! Once you're done with a sumptuous breakfast, you can enjoy a 30-minute walk with the penguins. The entire experience takes an hour and a half.
In case you want to skip the walk, opt for the AED 65 package. Note that this package does not include rental of the gloves or outfit. Meanwhile, Ski Dubai Has Been Named 'World's Best Indoor Ski Resort' For 5Th Consecutive Year.
Also read: 7 Upcoming Attractions In The UAE We Can't Wait For