Delhi has ample places to explore when you're short on time and need to make a quick getaway. But if you want to truly break out from the crowd, we got you a list of the serene escapes near Delhi that deserves a spot on your bucket list. These  places are waiting to be discovered by travellers, so visit them before they get too mainstream.
1. Woodhouse Farm Airbnb, Nanital
The Woodhouse Farm is located in Satoli village, 45km away from Nainital in Uttarakhand with stunning views of the majestic snow-clad Himalayan ranges in the distance. Make a trip to Nainital this summer for a perfect vacay up in the mountains only 350 km away from Delhi. Find respite in their rustic wooden interiors breathing in sunshine everywhere, it has 5 bedrooms and a fireplace that looks straight out of a fairy-tale movie. Cozy up with your partner next to the fireplace or spend some quality time with your family as it can easily accommodate up to 10 people in all-wood interiors adorned with contemporary furniture, bringing the comfort of a luxurious home along with the rustic touch of a village.
Also read: Delhi Gets A Sprawling 90-Acre Heritage Garden
Address: The Woodhouse Farm, Satoli Village, Nainital, Uttarakhand
Cost: ₹35,000 per night (Approx.)
2. Neemrana Fort Palace, Delhi – Jaipur Highway
Be it a couple, family or just a group of friends, Neemrana Fort Palace is a preferred destination for a quick getaway by most Delhiites. Neemrana Hotels have imbibed luxury in history and culture to give you a relaxing break from routine while keeping true to the heritage. At Neemrana Fort Palace, there are regular weekend performances organised by the Neemrana Music Foundation to enjoy.
Where: Village Kesroli, Near M.I.A Post Office-Bahala, District Alwar, Rajasthan
How Much: Starting at Rs.4,000 for a single occupancy room
Time taken from Delhi: 3 hours. No buses or trains go to Neemrana directly
3. The Gateway Resort Damdama Lake
The superior resort rooms give the pool and courtyard view while the gateway suites provide a spectacular garden view. They also offer a bunch of outdoor games and sports such as day and night cricket or football, basketball, wall climbing, etc.
Also read: Delhi To Be The Most Populated City In The World By 2028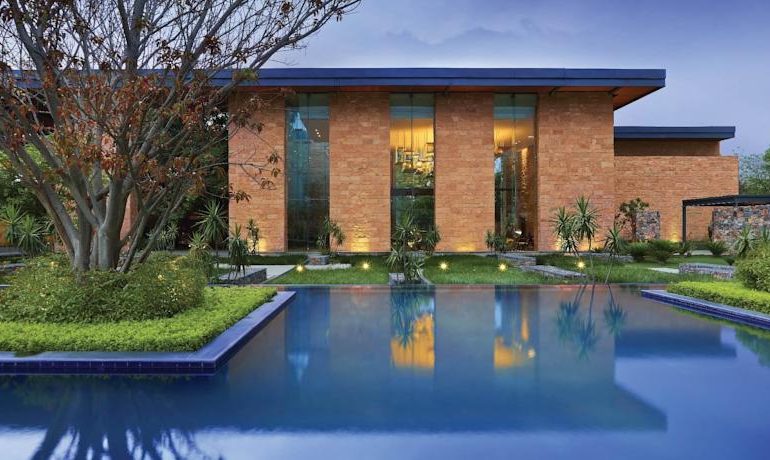 Book: here
Distance: Approximately 2 hours from Delhi
How Much: Starting Rs. 12,000 (per night)
4. Noor Mahal, Karnal
Karnal ranks pretty high on the accessibility factor. Just about 2 hours away from Delhi, it is a beautiful place to de-stress. Noor Mahal in Karnal will give you all the break that you need in that one day. Their spa and wellness centre, outdoor swimming pool with a sunken bar and babysitting service, will ensure you have a royal getaway. They also have a shopping arcade!
Distance from Delhi: Approximately 2 hrs
How Much: Approximately Rs. 8,000 per night onwards
5. Lansdowne
This whimsical hill station that was established and named after then Viceroy of India which lies at a height of about 1,706m in Uttrakhand. The famous Garhwal Rifles of the Indian Army has its command office here. Nestled in its cantonment area is a chance for all backpackers to settle there and enjoy the views of the majestic snow-clad mountains. You could camp in the jungle under the blanket of stars and go hiking in the morning.
Also read: 5 Stunning Lakes Of Delhi NCR You Probably Didn't Know Of
How to reach: It is located 260Km away from Delhi and is easily accessible by road as well as rail. Kotdwar is the nearest station, which is 40 km away from Lansdowne.
Activities: Jungle camping with live music, bonfire camp, hiking trips.