Gone are the days when you'd have to wait for a whole year to watch something great. While our hearts still beat for Bollywood, there aren't very many films we look forward to. But that's no longer a concern now, is it? With online television making room for sought after content, you can binge watch anything, anywhere, at any time.
But the question is, what kind of a show is really worth those two precious days that make up a weekend? Our answer: ZEE5's latest masterpiece, 'Poison'.
The story revolves around a man who seeks revenge for the wrongs done to him and his loved ones. But revenge doesn't always come sweet and easy and on the way, he might just have to trade his soul for the vengeance he craves. If you're looking for something new to hit your playlist up with, you should totally binge watch 'Poison' for these 5 reasons:
1. A show that's fast-paced and will have you in its grip in no time
If you're someone who likes watching shows that keep you at the edge of your seat, 'Poison' is your next BFF. The show is packed with as much action as the word could entail. Dive in and we're pretty sure, you might end up watching the entire show in one sitting.
2. A range of characters that depict various shades of human emotions
From our conflicted protagonist, Tanuj Virwani who has a constant battle of good and evil raging inside his mind to Arbaaz Khan who's a little more than grey in his character of a Goan drug lord, the story brings out a full-blown range of human emotions. It's harder to pinpoint the bad guy as much as it is difficult to sympathize with the hero of the story. From lust to power play, from love to violence, the show's density is played out beautifully by its characters.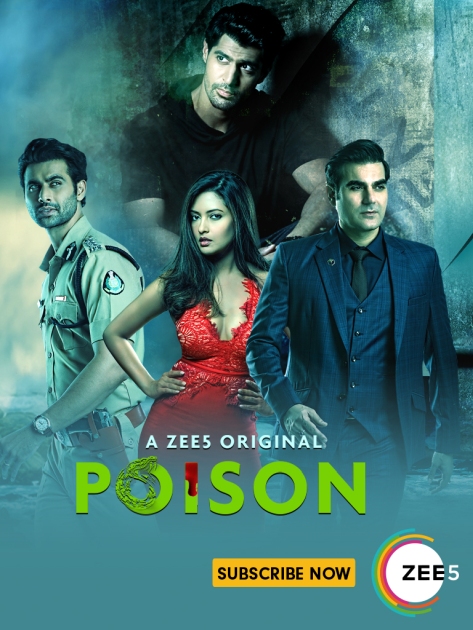 3. A crime thriller that depicts justice not as a righteous reward but a plea for understanding
A classic perspective that will show you that justice is sometimes so much more than an obligatory claim that men make, the show opens you up to the grey areas of human choices. Sometimes, the best way to serve justice is to not dispense it, rather to understand the intent behind the crime.
4. A story that's laced with copious amounts of drama, but of the good kind 
It's not your run-of-the-mill sob story. Sure, there's a huge amount of drama, but it's not positioned to make the tale juicy. In the show, every character goes through their own individual journey to become the people they are in the present tense. This adds a pleasant texture to the show's plot line.
5. A strong plot that makes it such a delight to watch 
It's not only a great watch if you're in the mood to shut out the world and snuggle in your blanket – it's even more perfect if you want to call a bunch of your friends over and watch something good. The plot is well-written and ably directed with twists and turns that add a certain charisma to the story.
For more such content that keeps you at the edge of your seat, download & subscribe to ZEE5 now!
This article is written in sponsorship with ZEE5.