Winter is in its full force, and if you're a winter baby, here are the 5 best stays to give you all the winter feels in India –
1. The Chalets, Shimla
A luxury resort nestled in the Naldhera valley of the beauty of Himachal Pradesh, The Chalet is the first property built in India with the internationally recognized expertise that has come to be associated with the Scandinavian log.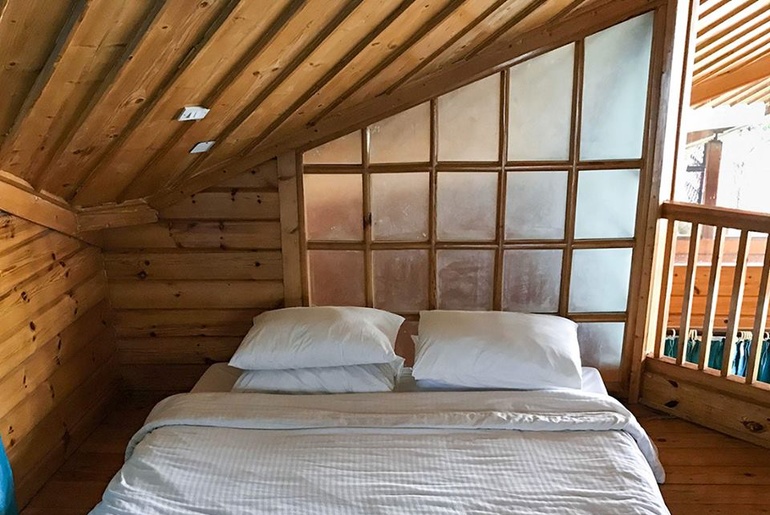 They offer comfortable stays in deluxe rooms, log chalets, family chalets, bungalows, apartments and all this with the warm hospitality of the staff. You can enjoy the stunning views of snow-laden landscape and the Alpine trees while indulging in comforting food from their in-house restaurant, Garden Pavilion that serves a wide range of cuisine including Indian, Chinese and Continental.
Where: Shimla – Tatapani – Mandi Road, Durgapur, Shimla, Naldehra, Himachal Pradesh 171007
Phone: 0177 274 7715
Price: ₹7,000
Book here 
2. Igloo Hotel, Manali
Located on the hidden north facing slopes of the Hamta Valley, this is the ultimate winter wonderland. The Igloo Hotel in Manali is every traveller's dream come true!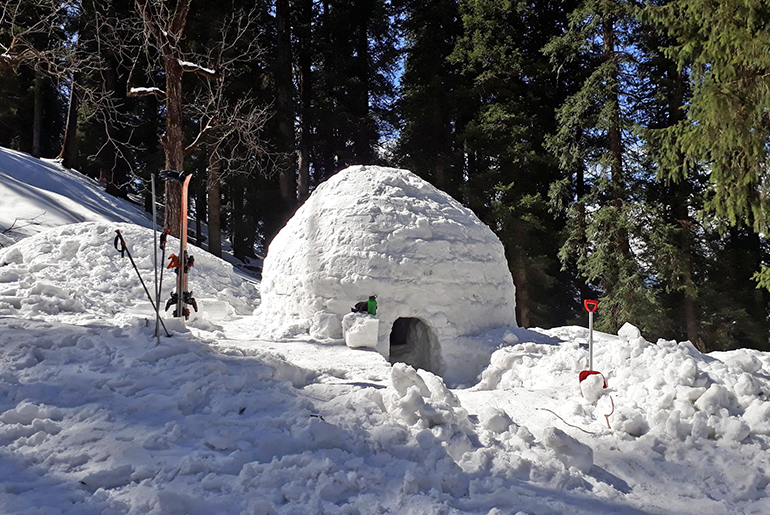 Ski and Igloo Adventure (From INR 6,800): Includes a one-night accommodation at the Hotel Keylinga Inn in Manali. Two nights stay in the igloo, all meals, all ski equipment (skis, poles, boots, clothing, snow gloves, goggles, medical kit). Also includes, transportation from Manali hotel to the igloo campsite and back.
One Night Igloo Stay (INR 4,600): One-night stay on twin sharing basis in the igloo with barbeque and bonfire in the evening.
Day Trip – Igloo Camp (INR 3,000): Includes a day trip to igloo campsite with lunch, skiing lessons and light winter activities.
Where: Keylinga Himalayan Adventures c/o Hotel Keylinga Inn, Prini Village, Naggar Road, Manali, Himachal Pradesh 175143
Contact number: Tashi +91.9816472227 | Vikas +91.9459996999 , +91.9418979005
Book here
3. Riverside Corbett, Corbett
Plan your next vacation to Riverside Corbett – the only resort in Corbett National Park with in-house horse riding and private access to the river. When you are at Corbett Riverside , you will feel the is clock ticking . Because they have everything you can think of within the resort for a perfect getaway.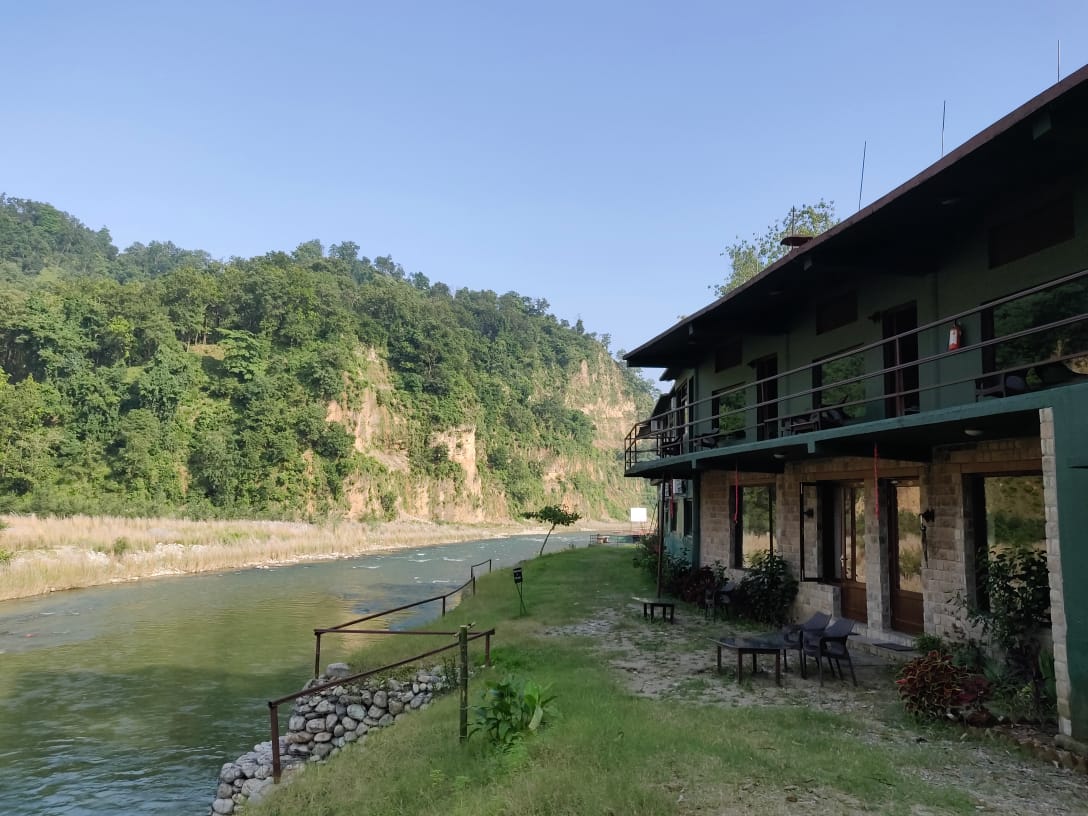 The resort is one of the biggest in Jim Corbett spread across 21 acres. Satisfy the adventure junkie in you by going for adventure sports like rope climbing, zip lining and rope walking. Get on a horse and go for a horse ride navigating the entire landscape of the resort , the highlight of your horse ride will be riding along the river bank. As the day descends into dawn, gather around bonfire with a platter of assorted barbecue. Evenings are for dance performances and live music! The locals showcase their ethnic Kumaoni dance and we suggest that you totally shake a leg or two with them.
Corporate Address: The Corbett Riverside A-1, 1st floor, Carriappa Marg, Gate No. 2, Sainik Farms, New Delhi
Contact: +919720104364
4. Khyber Resort, Gulmarg
Situated 8,825 ft above sea level in the Pir Panjal range of the Himalayas, this resort exudes luxury and beauty at its best. Khyber Himalayan Resort & Spa offers majestic views of the surrounding mountains and is spread over 7 acres of sylvan coniferous forest. 
Expect luxurious spaces with floor to ceiling windows that offer panoramic and unspoilt views of the beautifully landscaped gardens and the Affarwat Peaks. The resort also features an indoor heated pool that overlooks the forests and the amazing view of the Pir Panjal range.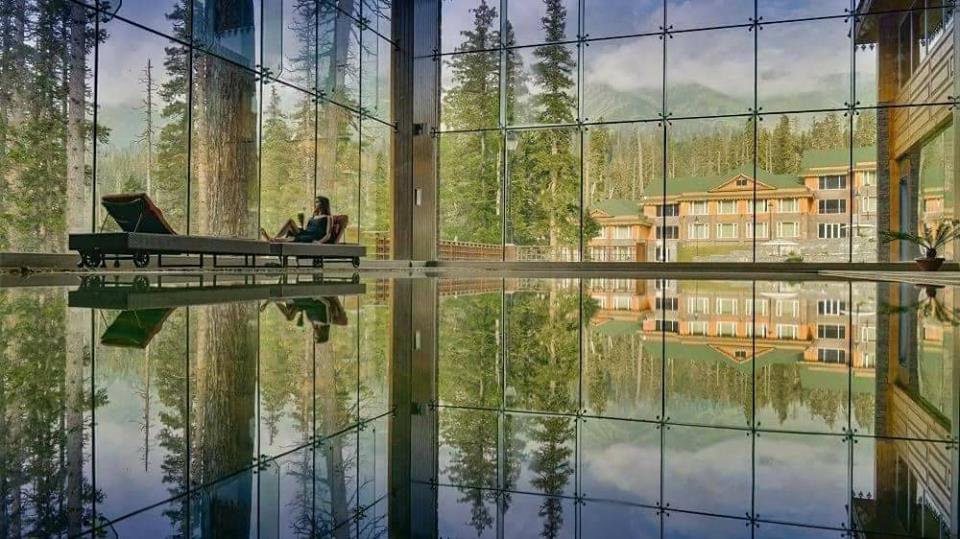 Address:  Hotel Khyber Rd, Forest Block, Jammu and Kashmir 193403
Phone: 099066 03272
Tariff: Rs. 18,000 per night
Book your stay here.
5. The Terrace Resort & Spa, Kanatal
Hidden in the treasured jewel of Uttarakhand in a quaint village called Kanatal, The Terraces Spa & Resort offer exemplary views of the snow-covered Himalayas and the forest from the accommodation that feature 8 deluxe rooms, 12 super-deluxe rooms and a luxury suite. The Resort even has a multi-cuisine restaurant to dine in with a majestic backdrop of the Himalayas.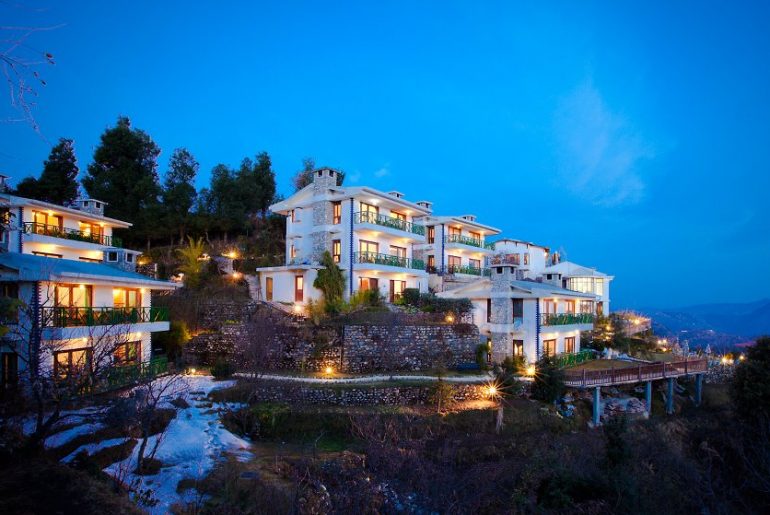 The Terraces have 8 Standard Rooms, 12 Premium Rooms, and 1 Junior Suite. Each of which offers a pleasant view of the stunning snow-covered mountains. The rooms come equipped with amenities like a mini-fridge, tea/coffee maker, TV, WiFi and a private balcony along with love Fireplaces to keep yourself warm on a cold winter night.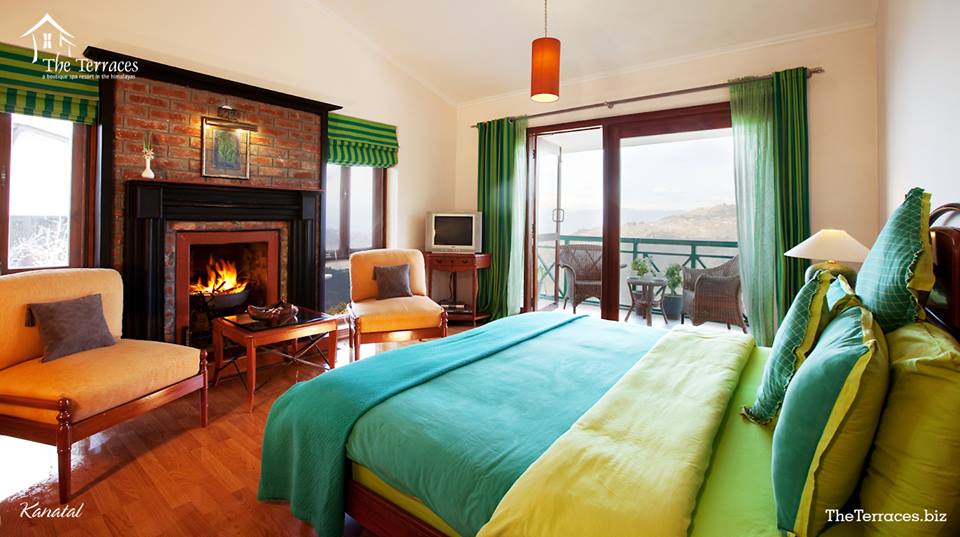 To know more about packages and make bookings click here.
Address: The Terraces & Spa Resort, Chamba – Mussoorie Rd, Kanatal, District:, Uttarakhand 249145
Phone: +91-8130681111   +91-8130581111
Tariff: starting from ₹9,500 per night for doubles