Hauz Khas Village, more commonly known as HKV is one of the most most prominent areas in South Delhi. It is the perfect combination of modernisation with some of  city's best night clubs and cafes, and Delhi's old world charm with it's historical significance.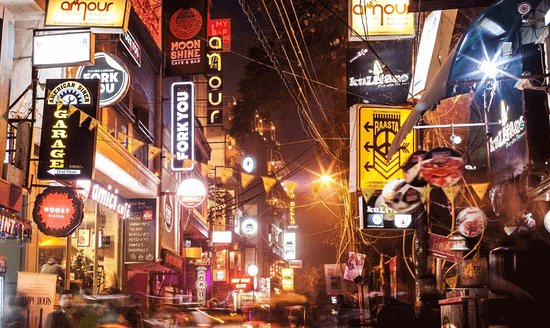 Known as Delhi's number one party destination to most, Hauz Khas Village is more than that. It is the essence of Delhi. With some of the best nightclubs to having the stores of some of Delhi's homegrown designers, tattoo artists, and more, HKV attracts crowds of all age groups.
While 2018's sealing drive did put a dent in it's glory with a number of places being shut down by the NDMC, Hauz Khas Village still holds a charm, unmatched by any other neighbourhood in Delhi. Here is a list of 5 things that you can still enjoy at HKV.
1. Historical Monuments And Architecture
If you happen to be a connoisseur of History and Architecture, then you have come to the right place. Hauz Khas Village is home to one of the most beautiful and most visited monument in Delhi that is the Hauz Khas Fort. It is a place that is swarmed by students from nearby colleges, families on picnics, and aspiring photographers. Dating back to the 13th century, the fort includes a mosque, a tomb, and other medieval structures.
2. Have Brunch At Elma's Bakery And Kitchen
If you are looking for a quite place to catch up with your friends along with sipping on to coffee and munching down some fluffy pancakes, then head over to Elma's Bakery and Kitchen in HKV. This Victorian-themed cafe is all sorts of pretty with vintage decor and floral curtains. We would recommend no leaving the place until you have washed down a slice of their moist red-velvet cake with a cup of their French pressed coffee.
Address: 31, 2nd Floor, Hauz Khas Village, New Delhi
Timings: 10:00 am to 11:00 pm
Price for two: Rs 1200 (Approx)
3. Party Like There Is No Tomorrow
For those who don't know, HKV is THE ultimate party destination in South Delhi, boasting of some of the most amazing nightclubs and bars like Moonshine, Raasta, Cafe TC, Maquina, Hauz Khas Social and more. From live music Mondays, to Karaoke Tuesdays, Sufi Nights on Wednesdays, and Ladies Night on Thursdays, everyday of the week brings something new at HKV.
4. Shop Till You Drop
Don't be fooled by what you hear about HKV. It is not just a food hub, but a place where you can get your hands on some of the finest couture. With stores ranging from fashion to lifestyle, stationary, and jewellery, HKV is home to the stores of some of Delhi's homegrown designers. You can shop for the funkiest foot wear at Street Style Store's only offline store, located in HKV. Get some customised, one of a kind couture wear at Ogaan and Bodice. Complete the look with handcrafted, authentic leather bags from Nappa Dori.
5. Visit The Delhi Art Gallery
Another perfectly hidden secret in the streets of Hauz Khas Village is the Delhi Art Gallery. The Gallery is known for owning an entire collection of India's pre-modern, modern, and contemporary artists. Established in 1993, this gallery focuses on representing the range of styles, themes and art practices. The artwork they display keeps on rotating from time to time, and is usually varying enough in theme to keep things interesting – so, every visit ends up being as good as the first.