Now Dubai has a plethora of food options available. From Indian chaat in lanes of Karama or cheap eats to luxury dining and outdoor restaurants, you can find it all here! And you are spoiled for choice too when it comes to cuisine- vegetarian, Indian, Iranian, whatever your taste, there is something for you here. However on some days, when we want to save money in Dubai, we like visiting a good old neighborhood cafeteria, don't we? So this time around, we have got you a list of 5 unique dishes that are hidden in your local cafeteria menu.
1. Schezwan Paneer Cheese Pav Bhaji
Now we have all heard about loaded cheese pav bhajis oozing of cheese and butter. We have also tried a Pav bhaji served with Paneer but this one takes chaat from the streets of Mumbai and fuses it with Schezwan cuisine, everyone's favorite Indo Chinese food component.
Where: Foodie Junction Cafeteria, Meena Bazaar
When: 5:30 AM- 11 PM
Cost: AED 15
Contact: 04 326 6063
2. Dynamite Chicken Burger
We all love PF Chang's dynamite shrimps, don't we? The spicy yet creamy touch to the shrimps is something all seafood lovers savor. But head to Jabal Al Noor Cafeteria in Al Rashidiya and check out a twist to this. Try out the dynamite sauce with chicken sandwiched between a bun to give you a delicious Dynamite Chicken Burger for AED 23.10 only.
Where: Jabal Al Noor Cafeteria, Al Rashidiya
When: 8 AM- 3 AM
Cost: AED 23.10
Contact: 04 288 5542
3. Fantasia Sandwich
This is UAE's own spin to the Quesadillas. A tortilla sandwich grilled in with chicken, vegetables, sauces and oozing with cheese is just the bite you are looking for. You can take it out for a quick bite or have it in served like quesadillas only for AED 15. This is one of those little known gems hidden Majlis Al Shay- a cafeteria in Al Rashidiya.
Where: Majlis Al Shay, Rashidiya
When: 6 AM- 3 AM
Cost: AED 15
Contact: 04 285 1929
4. Chicken Omelette Oman Chips Sandwich
Now this is the kind of sandwich we love in UAE. Don't we? The spicy crunch of Oman Chips and protein content in chicken and egg! This is just the kind of cheap bite you need when you are on a low budget or heading towards the end of the month, isn't it?
Where: Abdulla Omar Cafeteria, Silicon Oasis
When: 6 AM- 11:30 PM
Cost: AED 6
Contact: 04 272 4362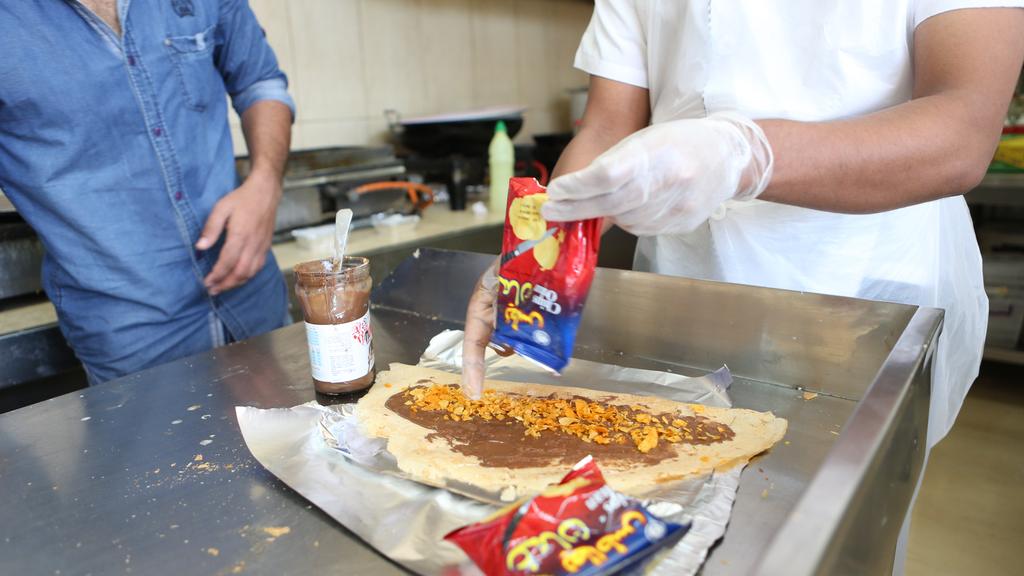 5. Falafel Chat
We have always associated Falafels with wraps and basically all things Arabic cuisine, isn't it? However, at Falafel & Shawarma Café, there is a twist! It's the good old Falafel heading to the Indian street food as we are served a delicious Chaat made with Falafel. Mouthwatering, isn't it?! Because it definitely is.
Where: Falafel & Shawarma Café Menu
When: 8 AM- 2 AM
Cost: AED 6
Contact: 058 958 0066