Visiting the capital and in the mood for some good old Indian food in UAE? From aromatic Biryanis to spicy curries, Abu Dhabi has a wide array of restaurants that whip up the best of Indian tastes. So where in Abu Dhabi should you be hunting down the best of Indian cuisine? We've got you covered. Check out these Indian Restaurants in Abu Dhabi in 2019:
1. Tamba
Tamba has to be on top of your list when it comes to fine Indian diners. Bringing the local tastes from across India to the UAE capital, Tamba serves them up with a twist. From the quintessential Chicken 60 served on a sizzling plate to bhajia's getting a healthy twist with quinoa, there is plenty of flavor and food here waiting to be devoured.
Where: World Trade Centre, Abu Dhabi
When: 12 PM- 1 AM
Price: AED 375 for two
Contact: 02 418 2437
2. Barbecue Nation
India's renowned buffet experience is now here. Barbecue Nation brings the best of Indian cuisine to be devoured at without any limits. From flavorful Mutton Chaaps to authentic Hyderabadi Dum Biryani, there is much on offer here. Also, remember to check out their live Katakat counters and Kulfi section to have a live experience after you are done gorging on the unlimited supply of tasty barbecues.
Where: Dalma Mall, Al Wahda Mall
When: 12 PM- 12:30 AM
Price: Buffet starts from AED 69
Contact: 056 534 7555
3. Pepper Mill
This Indian restaurant in Abu Dhabi is known for presenting the all-time classical dishes of Indian cuisine in a contemporary fashion. From delectable chaat platters as appetizers to Murgh Kebabs and Salmon Tikka, there is a lot of traditional Indian food and other cuisines presented here with an Indian touch. One of their premium selections also includes a meal setting full of curries bringing the famed Dabba service of India.
Where: Al Wahda Mall and 3 Outlets in Abu Dhabi
When: 9 AM- 11:30 PM
Cost: AED 250 for two
Contact: 02 441 3582
4. By The Biryani
Abu Dhabi's By The Biryani spoils you for choice when it comes to Biryanis. Exclusively serving Biryanis, this place has a wide variety of them. From the famous Hyderabadi one to Amritsari and Chettinad, this place allows Biryani addicts to come together and pick their favorite variant.
Where: Al Wahda
When: 11:00 AM- 11:30 PM
Cost: AED 80 for two
Contact: 050 106 4095
5. Mynt
Flavorful curries and piping hot Naans, no one prepares it like Mynt. Bringing the best of Mughlai cuisine to the table, this restaurant plays with its meats and spices. Be it the Tandoori Lobster or the Paneer Dopyaaza, and there is abundant variety for the vegetarian as well as a seafood lover here!
Where: Tourist Club Area, Al Zahiya
When: 12 AM- 12 PM
Cost: AED 180 for two
Contact: 02 666 6400
6. Via Delhi
This one is a complete Indian dining experience bringing all the flavors of nostalgia- be it the taste of streets or the royal kitchens to Abu Dhabi. From street-styled Kebab rolls and momos that dot Delhi's street food arena to the midnight snacks like 'Yummiee Gharwali Maggi'; it has it all. And what's best is the main course that brings all the authentic flavors of North Indian flavours with it's restaurant to Abu Dhabi.
Where: Najda, Abu Dhabi
When: 9 AM- 11 PM
Cost: AED 100 for two
Contact: 02 671 0522
7. Pakwaan Foods
Hyderabadi restaurant Pakwaan Foods brings the tastes of India's Nizami kitchens to Abu Dhabi. From Hyderabadi styled Nihari Paya and Haleem to daily dishes from the homes of Dakhan, Pakwaan reminds its customers of why the Hyderabadi cuisine is much more than its famed Biryani. And that too at affordable rates!
Where: Al Markaziya
When: 7:30 AM- 12:30 AM
Cost: AED 60 for two
Contact: 02 666 1446
8. Angar
This Indian Restaurant in Abu Dhabi is a fine dining experience like no other. Set in the upscale Yas Island, the Indian food gets a contemporary and global touch here. From an incredible assortment of Naans to curries and gravies, this is a perfect Indian food outing. And who would have ever thought quinoa Pani Puri? Yep! They did that to Pani Puri and still made it taste and look as delicious as ever.
Where: Yas Hotel, Yas Island
Price: AED 400 for two
Contact: 02 656 0000
9. Rangoli
How does a brunch full of Indian delicacies sound? Incredibly flavourful right! Rangoli sets out to do exactly this- make Indian food grander than it ever was. Bringing in delicacies from across the span of India, Rangoli colors your tastebuds with the best of Indian flavors in Abu Dhabi.
Where: Yas Island Rotana
When: 6 PM- 12 PM
Cost: Brunch starts at AED 208+ Tax
Contact: 02 656 4155
10. Namak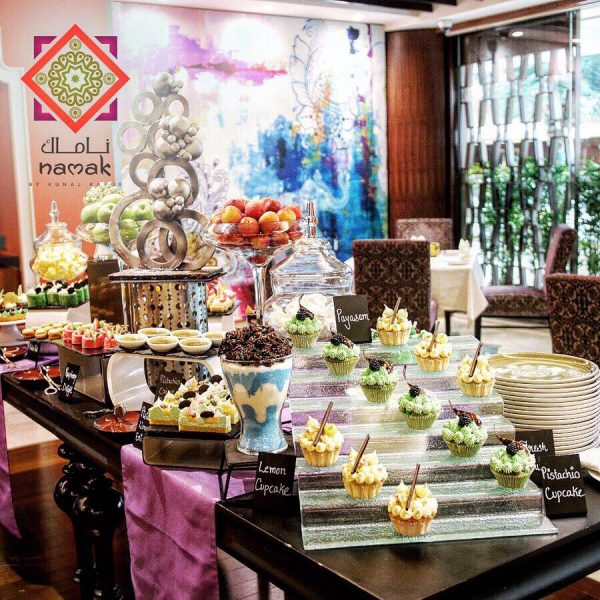 Namak is Indian Masterchef judge and Celebrity Chef Kunal Kapoor's presentation in Abu Dhabi. So you know it's going to be crafty, delicious and thorough fine dining experience. And it sure doesn't disappoint. From a Chaat Humus to Haleem Kebab, Indian flavors get a unique touch. They also have set menus that allow you to taste each of their famed presentations. So it gets easier to select from their wide varieties
Where: Dusit Thani, Abu Dhabi
Cost: AED 400 for two
Contact: 02 698 8137