While you might be well aware about the luxury restaurants in Dubai, did you know the emirate is famous for street food too? Well, that also means you can put an end to your end of the month crisis and binge like a king. On that note, here's what and where you can eat under AED 10 in Dubai. Chips oman sandwich, falafel sandwich, rigag- what's you pick?
1. Cheese Vada Pav – Al Rajwah
First on the list is one of Dubai's favorite snacks. Located in the heart of Bur Dubai, this hidden gem serves a host of lip-smacking snacks, all under AED 20. However, their Cheese Vada Pav (AED 4) is all things yummy. It's got cheese stuffed in the pav and is also topped with more cheese on the top. Can it get any better than this?
Location: Meena Bazaar
Timings: 7am – 1pm, 5pm – 10:30pm
Contact: 04 3484747
2. Cheese Potato Oman Chips – Abdullah Omar Cafeteria
This one's a favourite hot spot among students in Academic city and those living in Silicon Oasis. Find them at the Eppco petrol station, on the Dubai – Al Ain road. It's the perfect and cheap snack to have on the go. The Cheese Potato Oman Chips for just AED 4 is just perfect to munch be it for breakfast, lunch or dinner. It's so worth it, you may wanna get two of it!
Location: EPPCO Petrol Station, Al Ain Road, Dubai Silicon Oasis (DSO), Dubai
Timings: 6am – 11:30pm
Contact: 04 2724362
3. Falafel Sandwich – Farisian Cafeteria
Binge on falafels for AED 1 each or make it a sandwich for just AED 3. Yes, you heard that right! Farisian Cafeteria serves delicious falafels, samosas and batata vadas for years now, and the quality remains even today. Giving you the true cheap thrills, this cafe is sure to spoil you for choice, of course without breaking your bank.
Location: Near Choithram Supermarket, Street 44 B, Meena Bazaar, Dubai
Timings: 4am – 12midnight
Contact: 0507579453
4. Rigag – Labeeb Grocery
This ain't just a grocery. Located in Jumeirah, they also serve delicious rigags right outside the grocery. Rigag is a thin crispy crepe filled with egg and cheese. An absolute classic, this is priced at AED 5 only. You can even pick a pack of chips of choice and ask the kind man making the rigags to top it on. Absolute yummers!
Location: Jumeirah
Timings: 24 hours
Contact: 04 395 6455
5. Samosa Chaat – Chaat Bazaar
We know them way too well, don't we? They'll definitely take you back to the streets of Mumbai. From the simple pani puri to the classic Bombay veg grill, they've got it all bang on. And the samaosa chaat served at AED 10 is definitely a clear winner.
Location: Shop 16, Ground Floor, Mabrooka Building, Beside Reem Furnishings, Al Karama, Dubai
Timings: 8am – 12midnight
Contact: 04 3968810
6. Chips Sandwich – Al Halawa Cafeteria
A huge roll loaded with samosa, fries and veggies; grilled to perfection- we're already drooling! And if you're eager to bite into this divine combo, head to Al Halawa Cafeteria at Meena Bazaar.  The chips sandwich is priced at AED 8 and mind you, it's huge and more than enough for one person.
Location: Floor 1, Al Fahidi Souq, Meena Bazaar, Dubai
Timings:  9am – 11:30pm
Contact: 04 3514825
7. Appam – Aappa Kadai
When in Dubai, how can we miss the dear Appam! A coastal delicacy, appams are white, dosa -like delicacies served with black pea curry or vegetable stew. And Aappa Kadai serves a host of variants of this otherwise humble delicacy. From plain appam to appam with chicken and ones topped with Nutella, you're definitely in for a treat. All of this is under AED 10!
Location: Discovery Gardens, Karama, Dubai Marina
Timings: 11:30am – 3:30pm, 6:30pm – 11:30pm
Contact: 04 3548080
8. Muharmara From Man'oushe Street
Step away from the boring old zaatar and get the Muharamara ( a read hot pepper, onion and tomato) roll for only AED 8.25 – you're going to lick your finger after this one. Definitely one of the very good snacks under AED 10 in Dubai to gorge on.
9. Cheese Chilli Chicken Oman Chips Roll from Khouk Al Shay
Grrr who would have thought chips and paratha could make such a fantastic combination. Khouk Al Shay goes the extra way and adds chili chicken in it. And the output is simply extraordinary.
Location: 7 outlets in Dubai
Timings: 5:30am – 3am
Contact: 04 2976600, 0554215647
10. Hummus with falafel/chicken/meat – Al Damyati & Iskandaron
The falafel is for AED 4 and an additional AED 5 for chicken or meat. Their hummus is to die for and definitely one of the best. They're super packed during weekends so be there early. They also serve some authentic Arabic food for cheap.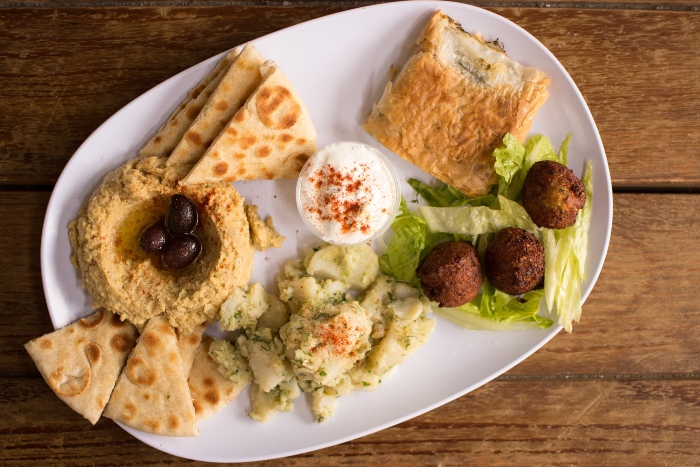 Location: Al Karama
Timings:  7am – 1am
Contact: 04 3960001, 04 3960004
This post is by Curly Tales contributor wheresachi